Galaxy S II gets two software updates, some issues fixed
13 May, 2011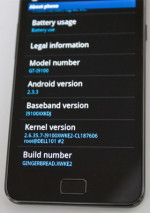 The Galaxy S II got two new updates before we could even order food after completing its own review. Hope we don't need to rewrite much. Anyway, we didn't know the phone had issues that needed fixing in the first place but someone at Samsung must've admitted to screwing something up. They claim a bug related to automatic-brightness was addressed, Swype was made more responsive and some connectivity issues were fixed.
The updates mean the Galaxy S II is now on the i9100XWKE2 firmware. Itís also rootable so you can go with custom ROMs and tweaks.
The updates are available through Samsung Kies right away.
You're welcome to check out our preview of the Galaxy S II and stay tuned for the full review (this very evening).