HTC DROID DNA falls to $99 for new Verizon customers
17 January, 2013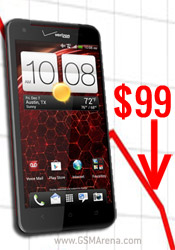 The price of the HTC DROID DNA keeps falling – the 5" 1080p Android flagship started off at $200 (with contract), then fell to $150, then to $120 and now it's at $100. The deal comes courtesy of Amazon Wireless and is for new customers only.
Existing customers Verizon still have to shell out $150. The $120 deal from LetsTalk.com is still available and existing customers can use it too. Better still, the TALK4TEN coupon code knocks $12 off the price, bringing it to within a few bucks off the Amazon price.
Verizon's site still sells the HTC DROID DNA at $200, so you'd be better off getting it somewhere else.