HTC HD2 review: Portrait of a rockstar
GSMArena team
,
17 November 2009
.
Video player is not impressive
The HD2 comes with the standard - and sadly underperforming - Windows Media Player. It only manages mp4 and 3gp and for DivX/XviD support you will need a third party application.
HTC have also added their own video player but it only supports the video/audio codecs available to Windows Media player in the first place. To enjoy a wider range of video options on the HD2 (DiVX or XViD for example), you will probably need to purchase a dedicated video player with additional codec support.
We tried the well-known Core player and as usual it did a great job. Unfortunately watching HD videos is still a no-go. Still pretty much all videos under 720p played just fine without any dropped frames. The HTC HD2 has similar issues as Acer neoTouch and even worse performance. While the neoTouch managed to play the 720p videos with 15-17 fps, the HD2 has an output of only 12-13 frames per second. Not that any of those means a watchable video but it gives you an idea. We guess the graphics subsystem of the Acer neoTouch has a few tricks under its sleeve and it's not a matter of pure CPU clock comparison.
We made out traditional Core Player benchmarks with the HTC HD2 along and compared them with the Acer neoTouch. As you can see from the screenshots the duo performed very well with the standard videos and the results are almost equal.
28 Days Later DivX trailer
Transformers XviD trailer
Home-made DVDRip movie 640x272 resolution
As you might have guessed, videos looked excellent on the HD2 WVGA display.
Several days later, we are finally able to get back with some battery life tests among which is the dedicated video playback. The HD2 managed to put up some good 4 h 30 min non-stop video playback in Flight mode. Given the power-hungry hardware the HD2 exceeded our initial expectations.
You can check more details about some other battery life tests we did with the HD2 in our GSMArena team blog.
Midrange camera in every aspect
The HTC HD2 has a 5 megapixel auto focus camera producing photos with a maximum resolution of 2592 x 1944 pixels. The camera offers an intuitive user interface and shoots in landscape mode.
Guess what? It lacks a dedicated camera key AGAIN, but autofocus is handled the iPhone way this time. It's automatic and refocuses whenever you move the device. Once focus is locked, you can take the picture by pressing the virtual capture button. There is touch-focus too, but you need to enable it in the settings first.
The HD2 packs dual-LED flash, but as it won't make a great difference in low-light conditions or in pitch-dark places. Still you can use it as a video light, but again it won't be much of a help.
Interface and features
The HD2 viewfinder is free of any overlaying controls by default but you can display those by touching the dedicated key under the "capture" button.
In terms of camera features, the HTC HD2 has the usual and offers the standard self-timer, white balance presets, ISO settings (up to ISO800), color effects and a viewfinder gridline.
Probably among the strangest of things, the HD2 camera lacks geotagging, and it's beyond us why they left that out. As we mentioned before, the Footprints may be some excuse, but still not enough by our books. And it's not just HD2, almost all previous high-end HTC smartphones lacked that.
With the HD2 you can shoot macro images easily without the need to change modes. However focusing on close-ups is rather hard and is somewhat of a hit-or-miss - sometimes the HD2 will focus correctly, while other times it's way off.
Image quality
The picture quality is good with enough resolved detail and natural colors. On many of the images we noticed an abnormal pink tint to the whites dead center – just like a spot. It's it's more visible at thumbnail size and it's certainly a flaw of the camera but we're not really sure if it's a unit-specific issue (ours is a retail handset off the store shelf, not some pre-production unit). There is a bit of over sharpening too.
The biggest camera problem comes with the yellow scenes. As you can see for yourself from the samples bellow, the HD2 camera just can't handle the yellow color right.
Synthetic resolution
We also snapped our resolution chart with the HTC HD2. You can check out what that test is all about here.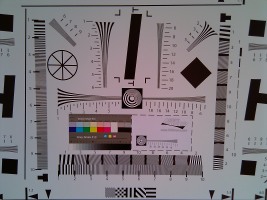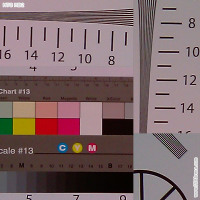 HTC HD2 resolution chart photo • 100% crops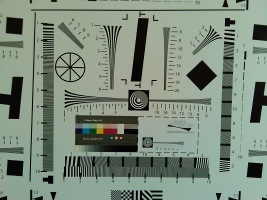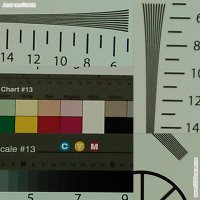 Acer neoTouch resolution chart photo • 100% crops
As you can see from the resolution chart, the resolved detail is not as much as we hoped but the resolution is enough for a 5 megapixel snapper. Still there are some obvious issues concerning the center spot where you can notice the pink tint, we told you about.
Poor video recording
The HD2 video capturing capabilities are ok, but not that impressive - VGA recording at 30 fps. Given the video capabilities of many modern phones and bearing in mind the powerful HD2 1GHz CPU, we really expected more (HD for example). The video quality is almost decent but the compression is harsh at times - the videos should really be better.
The interface of the camcorder resembles that of the still camera. You can only adjust the white balance, resolution, brightness and finally add some color effects.
Here is a sample VGA video captured by the HD2.