Leaked slides show HTC Desire HD2, Desire 2 and Wildfire 2
11 February, 2011

Leaked slides detail the specs on three new HTC phones, all three of them sequels. The HTC Desire HD2, Desire 2 and the HTC Wildfire 2 were exposed with some juicy and some confusing specs.
The HTC Desire HD2 is an update of the large-screen droid with a powerful dual-core 1.2GHz CPU of the Qualcomm 8260 Snapdragon chipset. The screen resolution will be bumped up to qHD (540x960).
The slide says 3.3-inches for the diagonal, but we're guessing that's a typo and should be 4.3" S-LCD unit, just like the original Desire HD. The camera on the HTC Desire HD2 should be 8MP with 1080p video recording and LED flash.
The new Desire HD2 will be running HTC Sense 3.0, so it will probably be Android 2.3 Gingerbread underneath. DivX/XviD support and an HDMI port boost the multimedia capabilities of the Desire HD2 and there's 8GB of built-in memory (expandable by microSD).
The slide shows some specs we're not too keen on, namely the 512MB RAM and the Adreno 205 GPU, both of which feel underwhelming for a new Android flagship. But these slides are not exactly official, so we'll have to wait and see how that goes.
The HTC Desire 2 and HTC Wildfire 2 are even more puzzling. The Desire 2 is an almost exact duplicate of the original Desire (the one with the S-LCD screen anyway), 4GB of internal memory, DivX/XviD support and some faster 3G speeds.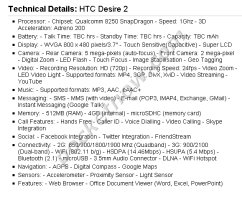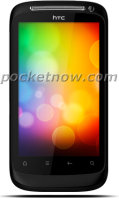 HTC Desire 2 leaked slide and photo
Everything else about the HTC Desire 2 (at least as the leaked slide describes it) is identical to the Desire, right down to the chipset.
It's the same with the HTC Wildfire 2 - it reads just like an HTC Aria (or Gratia) but with an LED flash strapped on and video resolution bumped up to D1. It uses the same chipset as the Aria, the same screen (3.2" HVGA, so at least it's not QVGA as the original Wildfire), everything else the same.
We don't know how much to trust these leaked slides - if they turn out to be true, the HTC Desire 2 and Wildfire 2 will be pretty disappointing. The HTC Desire HD2 specs are the only ones of the three that we're rooting for to be correct.
Anyway, we're also hearing rumors that HTC will show two Facebook-centric phones at the MWC. They will feature a dedicated hardware Facebook button.