Nexus 7 with HSPA+ sells out on Google Play as well
15 November, 2012

The AT&T version of the Nexus 7 with cellular data has sold out just two days after appearing on the Google Play Store.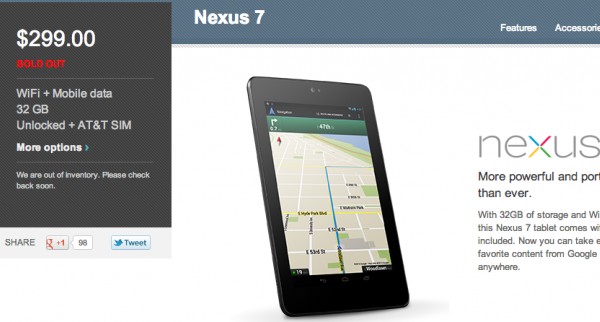 Although it did not get as much publicity, the Nexus 7 with Mobile data was released alongside the new Nexus 4 smartphone and Nexus 10 tablet. As you may recall, the Nexus 4 and Nexus 10 saw some unprecedented demand, as both devices sold out within an hour.
The Nexus 7 tablet made its debut alongside Android 4.1 Jelly Bean in July of this year at the Google I/O convention in San Francisco. It features a quad-core 1.2 GHz processor on the Tegra 3 chipset, a 7 inch screen of 800 x 1280 pixels, 16/32 GB of storage.
Google should hopefully be stocking up again on all of their Nexus devices in time for the holidays, where you can get the cellular version of the Nexus 7 with 32GB storage for $299.