Support page for Samsung I9250 is up, we also get some specs
08 September, 2011

The evidence that the Samsung I9250 is nearing its launch is becoming overwhelming - yesterday it was a leaked user agent profile and today brings us a dummy support page for the I9250.
The page is pretty much empty besides some FAQ's and How-to entries that don't belong to the Samsung I9250 (one of them is for the Omnia 7, for example).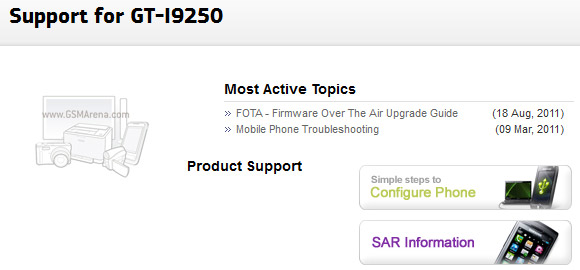 Anyway, the I9250 is supposed to be the next Nexus phone - the Nexus Prime. It will be the first device running the next generation of Android, Ice Cream Sandwich, which is hopefully coming out in October.
Those rumors are pretty certain, unlike the rest of the specs for the Samsung I9250/Nexus Prime. A tipster who is a well informed source from the industry has dropped us a few tidbits of info, which give us a clearer picture of the I9250 but also negate some of the earlier rumors.
For one, our tipster says that the final name of the next Google flagship will be the Samsung Galaxy Nexus rather than Nexus Prime. It will have a 4.65" screen at an HD resolution - not 4.5" WVGA.
Samsung already has SuperAMOLEDs with HD resolution, so seing one of them on the next Google flagship makes quite a lot of sense.
Anyway, the screen is curved just like the Nexus S screen. The device itself will be very thin - 8.8mm - and have a metal chassis, unlike previous models.
Our tipster also clued us in on the launch date - at the end of October (right on the Ice Cream Sandwich schedule), supposedly just after the iPhone 5 launch. If that's true, it's bound to cause quite a stir.
A big thanks to our tipster!