Smartphones in 2018: the half year report
Paul, 01 July 2018
It's hard to believe that we're halfway through 2018 already! So let's press 'pause' for a second and look back at the direction phone development took this year.
We go to extraordinary lengths here at GSMArena to ensure that the data within our Phone Specifications pages are accurate and up-to-date. We've selected the most popular 140 phones to avoid outliers messing with the averages and trawled through this wealth of data we've accumulated to draw out stats and trends.
Design & Build
Size - In 2017, 'taller' displays with their aspect ratios of 18:9 and 19.5:9 resulted in the average height of our smartphones increasing by 3.65mm with a slight increase in width. In 2018, as taller displays become the 'norm' we see the average height increase again, albeit by a smaller 1.54mm.
The average thickness increased by 0.47mm, reversing the overall trend of 2017 which was to go as thin as possible. We could be witnessing this average increase being 'fueled' by the expansion of glass-sandwich phones which tend to result in a thicker overall rear case. Similarly, the 5.6g average weight increase over 2017 could also be partly attributable to glass which weighs more than its aluminum/plastic equivalents. The third dimension that could be at play here is the size of our smartphone's battery which has also increased.
Materials - A third of the phones launched this year utilize glass for their backsides. On the surface, this trend is being driven primarily by aesthetics and ease of RF transmissions without having antenna lines. While glass is dense it offers little resistance to LTE, Wi-Fi, and Bluetooth signals. Interestingly, of those phones that utilize a glass casing, only 22% have wireless charging capabilities.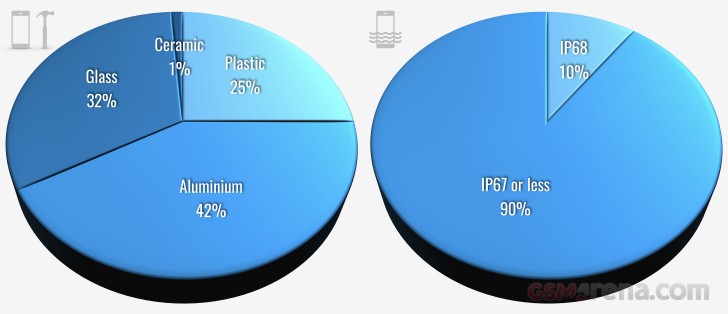 Materials and water protection
Colors - Where possible, we've mapped manufacturers unique color naming conventions, the Meizu 15 Plus's 'Yakin' color equates to Gold, for example, to show the breadth of the color palette available to buyers. You're spoiled for choice if you want your smartphone in black, blue, gold or red. While at the other end of the scale you could struggle to find your ideal phone if you're set on green, purple or copper.
Display
As the main method of interacting with our devices, we've never had it better. The trend for taller displays continues resulting in an average of a 5.8" diagonal display size.
When you consider that at circa 300 or more pixels per inch (ppi), an average person is unable to discern the individual pixels at a normal viewing distance, our average 369ppi is more than good enough.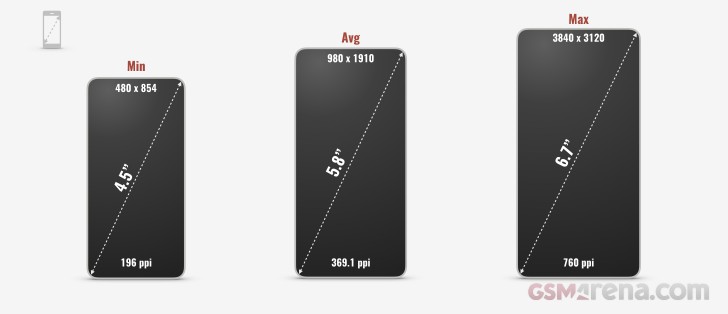 Display size, resolution and Pixels Per Inch
Few subjects promote more debate, apart from the 3.5mm audio jack perhaps, than the screen cutouts that have nibbled away at our smartphone screens. Lambasted by many, including yours truly, it seems that for now, they're here to stay. And they have received so much prominence that it's almost surprising that only a quarter of the phones launched actually had a 'notched' display.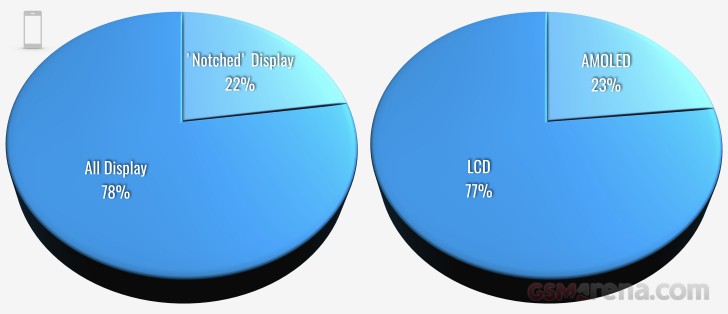 Displays with cutouts and display type
Audio
It seems that with every launch we've been lamenting the lack of the 3.5mm audio jack. In reality though, of those phones launched so far this year 87% contain our favorite 3.5mm audio jack. Not what we expected, our large sample size in probability has skewed this figure as a number of budget and midrange phones still include the 3.5mm jack while lacking Stereo speakers.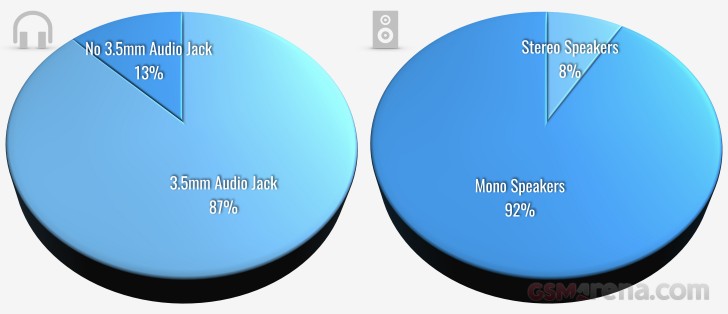 3.5mm audio jack and stereo sound
Battery & Charging
Things don't look too shabby in the 'power' department. The average battery capacity is 3,422mAh's, while average battery endurance of 82hrs is a step up from the previous year.
To date, circa 50% of the phones are capable of fast charging while less than 10% of those phones are capable of being charged wirelessly.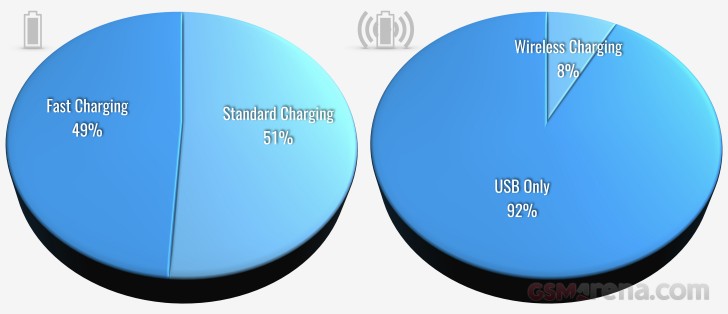 Fast charging and wireless charging
USB
While the shift to USB Type-C may not be truly complete with consumers, nonetheless its disappointing to see microUSB in almost 60% of those phones announced. Mind you, this is just number of different devices - sales statistics might looks slightly different here.
Biometrics
The drive to create the 'all screen' smartphone has resulted in dwindling numbers for the Front fingerprint sensor which now sits at only 11% with the subsequent increase in the rear placement of the sensor.
This year saw the introduction of under display fingerprint sensors. While performance may be lacking compared to the best fingerprint sensors, these numbers will no doubt increase as for many a fingerprint sensor with its placement on the front of their devices is preferred.
Android has always offered face recognition as part of its standard arsenal - it's a simple camera-driven feature offering very limited security. This year though, following Apple's example, increasingly manufacturers are creating their own hardware and software solutions. While sitting at only 5%, this 'enhanced' face recognition will undoubtedly grow in numbers.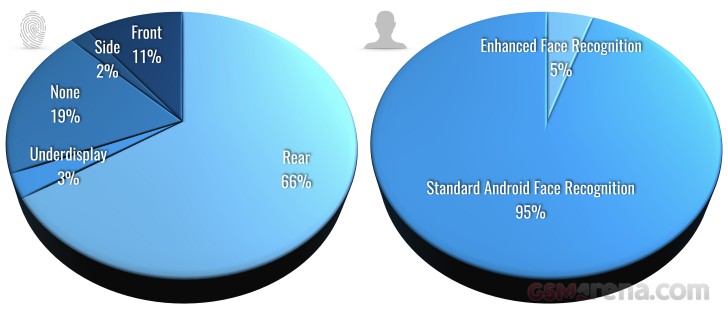 Fingerprint sensor, position and enhanced face recognition
Cameras
For many, the camera capabilities of our smartphones comprise one of the, if not the raison d'etre for purchasing the models that we do. The focus at the moment is currently on pop-up or sliding cameras as a solution to avoid display cutouts.
Main Camera
The trend for dual setups continues with 55% of phones packing a dual cameras. With just 1% currently, triple cams have only just appeared on the map, but they are bound to grow going forward. Disappointingly, the number of optically or digitally stabilized cameras is only 28%.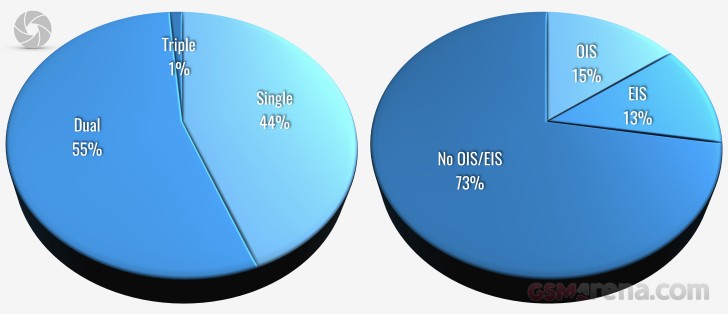 Main camera number of lenses and stabilization
While the megapixel race is over, the average number of megapixels that we have in our pocket incrementally increases again to 14.5MP.
As chipsets support it, the ability for mid-range and budget smartphones to capture 4K video increases. 40% of this year's phones are capable of capturing 4K video - while the new super slo-mo 960fps capture is supported by 6% of the phones launched this year.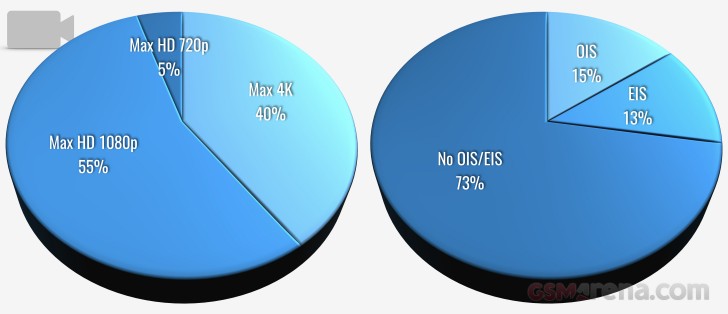 Main camera video recording capabilities
'Selfie' Camera
Once the preserve of the main camera, the selfie cameras on our smartphones are increasingly gaining Dual camera setups and optical or electronic image stabilization.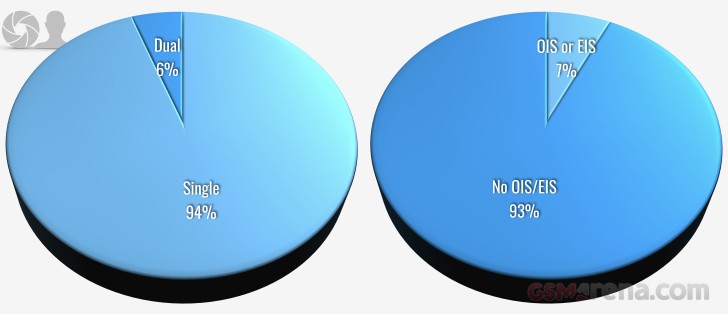 Selfie camera number of lenses and stabilization
Mirroring the same trend as the main camera, the selfie camera also saw an incremental gain in its megapixels, now sitting at 11MP.
Android
Just over a third of the phones shipped with an 18-month-old OS. This is attributable to the budget end of the market as keeping Android up to date is a costly and time-consuming process.
RAM & Storage
No surprise that the trend continues here that our phones pack more RAM and built-in storage.
Once the modus operandi of Apple, we're seeing an increase in the number of phones that don't support microSD storage. This is often offset though through the increased max storage offered.
Processors & Performance
When it comes to the System-on-Chip (SoC) in terms of the smartphones announced this year, the following charts speak for themselves. Of interest is the statistic that shows market share by vendor. For example, in the third quarter of 2017, Qualcomm accounted for 42% of global smartphone SoC market revenues.
Qualcomm - 42%
Apple - 20%
MediaTek - 14%
Samsung - 11%
HiSilicon - 8%
Spreadtrum - 5%
Processors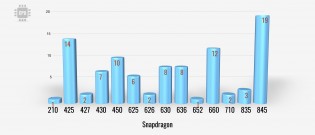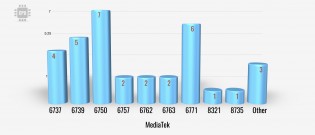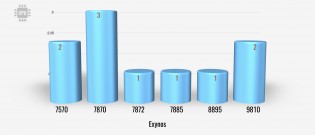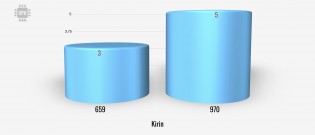 Snapdragon by CPU type • MediaTek by CPU type • Exynos by CPU type • Kirin by CPU type
Performance
We are yet to benchmark a number of the announced phones in 2018, but those we have unsurprisingly demonstrate increased capabilities when compared to last year.
Price
Finally, while the headlines often cite the stratospheric flagship or special edition pricing, the average price of this year's phones to date is €354. The probability that the decrease over last year is again a reflection of the budget and cost-effective devices in our larger half year sample.
As always, thanks for reading and sound off in the comments section if we've missed off any stats that you'd like to see included.
Related
Moving towards bezeless phones with insane amount of RAM, storage and processing power and multicamera devices. Looking good :)
Thx GA, top post of 2018...
Popular articles
Popular devices
Electric Vehicles