5.7-inch Samsung Galaxy A8 shows up in live images
16 June, 2015
The Samsung Galaxy A8 has been visiting the rumor mill for a while lately with some disconcerting info on display size. Well, a new set of live images sheds more light on the matter and reveals a cautious departure from the A-series aesthetic.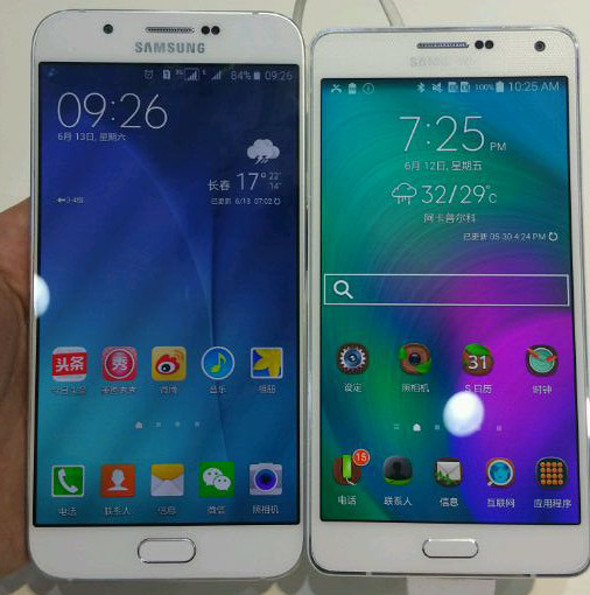 While it was initially assumed that display size will be 5.7 inches, a GFXBench listing suggested a 5.5-inch diagonal. Pictured next to what is obviously a Galaxy A7, the new handset's display is clearly larger. It would appear that the original info was correct, and it's a 5.7-inch FullHD AMOLED panel.
On the front the device is more of a scaled up Galaxy S6, than a continuation of the A-series design language. The corners are rounded with a larger radius as opposed to the minor fillet of other members of the lineup. The surrounding metal frame is here, sporting a blend of the A-series and S6 designs.
Side bezels are extremely thin, making the footprint rather acceptable despite the ample screen size. Bottom bezel is a bit bulkier, but a larger home button was needed to accommodate the fingerprint reader, and maintaining proportions it required.
The back sports the familiar speaker/camera/flash arrangement, introduced with the Galaxy S3 and featured in the whole A-series. To spice things up though, on the A8 the speaker and and flash have traded places. Otherwise the back appears the same pearl white finish as other A models.
The photos don't tell much about the specs, but we know by now that the Galaxy A8 will come with a Snapdragon 615 chipset, 2GB of RAM and 16GB of storage which, will be expandable. The primary 16MP camera will be joined by a 5MP front shooter.
The LTE-enabled smartphone will boot Android 5.1.1 upon launch. Nearly 6mm taller than the 5.7-inch Galaxy Note 3, the Galaxy A8 measures 157.7 x 76.7 x 5.9mm and packs a 3,050mAh battery in a body weighing 140g.
There's no info on price and availability for now, but the obviously nearing official announcement will shed more light on the matter.
Related
It is a very performance smartphone I already use this smartphone very nice..............
Not a legit post. Non of the devices shown here are even A series. A or A5 . As a consultant of Samsung I can say noone on open market knows yet about the next A series
its a fake.look detailly.the phone hasn't app drawer like all model samsungs owns.
Popular articles
Popular devices