ACEFAST Smart Wall Charger-Hub A17 review
Victor, 08 May 2022
Introduction
On occasion, however, a product like this little odd charging brick from ACEFAST drops in our inbox and it is just too intriguing to skip. So I took the offer for a review unit, spent a bunch of time with it and are now ready to share my impressions with it.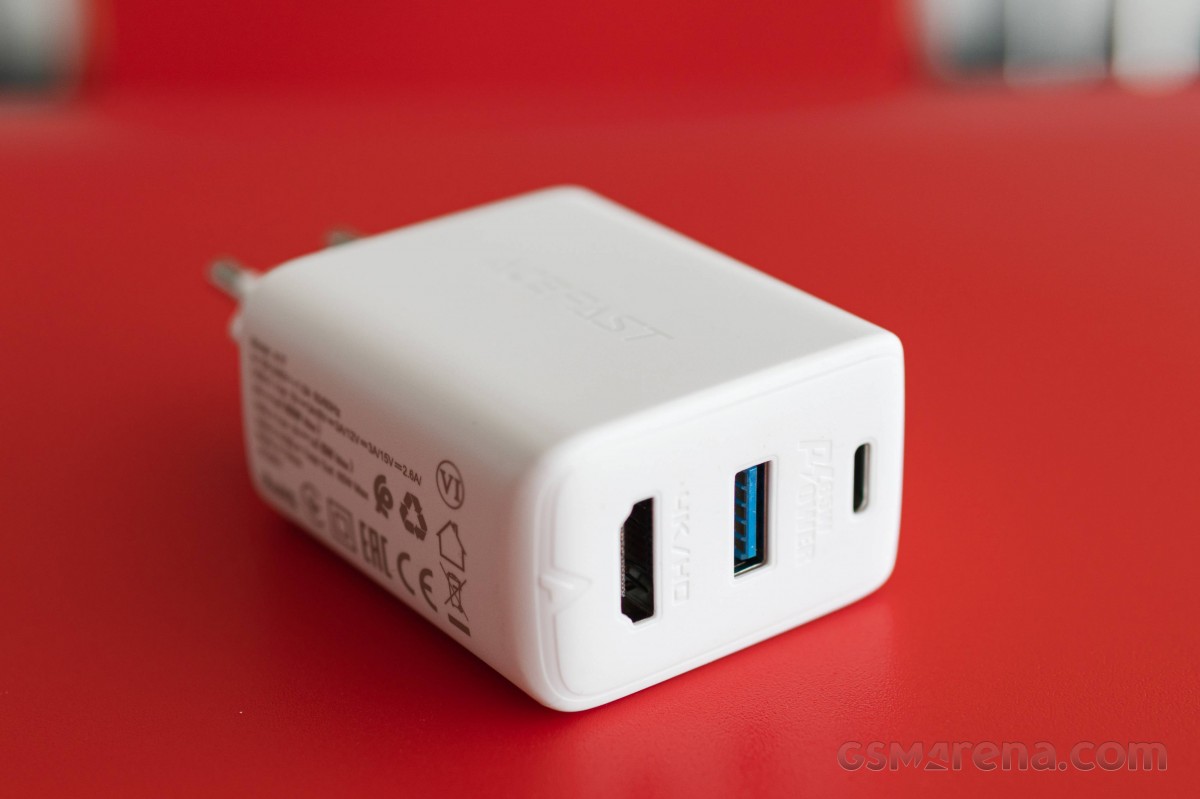 The device is inconspicuously named "Smart Wall Charger-Hub A17 GaN PD65W". You all know what a wall charger is, and we are certain most of you know what a Type-C "hub" style device is. Admittedly the latter is a broad category but is it basically a device that connects to a Type-C port and offers more ports and features, typically relying on the basic USB specification or something fancier like Thunderbolt that might be sitting behind a Type-C port. Well, the Charger-Hub A17 rolls the two into one.
ACEFAST Charger-Hub A17 specs at a glance:
Body: 96.8x31.7x51.9mm, 135g; Flame-retardant PC.
Input: AC100-240V~1.5A, 50Hz/60Hz, EU and US plug available.
Output: USB-C: 60W max (Support for PPS, QC3.0, AFC, FCP); USB-A: 5W, 5V / 1A max; HDMI: 4K / 3840x2160 / 60Hz.
USB Type-A specs: USB 3.1 gen.2 up to 10GBps data rate. 5V / 1A max power.
Accessories: 1.8m USB Type-C to Type-C braided cable (100W, 10Gbps).
Certification: PSE, FCC, UL test report.
We can think of at least two reasons, where that might come in handy. First off - one less thing to carry around. Want a good portable Nintendo Switch setup or one for docking a phone and using something like Samsung's DeX? This could be a good solution.
The other potential use case for us is a clean setup. Hubs are great, but the vast majority come with a short male Type-C cable attached to them, which means the hub itself is meant to go right next to the laptop, phone, or another device you are plugging in. With the ACEFAST Charger-Hub A17, you can have all of the bulky plugs and cable ends hidden away and properly cable-managed with just a single Type-C cable going to your device on the desk.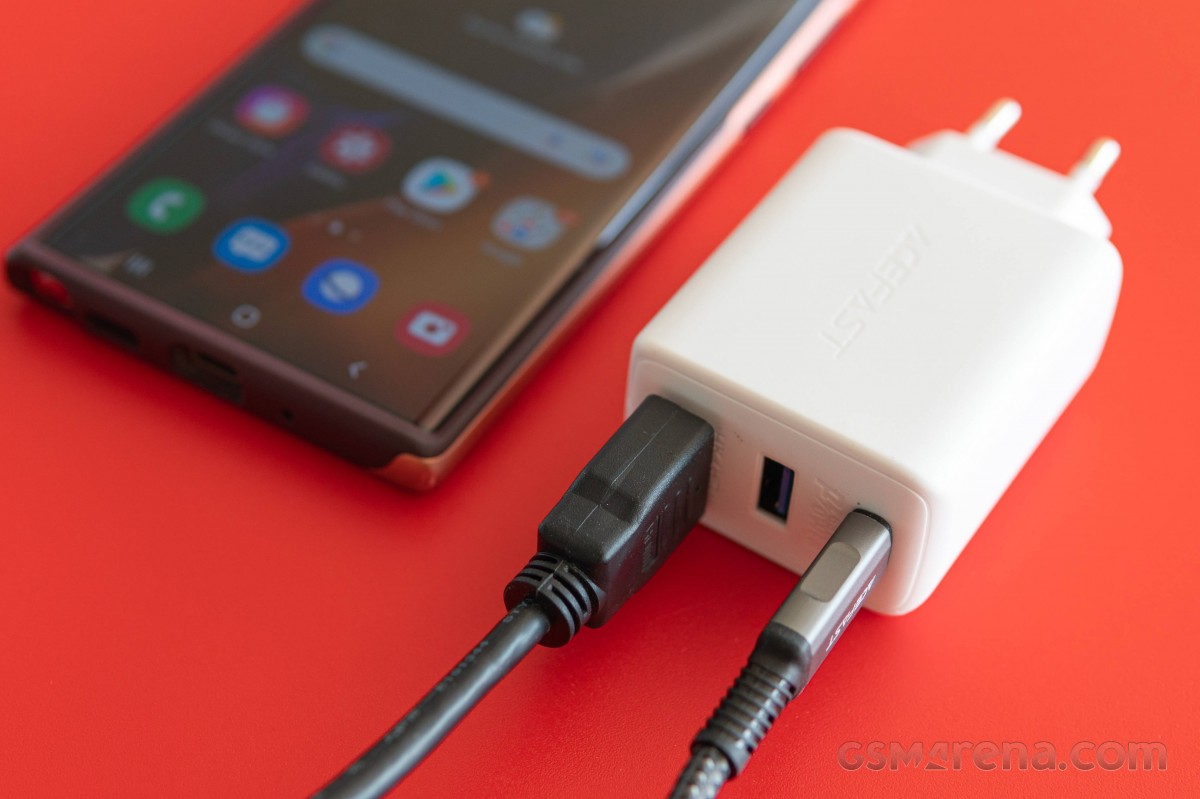 To be clear, nothing we just described is unseen before. For instance, there are plenty of monitors out there that can supply power and take a video out from a phone or laptop via a single Type-C cable. Even so what ACEFAST is offering is convenience and versatility in a clever way we haven't really seen anywhere else. That alone made us believe there is a market for this particular gadget out there.
Specs and features overview
There really isn't all that much to the individual parts that make up the Charger-Hub A17 once you break it all down. There are a total of three ports on it. The Type-C one is good for up to 60W of Power Delivery (the 65W rating on the box is actually a cumulative one for it and the USB Type-A port). It also carries a USB data connection and a video output back from the connected device.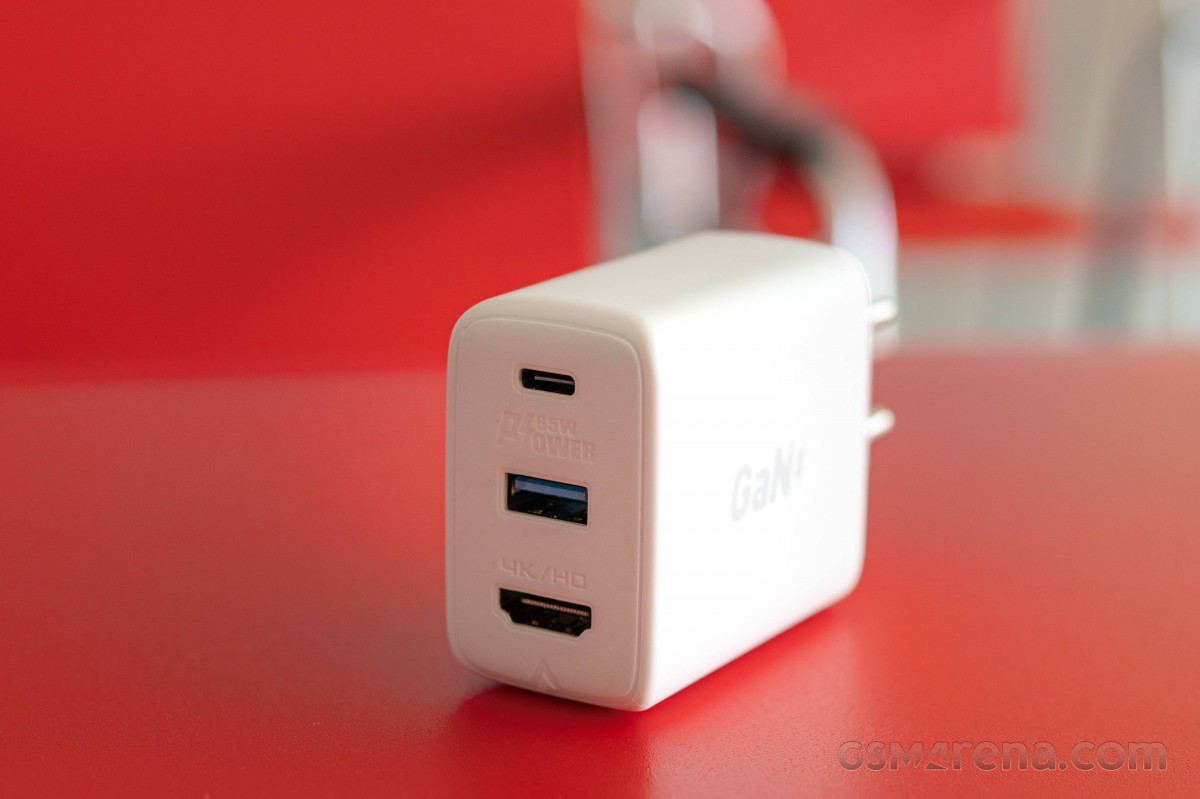 The USB Type-A port is meant for attaching a USB device to the host. It is advertised as a UBS 3.1 port, which means very little. The port itself is good for 5W of power and, according to our testing, tops out at 10GBps of data transfer, making it a "gen 2" port.
The HDMI port is not "basic" either. It supports up to 4K@60Hz output, which makes it an HDMI 2.0 one. That's great to see since many Type-C hubs out there are limited to 4K@30Hz on an HDMI 1.4 port.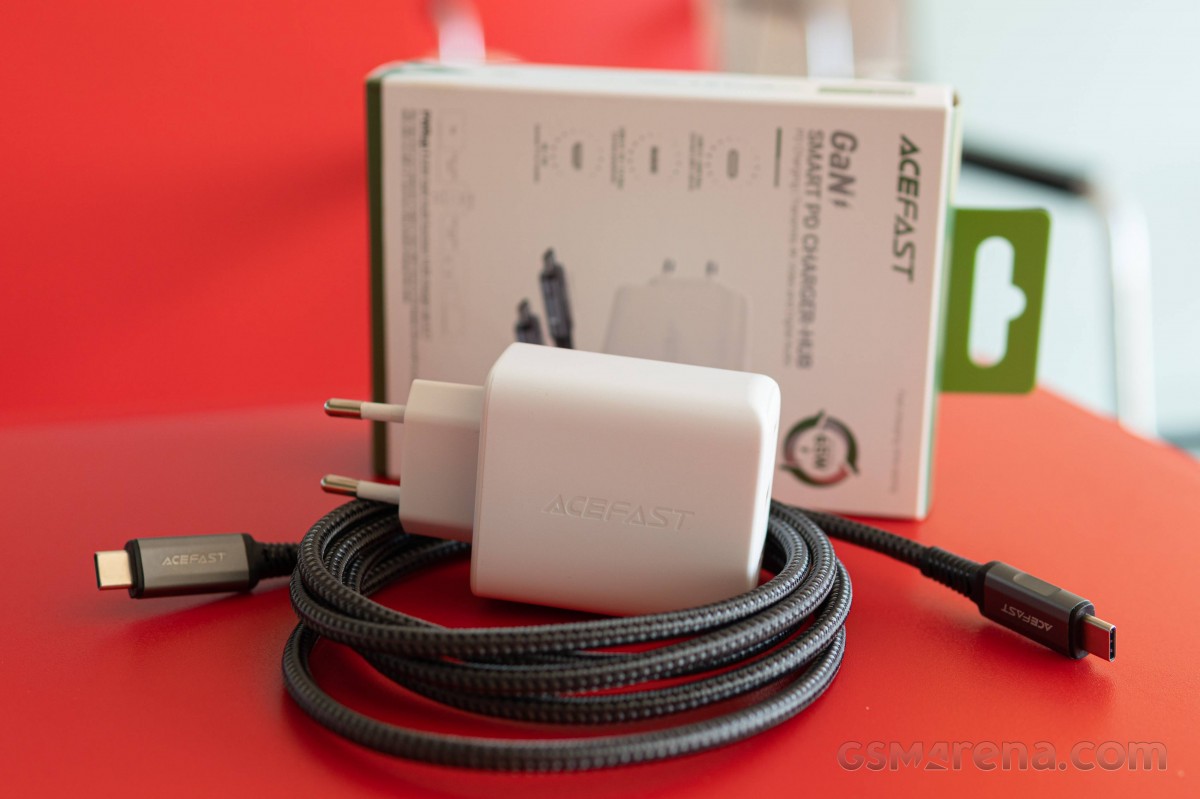 The ACEFAST Charger-Hub A17 also ships with a very sturdy 1.8m USB Type-C to Type-C cable. According to our POWER-Z USB meter, it is a passive cable, good for up to 20V@5A of power or 100W and 10GBps of data transfer. Perfectly suited for the needs of the charger/hub.
How well does it work as a charger
The charger part of the Charger-Hub A17 is impressive in terms of space efficiency. The whole gadget measures 96.8 x 31.7 x 51.9mm and tips the scale at 135 grams. That's impressive density that can only be achieved through the use of Gallium nitride or GaN technology. And the size of the entire package becomes that more impressive once you consider the extra hardware that is also crammed in there to handle the hub duties.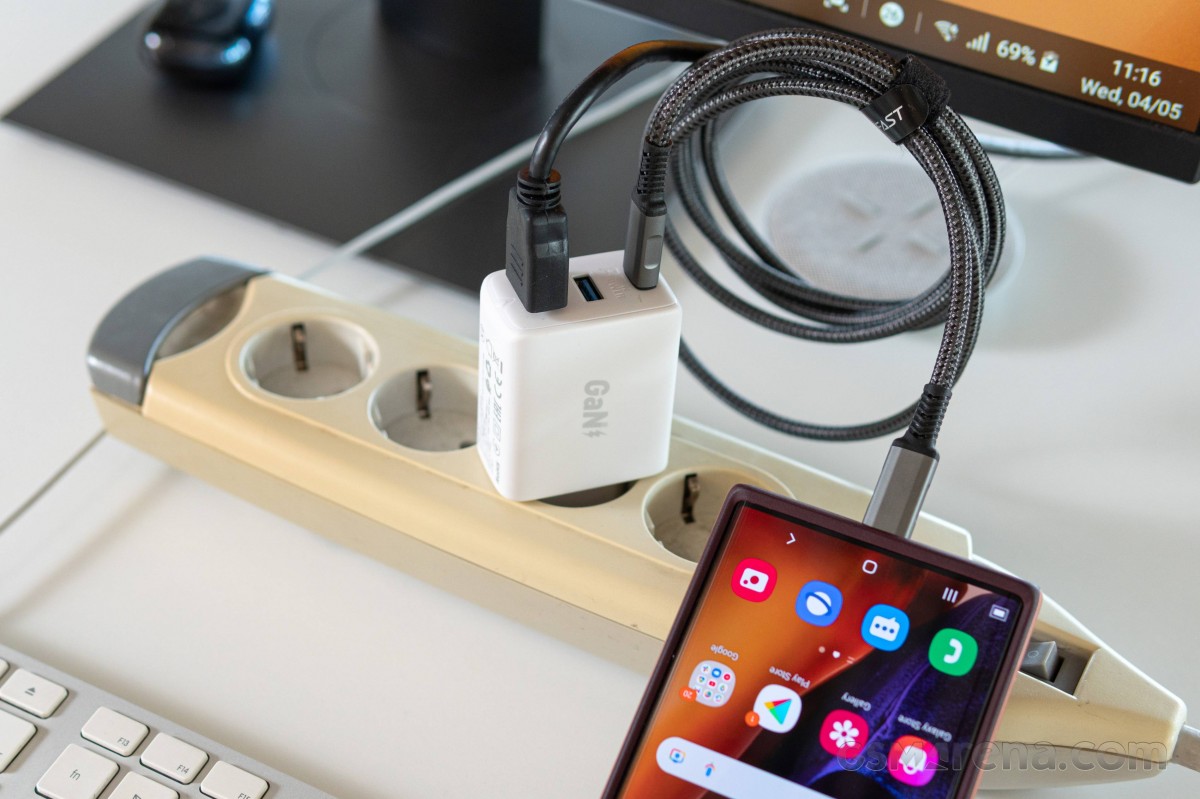 ACEFAST advertises nice and broad charging standard compatibility for the Charger-Hub A17, including USB PD with PPS as well as QuickCharge 3.0, AFC and FCP support. However our review unit only supports PD up to 60W with only fixed outputs and no PPS. 5V@3A, 9V@3A, 12V@3A, 15V@2.6A and 20V@3A, to be exact. We aren't sure why this discrepancy exists, but retail units should hopefully support all of the advertised standards.
How well does it work as a "dongle" for HDMI and USB
Video output over Type-C is pretty versatile on the Charger-Hub A17. To be fair, unlike other parts of the confusing USB Type-C and its underlying USB and Thunderbolt standards, video output is relatively straightforward and usually done over USB alt-mode. Even so, there are some subtle differences and nuances that need to be considered to make an HDMI hub work with a wide variety of modern devices.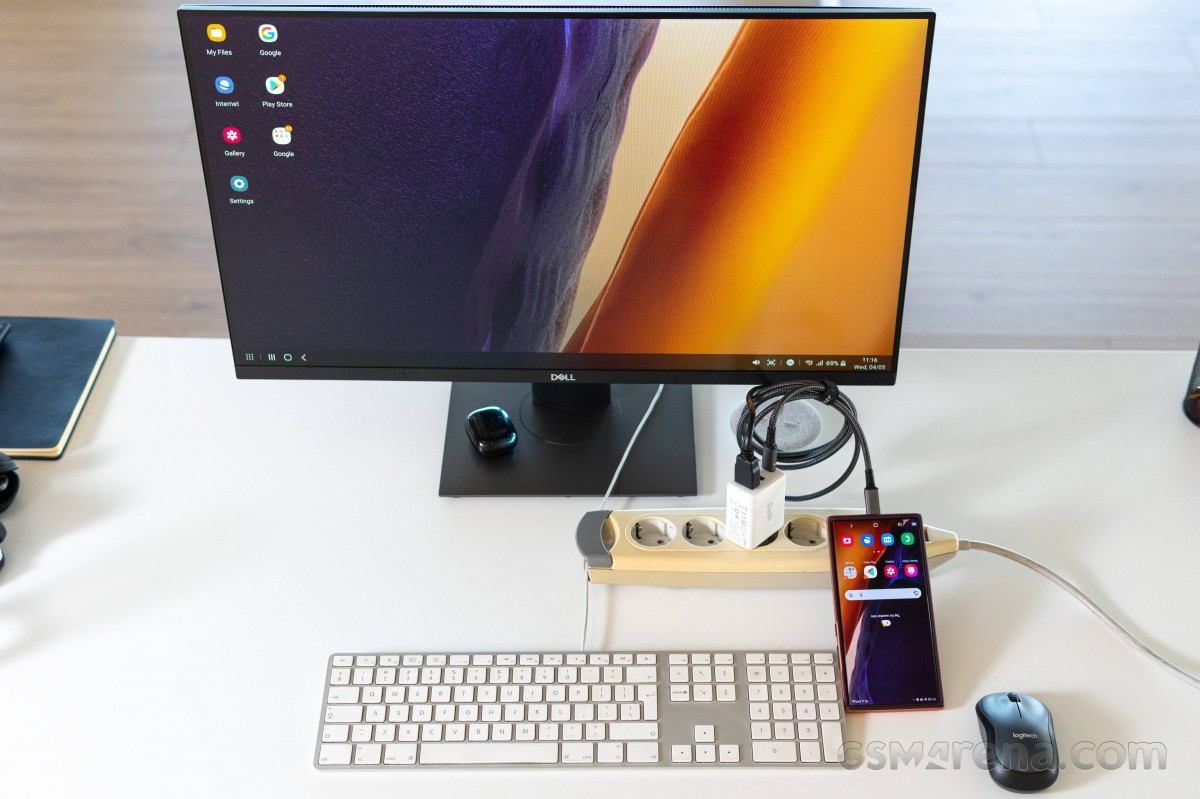 We successfully managed to get both video output and a USB connection with the Charger-Hub A17 on a total of three laptops we tried, including Apple ones. We were also successful with a few Samsung and Huawei devices with their respective DeX and Desktop Mode implementations. We also got a perfectly stable experience with a Nintendo Switch, which is known to have poor compatibility with some third-party dongles. ACEFAST did its homework in this department. You can find a longer list of devices verified to work with the Charger-Hub A17 on its Amazon listing.
It is also worth reiterating that the Charger-Hub A17 supports HDMI 2.0 and up to 40K@60Hz. This is particularly important for work scenarios like docking a laptop or using DeX since 30Hz is horrid for productivity and "desktop" experience in general.
Final thoughts
The ACEFAST Charger-Hub A17 is currently listed on Amazon US for $49.99. That's a pretty reasonable price in our book for what is essentially a GaN PD charger, a USB Type-C HUB and a Type-C cable. Europe pricing and availability are expected to follow soon.
We like the Charger-Hub A17 and think it's a really nifty little gadget. Again, none of its features are revolutionary in any way, but the clever way in which they are implemented here is worth considering. The Charger-Hub A17 is great at being either a very light and portable solution to carry around or a way to get a cleaner docking setup. Both are great use cases.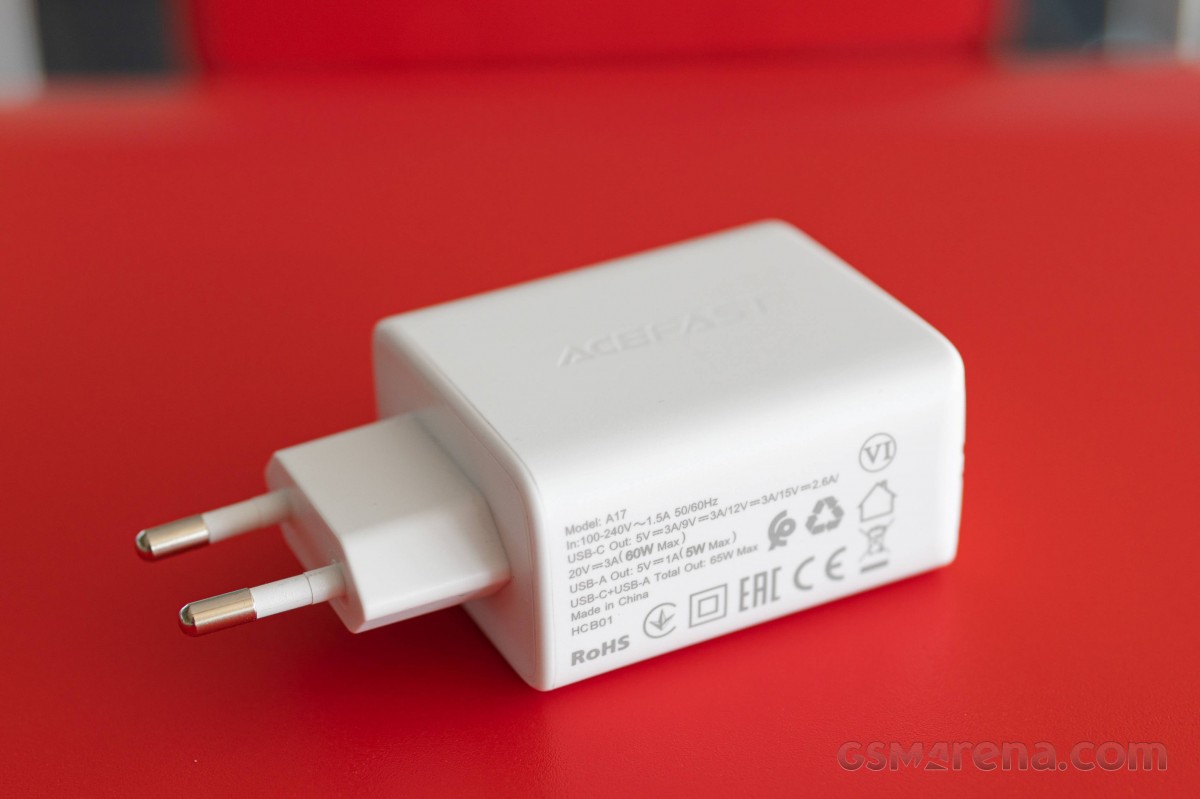 We found no major gripes with the Charger-Hub A17 in our testing either. Well, short from the somewhat baffling absence of some of its advertised charging protocols on our unit, which shouldn't be the case with retail ones. We would have also loved to see another USB Type-A port on there since one is kind of limiting. Perhaps ACEFAST can deliver that with a version 2.0 at some point. Other than that, the Charger-Hub A17 works great and has extensive device compatibility.
We are sure that at least a few of you out there will find the Charger-Hub A17 intriguing, and clever products like it deserve more exposure.
Related
This is like a side review they don't do this normaly go nd look for a website that reviews accessories if u want detailed review
Nope, just some sites stealing our content. Unfortunately, it's not the first time our featured articles have been reposted or the last.
This isn't an article written by GSM Arena. It's part of an advertising blitz for this product. This same exact article appears on various website as of May 8 (just google search ACEFAST Charger-Hub A17). Clearly a paid advertisement.
Popular articles
Popular devices
Electric Vehicles