alcatel 1X unveiled with Android Oreo (Go edition), plus two kid-friendly tablets
Peter, 24 February 2018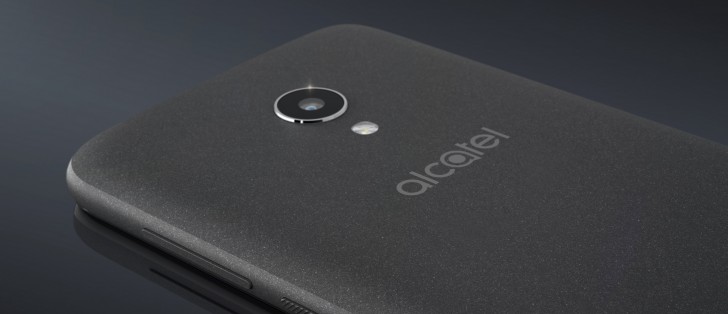 Alcatel brought some budget-conscious offerings to the MWC and we were pleasantly surprised to find out they run Android 8.1 Oreo. There's one phone, the alcatel 1X, and two tablets, both under the alcatel 1T name. As a bonus, there are two LTE hotspots.
alcatel 1X phone
The alcatel 1X has a modest starting price of €100, but it runs the latest Android 8.1 Oreo. It should be noted that this is Android Go Edition, due to the low-ish hardware specs. Actually, it's the first Android One phone ever!
The phone has an 18:9 screen, 5.3" in diagonal, and a fingerprint reader on the back (the latter available only in some regions).
The camera is pretty solid, though it varies by region - you get either 13MP or 8MP. The good news is that both record 1080p video and have Electronic Image Stabilization (plus Photo Booth and Social Square modes). The selfie cam is a 5MP shooter with dedicated flash (it doesn't support face unlock).






alcatel 1x in Blue (without fingerprint) and Black (with fingerprint)
That's the good news, but in this price range some concessions have to be made. The chipset comes with an unimpressive quad-core processor and the base memory option gives you only 1GB of RAM. You can get an upgrade to 2GB, but the built-in storage is fixed at 16GB in both cases (there is a microSD slot, though).
The screen is nothing to write home about with its 480 x 960px resolution, which is a bit low even in the €100 price range. The battery is on the small side with 2,460mAh capacity too.
The alcatel 1X will launch in April in single SIM (€100) and dual SIM (€110) versions. Some models will have a soft touch Suede finish.
alcatel 1T tablets
The two alcatel 1T tablets - 7" and 10" models - are some of the most affordable slabs with Android 8.1 Oreo. They cost €70 and €100 respectively.
Both tablets feature Kids Mode and come pre-loaded with apps and games (including a kids camera and a drawing app). This should tell you that they are aimed at a younger audience.
Both tablets have IPS screens. On the alcatel 1T 10, it's a 10.1" panel with 1,280 x 800px resolution. On the alcatel 1T 7, it's a 7" 1,024 x 600px screen. The batteries are different too - 4,000mAh (good for 8 hours of use) and 2,580mAh (7 hours) respectively.
It helps that the chipsets are no speed-freaks, MediaTek MT8321 with quad-core 1.3GHz processor. You'll get 1GB of RAM with 16GB storage (1T 10) or 8GB (1T 7), thankfully a microSD slot is available.
The alcatel 1T tablets are coming out in Q2 across Europe, Latin America nad Asia.
alcatel LINKZONE hotspots
Sure, your phone can create a Wi-Fi hotspot, but that will take a toll on its battery. The alcatel LINKZONE Cat. 12 hotspot can help with that in two ways - first, it delivers up to 600Mbps download speeds over Wi-Fi ac, second, you can use it as a power bank.
That's thanks to its 4,300mAh that offers up to 15 hours of use time. And you don't have to keep turning it off and on, it can last 300 hours in standby mode - with Wi-Fi turned on! This model weighs 150g, though.
If you want to go more compact, the alcatel LINKZONE Cat. 7 is lighter at 85g. It has a 2,150mAh battery that will last 8 hours of use and 200h in standby (but it lacks a power bank mode).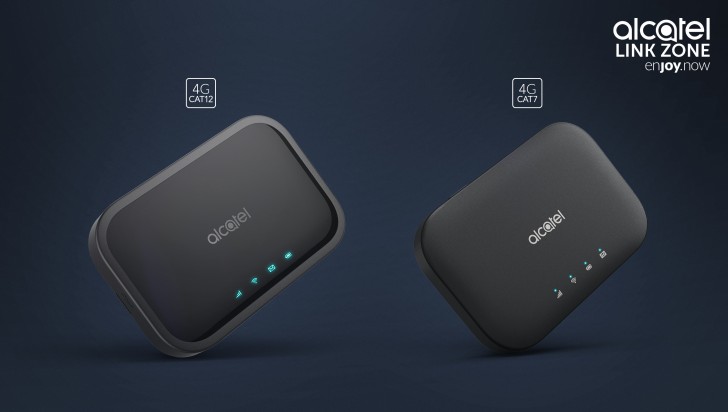 This lower model has 2-channel carrier aggregation (vs. 3) and so it delivers 300Mbps downlink speeds. Both models do 100Mbps up and can create Wi-Fi a/b/g/n/ac hotspots on 2.4GHz or 5GHz.
The alcatel LINKZONE hotspots will be available later this year at a price of €180 for the Cat. 12 model and €100 for the Cat. 7 model.
Related
Yeah its not a complete ripoff but camera and flash placements are identical
Can you at least say what is so rip off about xa2 with it ? I cant see anything remotely similar to these two phones. XA2 have everything better hardware wise and from design wise XA2 have sharp corners so it does not look like these Alcatel's are de...
1x should be pretty good phone cheap with fast updates
Popular articles
Popular devices