Alcatel Idol 3 (5.5) and Idol 3 (4.7) review: Two phones, one soul
Two phones, one soul
GSMArena team, 01 June 2015.
Display
Alcatel Idol 3 (5.5) features a 5.5" FullHD (1920 x 1080 pixels) IPS display. The unit has the same size and 401ppi pixel density as the iPhone 6 Plus. The 4.7" Idol 3 does away with 720p display with 312ppi.



The 5.5" display of Alcatel Idol 3 • the 4.7" Idol 3 does away with 720p display
The manufacturer boasts that the screen comes with dynamic color and contrast adjustment. They are marketing as some Technicolor technology but the truth is only licensing its brand to the smartphone maker and whatever technology they have, it has been developed in-house. The enhancement in this case refers to dynamic boosting of colors and contrast of certain areas of the screen image so that skin tones and faces remain natural looking.
One thing is certain, both phones have pretty nice displays for their price ranges and we really like the side viewing angles, the colors and the contrast. Sunlight legibility is quite good on both models.
Battery life
Alcatel Idol 3 (5.5) packs a 2,910mAh non-removable battery. The unit's capacity similar to that offered by some of the device's rivals in the mid-range segment. We put the Idol 3 (5.5) through the paces of our battery test. It achieved an endurance rating of 67h, which is quite good.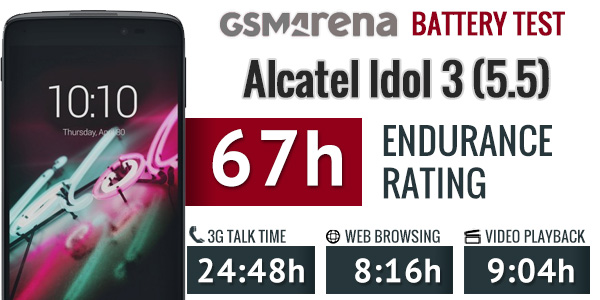 The Alcatel Idol 3 (4.7) has a significantly lower capacity battery of 2,000mAh. The unit propelled the device to an endurance rating of 55h.
Regarding the wide gap in talk time, you should bear in mind that the Alcatel Idol 3 (5.5) has been tested on a T-Mobile US network (3G mode) far from our usual European test site. This is one potential reason for the huge difference though our experience with other smartphones is that as long as the network signal is good, the choice of network cannot influence the battery life score that much. This should come to point out that, we're most probably looking at a genuine difference in the performance of the two, which can be caused not only by battery capacity but also due to a difference in the modem used by the built-in chipset.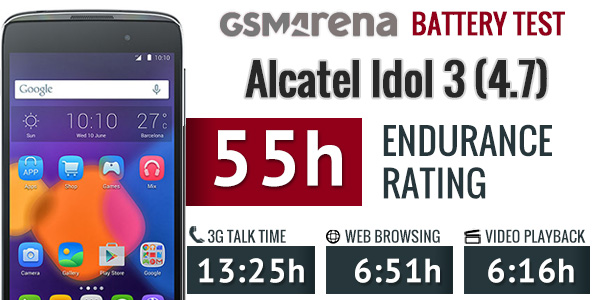 Our endurance rating is an approximation of what the battery would theoretically last you if you were to use your phone for an hour each of telephony, web browsing, and video playback per day. While usage routines certainly vary, we've adopted this as a basis of our calculations to allow you to compare the real-life battery life of the phones we review. The endurance rating calculation also includes a standby battery draw measurement, which is not shown on the scorecards above.
Connectivity
The Idol 3 offers a rich set of connectivity features. The basics include quad-band GSM and UMTS, followed by HSPA+ and Cat. 4 LTE (150Mbps) support. Certain markets also get a Dual SIM model.
A slight difference between the two Idol 3 models in the connectivity department means the 5.5-incher had dual-band Wi-Fi a/b/g/n support and Bluetooth 4.1, while the smaller 4.7-incher relies only on single band Wi-Fi and Bluetooth 4.1.
Other than that Wi-Fi Direct and Wi-Fi Display are supported by both devices, as well as NFC. Both have GPS receivers too and USB On-The-Go support.
The only notable lacking features here could be a wired TV-out option, though the significance of its lack will vary depending on your use case.
I have alcatel idol 3 5.5 I need update marshmallow
Bought this phone for just 520 saudi riyals (usd 140 approx) on eid offers here. This one is a stellar. Used it for a week to setup before sending home as a gift. Features and flaws numbered as priority below. 1,This one performs never less than m...