Amazfit Bip S Review
Sagar, 16 August 2020
Huami launched the Amazfit Bip over two years ago and earlier this year at CES, the company followed it up with the Bip S, which looks similar but comes with improvements like Bluetooth 5.0 and a bigger battery to name a few. I used the Amazfit Bip S for over a month and with this review, I'll try and help you decide if it's worth your money.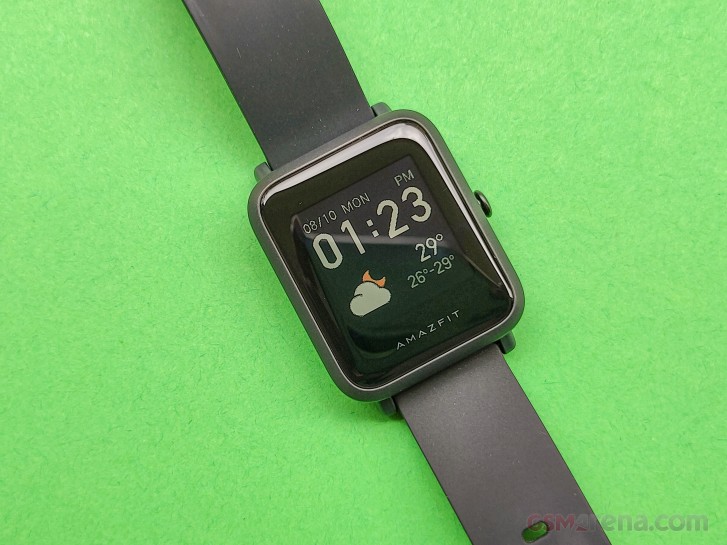 Amazfit Bip S specifications
Display: 1.28", 176x176 pixel color transflective screen, Always-On Display, 64 RBG color gamut, 2.5D Gorilla Glass 3
Straps: Detachable TPU/silicone straps, 20mm width, 85-110mm adjustable length
Operating System: Amazfit OS
Features: Real-time heart rate monitor, 5ATM water resistance, Sleep Tracking, Sports Tracking, Step Counter, Call and App Notification alerts, Idle Alert, Phone Finder, Weather Forecast, Music Control, Compass and World Clock
Sports Modes: Outdoor Running, Walking, Cycling, Swimming, Treadmill, Indoor Cycling, Freestyle, Elliptical Trainer, Yoga and Rope Jump
Sensors: PPG Bio-Tracking Optical Heart Rate Sensor, 3-axis accelerometer, 3-axis geomagnetic sensor
Connectivity: Bluetooth 5.0/BLE, Compatible with Android 5.0+ and iOS 10.0+
Positioning: GPS, GLONASS
Battery: 200mAh
Colors: Carbon Black, Red Orange, Warm Pink, and White Rock
Dimensions: 42 x 35.3 x 11.4 mm
Weight: 31 grams
Design
The Amazfit Bip S looks similar to the regular Bip and is very lightweight at 31 grams, which makes it comfortable to wear at night for sleep tracking. The main module of the Bip S is made up of polycarbonate and flaunts what Huami calls a "Two-Tone Design", which fuses two different shades of polycarbonate material for an "expressive appearance".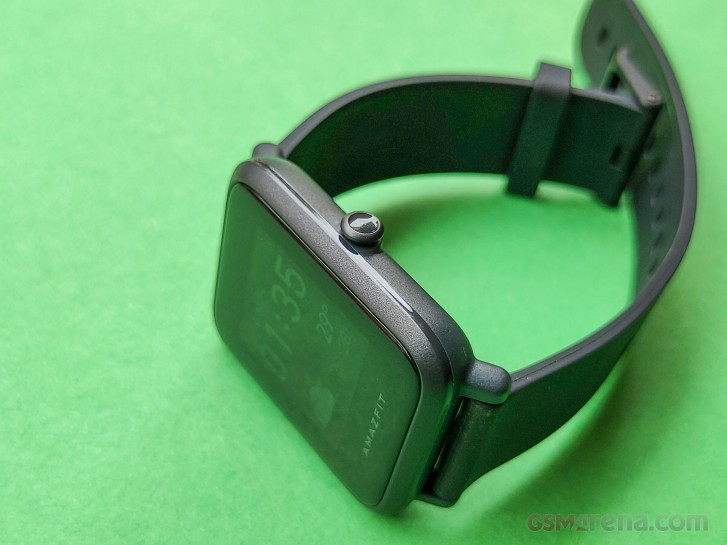 The Amazfit Bip S comes with detachable straps, having 20mm width and an adjustable length of 85-110mm. They are made up of silicone or TPU, depending on what color version you purchase. Our Carbon Black unit comes with the TPU straps while the White Rock, Warm Pink, and Red Orange models ship with silicone straps.
The TPU straps are soft and didn't feel uncomfortable at all during my 18-20 hours of daily usage for over a month. However, the color of the straps on my unit has chipped off around the points where I tighten the buckle.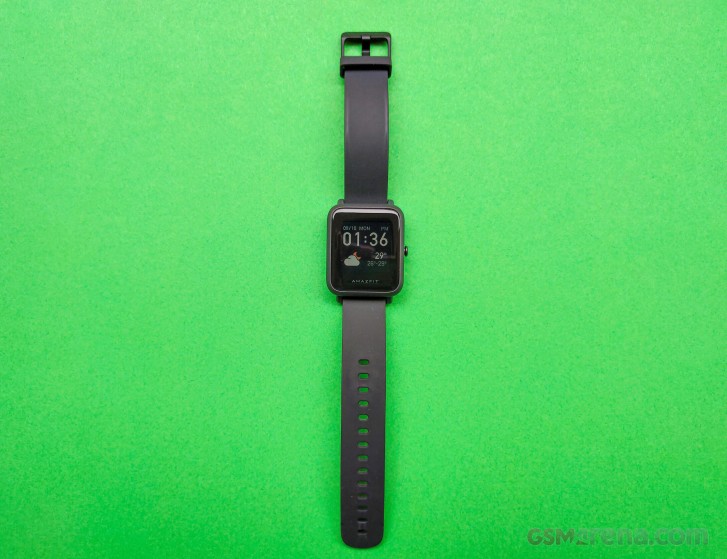 The Amazfit Bip S packs a 1.28" display with an Amazfit logo right below it. The smartwatch also has a 316L stainless steel physical crown on the right side that has decent feedback and can be used to unlock the smartwatch, return to a previous menu, scroll up and down during a workout and pause it. It is the only way to access the features and settings on the smartwatch, and you can also configure it to quickly start a sports mode with a long press.
Around the back, the Amazfit Bip S has charging pins joined by a PPG Bio-Tracking Optical Heart Rate Sensor that's developed by Huami. It's housed inside a slightly raised circular dome and the crevice accumulates grime over time. The smartwatch is also water-resistant up to 5ATM (50 meters), meaning you don't have to take it off your wrist when going for a shower or a swim.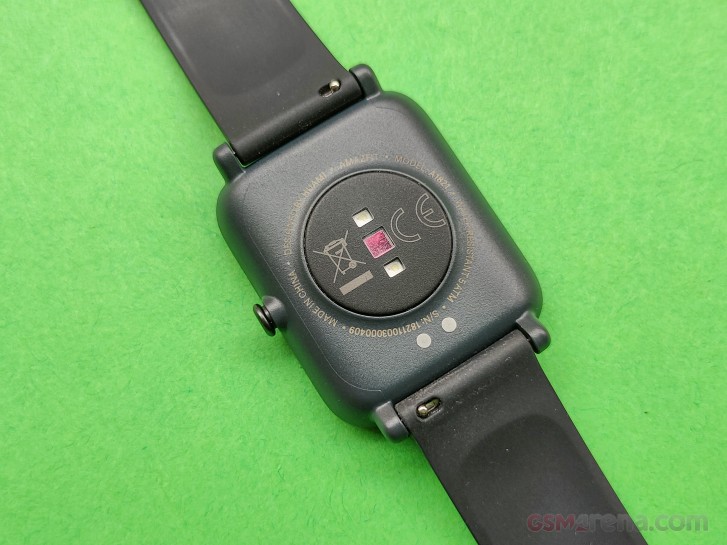 Charging pins and PPG Bio-Tracking Optical Heart Rate Sensor on Amazfit Bip S
Display
The Amazfit Bip S sports a 1.28" always-on transflective color display of 176x176-pixel resolution. It can only show 64 colors and comes with the protection of 2.5D Corning Gorilla Glass 3 and an anti-fingerprint coating.
The benefit of the transflective display is that it consumes less power, and its outdoor visibility is fantastic. The brighter the sunlight is, the clearer the screen looks - quite the opposite of other smartwatches and smartbands. This will be appreciated by those who workout a lot outdoors since they won't have to turn on the backlight to view the on-screen content, which leads to lesser power consumption.
The visibility of the display indoors under artificial lighting is good enough to check the time. But to use other functions of the Bip S and depending on the arrangement of indoor lighting conditions you are using it in, you may have to increase the brightness of the screen. I kept the screen brightness at the maximum level for indoor usage and using it under dim lighting conditions still required turning on the backlight. This can be done either by pressing the physical button or by simply lifting your wrist.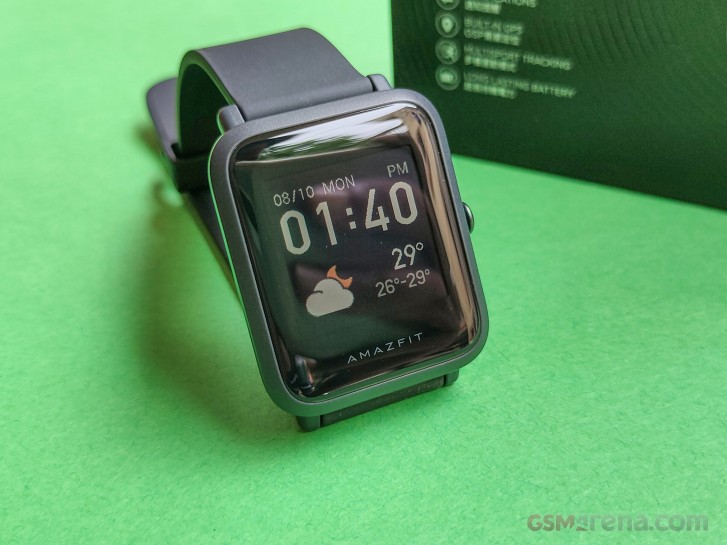 The quality of the screen isn't the best in the segment, though, since there was some pixelation and after a few weeks of usage, the unit had image retention issue, which is hardly ideal.
The Amazfit Bip S comes with five watch faces on board, with two of them customizable, meaning you get to choose what information you see on the screen. The default watch face displays time, date, day, and weather. To check the battery level of the smartwatch, you have to swipe down on the homescreen that also presents quick shortcuts for DND, screen lock, screen brightness and music control.
If you want more watch faces, you can head over to the Amazfit app that has 50 custom watch faces (on Android) for the Bip S at the time of writing this review. But do note that Amazfit warns of reduced battery life if you go with a custom watch face.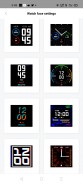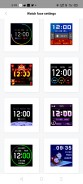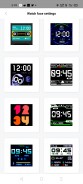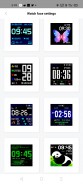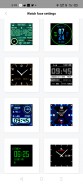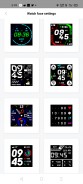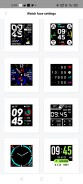 Custom watch faces available on Amazfit's official app
The Amazfit Bip S, like most other smartwatches, displays app notifications and alerts you of incoming calls. It also lets you turn on the backlight of the screen by lifting your wrist - you can keep this feature enabled around the clock or have it turned on/off automatically at a given time.
Software
You need the Amazfit app to pair the Bip S with your Android or iOS device and sync data. The pairing process doesn't take much time and once it's complete, Android users can head over to the My devices section in the Profile tab to tinker with different settings of the Bip S. Some of the settings options are also available under the Enjoy tab. You can check out the screenshots below to get a better idea of the Bip S' settings in Amazfit's Android app.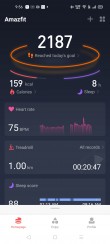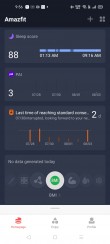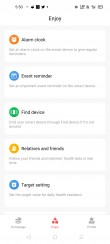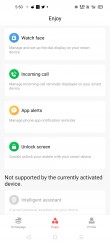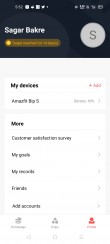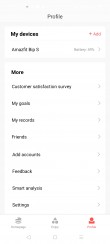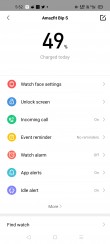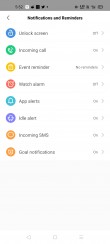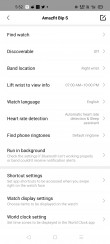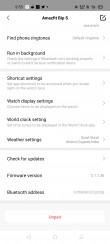 Amazfit Bip S data and settings in Amazfit's Android app
Amazfit's Android app could use some redesigning because some features are rather hard to find, while some settings can be accessed from multiple locations. For example, quick access to Incoming call, App alerts, Unlock screen and Alarm clock is available on the Homepage through the Tools section that is accessible with a swipe up, as well as the Enjoy tab. And of course, you'll find these settings under the Profile tab, too.
Besides, exercise and other health data on Amazfit's Android app is available on the Homepage at the bottom of the screen and through the flower-like button that's located in the top-right corner of the app's screen right next to the '+' icon. This honestly is a poor use of space and a bit of a decluttering will be welcomed.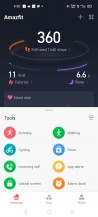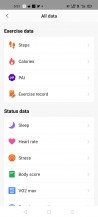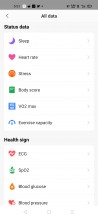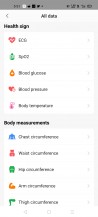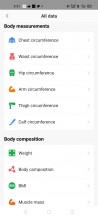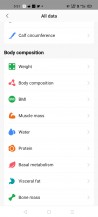 Amazfit's Android app needs redesigning and decluttering
There's one more thing that spoils the user experience: The Amazfit app doesn't show any prompt before updating the smartwatch's firmware or A-GPS, which means you face unexpected downtime when a new firware is seeded, for example. Fortunately, this doesn't take too long, but it gets annoying when you are in a hurry and want to sync the data or change a setting or do something else. I hope Amazfit will fix this soon.
The Amazfit Bip S runs Amazfit OS. It's quite responsive and the UI isn't too complex either. A swipe up on the homescreen lets you access the notifications and a swipe down opens the Control Center, which provides quick access to Do Not Disturb, Screen Lock, Music Control and Screen Brightness.
Swiping on the left or right on the homescreen lets you access different functions, which include Music, Status, PAI, Heart rate and Weather. You can rearrange the order of appearance of these shortcuts by heading to the app's Profile tab, tapping on Amazfit Bip S under My devices, and then tapping on Shortcut settings.
To start a workout and access other features and settings on the Amazfit Bip S, you have to press the physical circular button. You can exit these menus with a right swipe or pressing the circular button.
These features and settings could've been made accessible with a swipe on the left or right on the homescreen because currently, both directions bring you to the quick shortcuts which is wasteful. By doing so, the button could've been used for some other purpose like turning off the backlight of the screen.
Features and Performance
The Amazfit Bip S features real-time heart rate monitoring, sleep tracking, step counter, sedentary reminder, incoming call and app notification alerts, and sport modes. It also comes with a stopwatch, countdown timer, compass, alarm clock, world clock, event reminder, phone finder, weather forecast, as well as music control.
The Amazfit Bip S comes with a PPG Bio-Tracking Optical Sensor for heart rate monitoring that's developed in-house by Huami. It has 3x more sensing area and 7x more luminous intensity compared to the previous generation, with accuracy improved to 98% and power consumption reduced by 1/5th.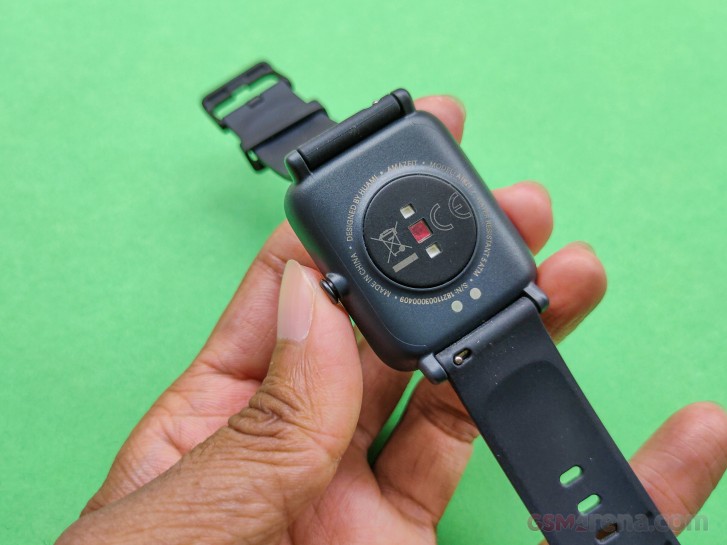 PPG Bio-Tracking Optical Heart Rate Sensor on Amazfit Bip S
The sensor measured the pulse accurately most of the time. You can measure it manually from the Bip S or have it measured automatically at an interval of 1 minute, 5 minutes, 10 minutes, or 30 minutes. There's also an option to set an alert if your heart rate goes beyond a specified threshold. However, the value can only be set from the smartwatch by heading to the Workout > Settings menu, which is a bit of an inconvenience. That said, your daily heart rate data is accessible on the smartwatch and more details can be found in the Amazfit app.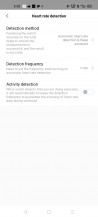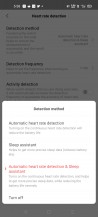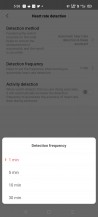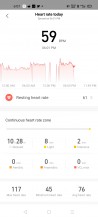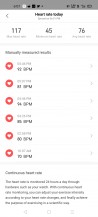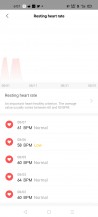 Heart rate monitoring on Amazfit Bip S
The sleep tracking on the Amazfit Bip S is pretty accurate. Your sleep data is presented in the Amazfit app in a graphical form along with sleep and wake up time, as well as the amount of deep sleep, light sleep and awake time. Amazfit's sleep assistant also gives you a sleep score to help you ascertain the quality of your sleep along with suggestions to improve it.
Moving on to sports tracking, the Amazfit Bip S comes with 10 sports modes, which include Outdoor Running, Walking, Cycling, Open Water (swimming), Treadmill, Indoor Cycling, Freestyle, Elliptical Trainer, Yoga, and Rope Jump. The first four require GPS connection and if you decide to go ahead without GPS lock, the smartwatch will monitor your workout and display all the details on the screen, but the session won't be recorded.
Amazfit has used a 28nm low-power GPS chip from Sony that didn't work indoors but is very accurate outdoors at route tracking. Your workout route is displayed in the Amazfit app along with other data of the sports modes in the Exercise record section. You can also get a quick glance of your workouts on the Bip S by heading to Workout > Workout history.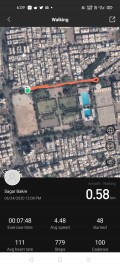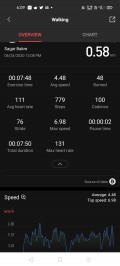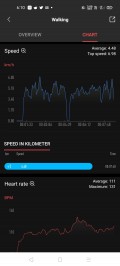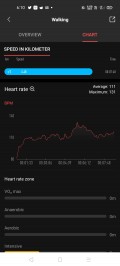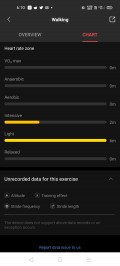 Workout data with GPS route tracking
The Amazfit Bip S also features an automatic step counter, and just like other fitness trackers, the Bip S isn't entirely accurate at it since it does record some extra steps. You can check the total daily steps on the smartwatch as well as the Amazfit app.
Like most other fitness bands and smartwatches, the Amazfit Bip S also comes with incoming calls and app notification alerts. The smartwatch allows you to reject or mute an incoming call, but it doesn't let you reply to an app notification. You can only check it on the screen and delete it.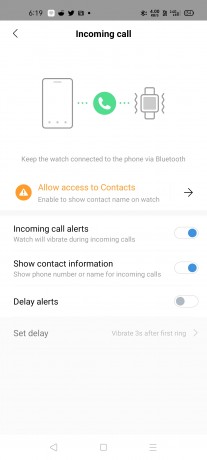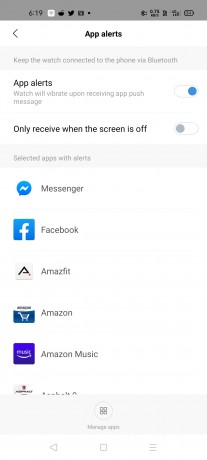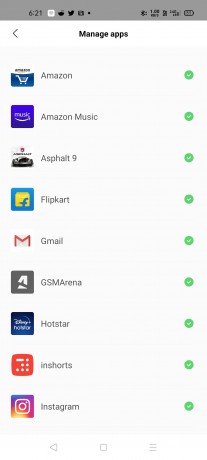 Incoming Call Alert • App Notification Alerts
The Bip S can show a maximum of 10 notifications at a time, with the content displayed across three pages. The smartwatch also displays the app icons with the notifications, but it doesn't work with all apps. Besides, you can't delete a new notification when it pops up on the screen. It can only be dismissed and you have to go to the Notification Center to delete it with a left swipe. For bulk deleting, you'll have to scroll all the way to the bottom and tap on the delete button. The smartwatch does display notifications during an ongoing workout, which is nice.
The last health feature on the Amazfit Bip S is the Idle Alert, that asks you to "Get up and move" after one hour of inactivity. It can be enabled by heading to the Profile tab > Amazfit Bip S under My devices > Idle alert. You can choose the time range during which you want to receive idle alerts. This feature worked mostly fine, but there were times when the smartwatch sent idle alerts immediately after I moved or walked.
The rest of the features of the Amazfit Bip S, which I already mentioned, are stopwatch, countdown timer, compass, world clock, event reminder, phone finder, weather forecast, alarm clock, as well as music control. These are all self-explanatory but the last two deserve some attention.
You can set up up to 10 alarms on the Bip S, but this needs to be done through the Amazfit app as there's no way to create an alarm on the smartwatch. However, you can enable/disable one that's already created.
The alarm vibration isn't strong enough, and there were many times it failed to wake me up. The smartwatch also doesn't vibrate for an entire minute, which is another reason why you shouldn't rely on it entirely and use your smartphone or a proper alarm clock to ensure you wake up on time.
The Music Control feature also isn't perfect. I often had to tap on the playback control buttons multiple times to play/pause the music or change tracks.
Battery life
The Amazfit Bip S packs a 200mAh battery, which the company claims can offer 40 days of autonomy in a basic usage scenario and 15 days in a typical usage scenario. You can check out the image below to know what that means.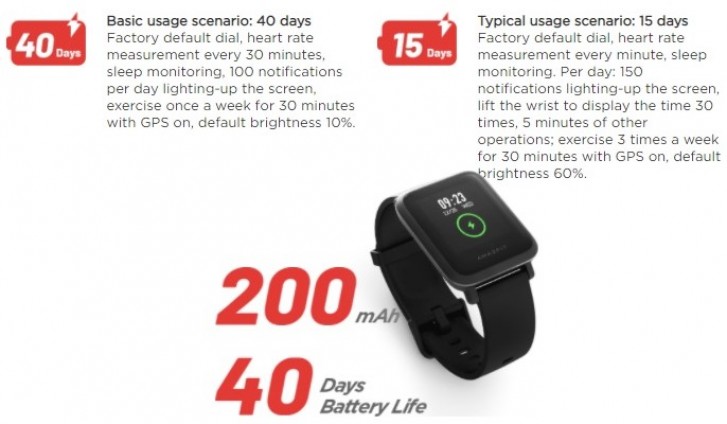 In my testing, I got 10-11 days of endurance on an average with a default watch face, 100% brightness, automatic heart rate monitoring interval set to one minute, and more than 100 notifications throughout the day that consume extra power since the watch vibrates to alert you. This also includes indoor walking for around two hours and do note that your mileage will vary depending on the duration and type of workout - especially if the sports mode uses GPS positioning for tracking.
The Amazfit Bip S powers off automatically once it reaches 1% charge. The company says that the bundled charger takes 2.5 hours to fully charge the battery in the Bip S, but in our testing, the smartwatch went from flat to 100% in around 1 hour and 56 minutes on average, which was a pleasant surprise.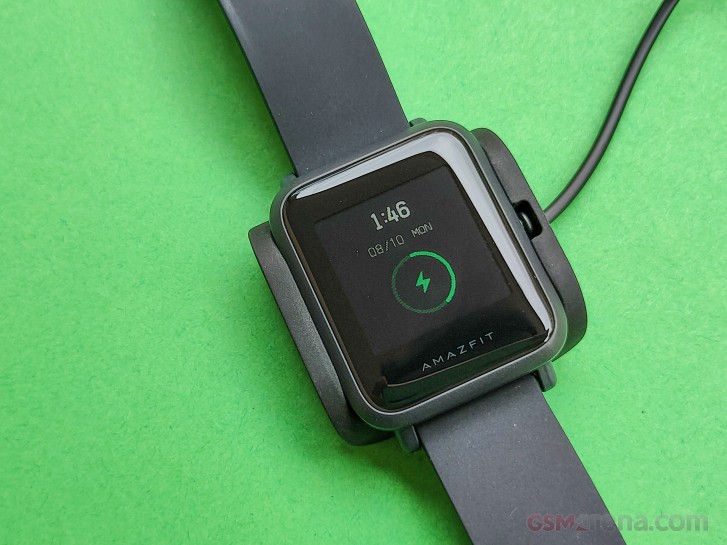 The smartwatch displays time, date, day and new notifications when charging but doesn't show the exact charge level, so you have to open the Amazfit app on the paired smartphone to check the battery percentage. But on the upside, you don't have to sit and wait near the smartwatch to juice up since you'll get a notification on your connected smartphone when the battery is full.
The charging dock holds the smartwatch firmly and has a rubber groove at the bottom to prevent it from sliding, but the quality of its cable isn't confidence-inspiring and might break off easily if you aren't careful with it.
Verdict
The Amazfit Bip S isn't perfect, but it does have a lot of things going for it - it's lightweight, has great outdoor visibility, and offers good battery life. The smartwatch is also pretty good with its fitness features and its built-in GPS is accurate, too.
Priced at INR4,999 ($65/€55) in India, the Amazfit Bip S competes with the Realme Watch that costs INR1,000 ($13/€11) less. It comes with an SpO2 monitor and Camera Control that the Bip S is lacking, but despite that, I'd pick up the Bip S over Realme Watch due to the better experience and more reliable performance. You can read our Realme Watch review here to learn more about that one.
If you live in India, you also have the option to pick up the Amazfit Verge Lite which is currently down to INR4,999 ($65/€55) from INR6,999 ($95/€80) and comes with a 1.3" AMOLED screen of 360x360-pixel resolution, 390mAh battery, IP68 water resistance, and an ambient light sensor.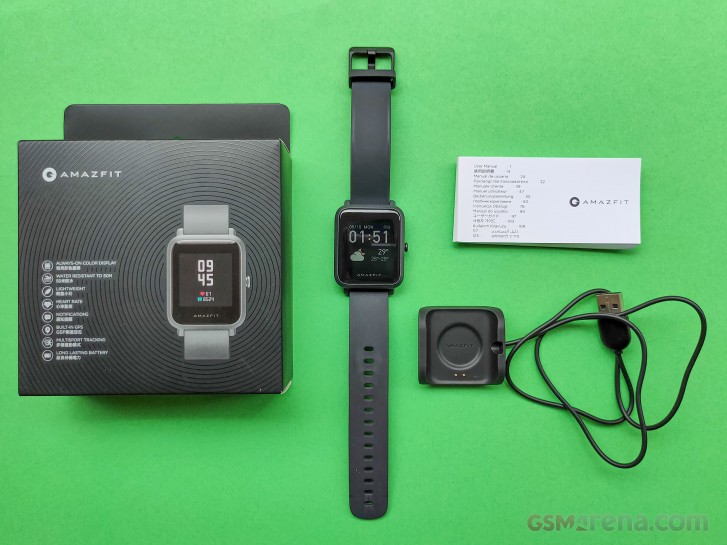 Pros
Lightweight and comfortable
Outdoor visibility of the always-on transflective display is fantastic
5ATM water resistance
GPS is pretty accurate
Battery life
Cons
Watch software and app need some polishing
Notification management needs improvement
Doesn't record outdoor workout sessions if there's no GPS lock
Related
Marlborek
11 Nov 2022
dM8
The watch has an annoying couple of bugs. 1) manufacturer claims that it has 22 hours GPS continuous working time. Ad.1. - nope - it runs out of memory long before it runs out battery. After about 16 hours is displays a message that it run out of...
Zepp app and MiFit app (I think) can be paired to Strava... so your routes are transferred to it.
Guys plz help me is possible to sync the swimming data to stra a?
Popular articles
Popular devices
Electric Vehicles