Amazfit T-Rex Pro review
Michail, 11 April 2021
Huami (soon to be rebranded as Zepp) recently announced its latest rugged smartwatch with the Amazfit T-Rex Pro. Being a Pro upgrade to the original Amazfit T-Rex which we reviewed in detail last year, the new edition brings 10ATM water resistance (compared to 5 ATM on the old model) and Huami's self-developed BioTracker PPG 2 optical sensor. Other than that you get a slightly tweaked software experience in the same military-grade rugged design as before.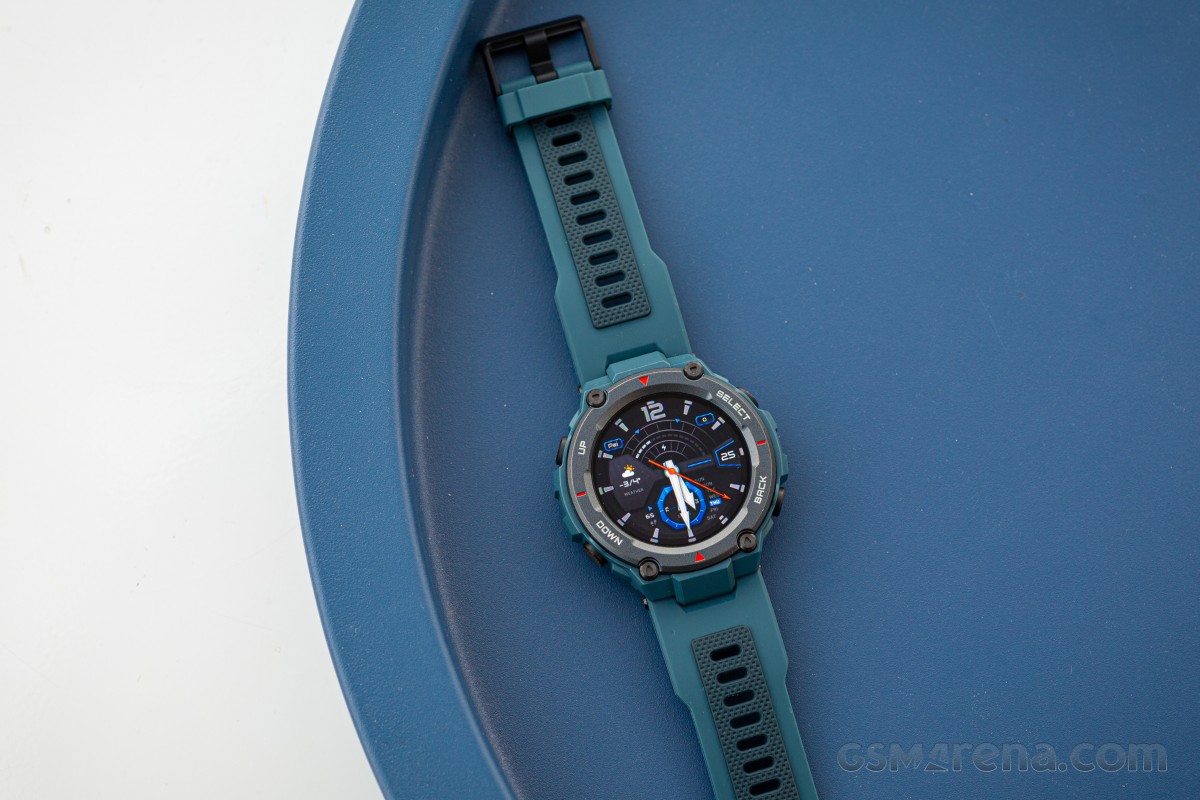 This means an excellent 1.3" AMOLED with the Always-On Display functionality, on-board GPS and tracking for over 100 sports and activities. There's the usual array of health tracking features that monitor your heart rate, blood oxygen saturation, sleep and stress. Are the upgrades enough to justify the $180/ €170/ INR 12,999 asking price when the OG T-Rex is still available for far less? Let's find out in our Amazfit T-Rex Pro review.
Amazfit T-Rex Pro specs
Body: 47.7 x 47.7 x 13.5 mm, 59g (with strap), non-standard strap; 10 ATM water resistance (supports swimming) and STD-MIL-810G certification; Tempered glass + oleophobic coating; Polymer body, metal buttons
Display: 1.3" AMOLED, Resolution 360 x 360 pixels, support AOD watchface
OS: Proprietary; Support for Android 5.0 and above, iOS 10.0 and above
Battery: 390mAh (18 days typical use, 66 days basic watch mode, 40 hours continuous GPS tracking)
Connectivity: Bluetooth 5.0 + BLE; GPS+GLONASS
Misc: BioTracker 2 PPG biological tracking optical sensor, 3-axis acceleration sensor, 3-axis gyroscope sensor, geomagnetic sensor, Ambient light sensor, Barometric altimeter
Design
We got the new Steel Blue color for our review as well as the stealthier Meteorite Black option. Both watches come with red accents on the casing and the two dark colors make them quite versatile to match your style needs.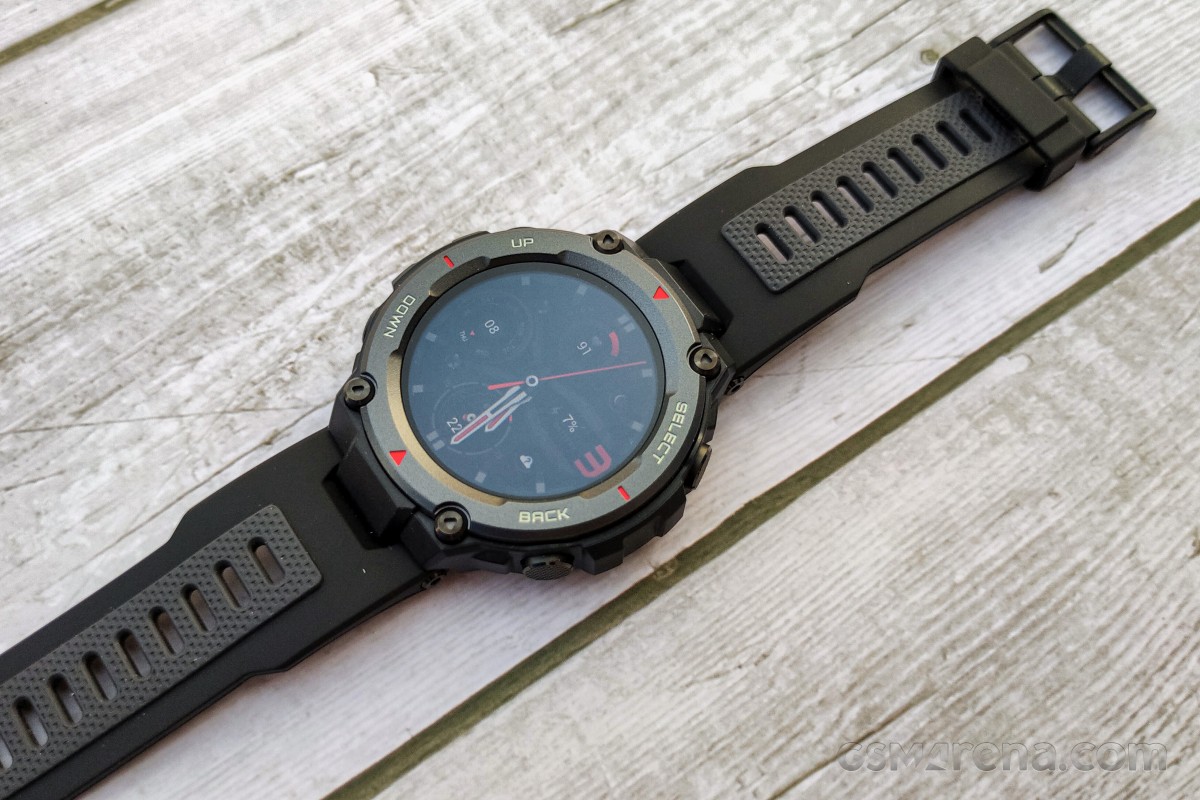 The casing is made from plastic and features a metal spray coating on the outer rim. The four navigation buttons (yes four) are made from metal and are a really useful way to control your watch without smudging up the screen. You can go about the interface, select items and go back while operating the watch with your gloves if you happen to be skiing or at the pool trying to time your swim laps. Button feedback is not the best out there and leaves a lot to be desired.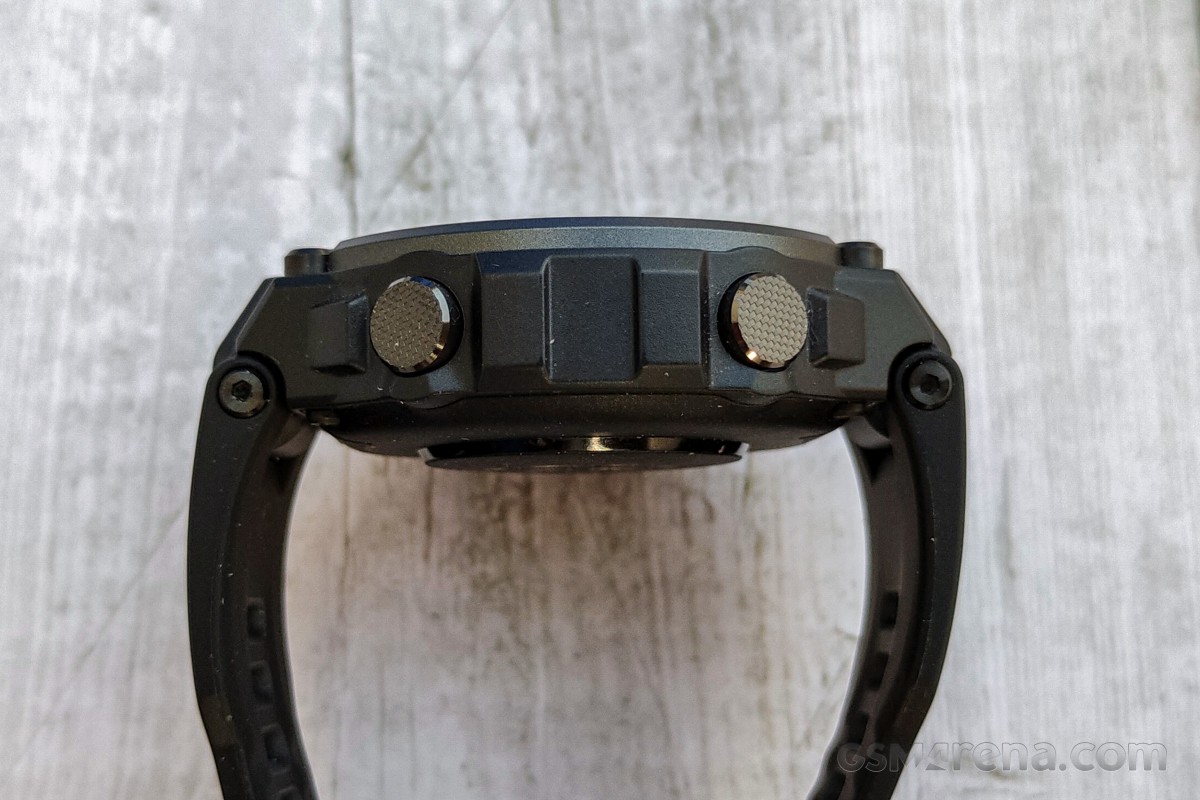 As a rugged smartwatch, the T-Rex Pro comes with the assurance of 15 MIL-STD-810G certifications. These include shock resistance, certified functioning in environments with weather ranging from -40 degrees Celsius up to +70-degrees Celsius. The watch is also able to withstand ice and freezing rain.
One of the big new addition of the Pro is the 10ATM water resistance, up from the 5ATM on the original Amazfit T-Rex. This means you can submerge the watch in water at up to 100 meters. Not that it's something you'd normally do unless you're an advanced scuba diver.
Despite the bulky look, the T-Rex Pro fits really well even on smaller wrists and is comfortable to wear 24/7. The watch weighs 60 grams and the silicone strap feels well made while also being fairly breathable.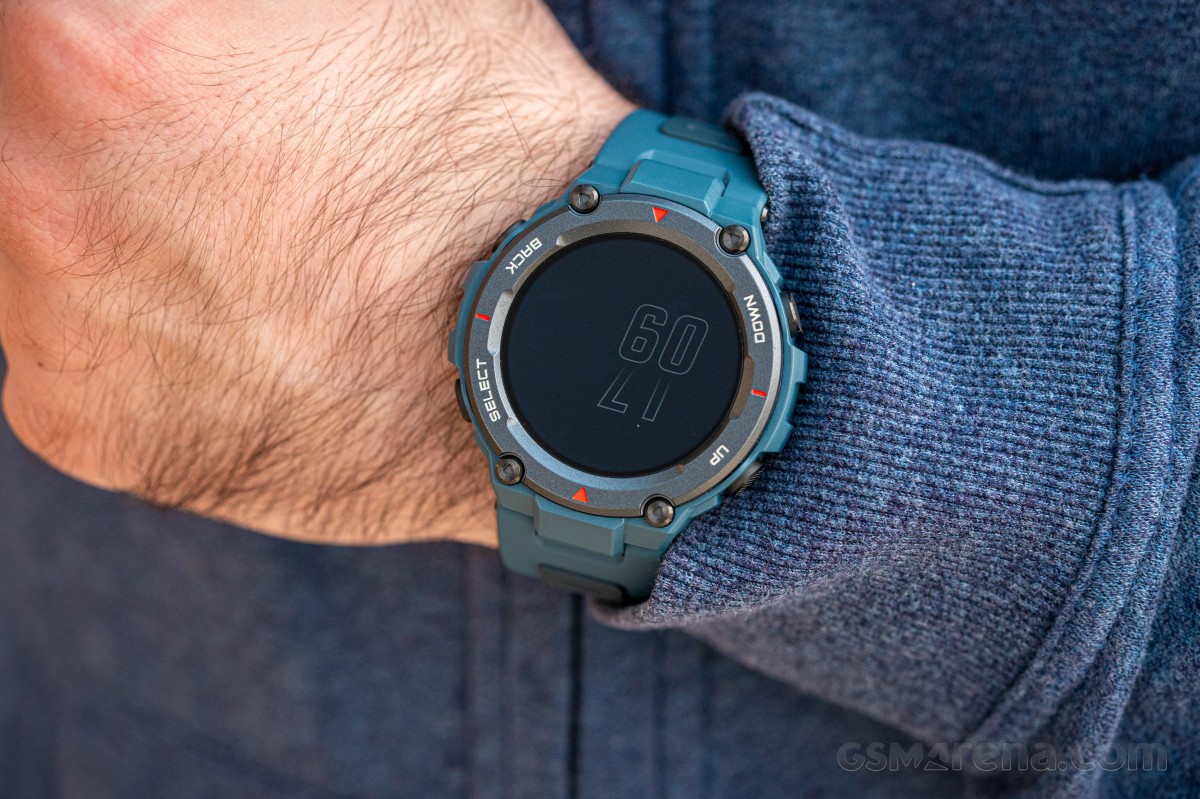 Looks are subjective matter but I actually enjoy the T-Rex Pro's rugged design and appreciate the feeling of not having to constantly worry about any accidental bumps or liquids getting in the way.
Display
The 1.3" AMOLED display on the T-Rex Pro is bright, vivid and sharp. In terms of size, I find the T-Rex Pro's display to be the optimal middle ground for ease of use and touch input while not sitting like a water meter on your wrist as some larger watches tend to do.
Text and icons were always crisp and even the more complicated watch faces still looked great from all angles and viewing distances. The Always-On Display (AOD) is a neat feature to have as is the automatic brightness control. Touch responsiveness was on point and I did not experience any problems with unregistered taps. Brightness output was good enough though certainly not class-leading.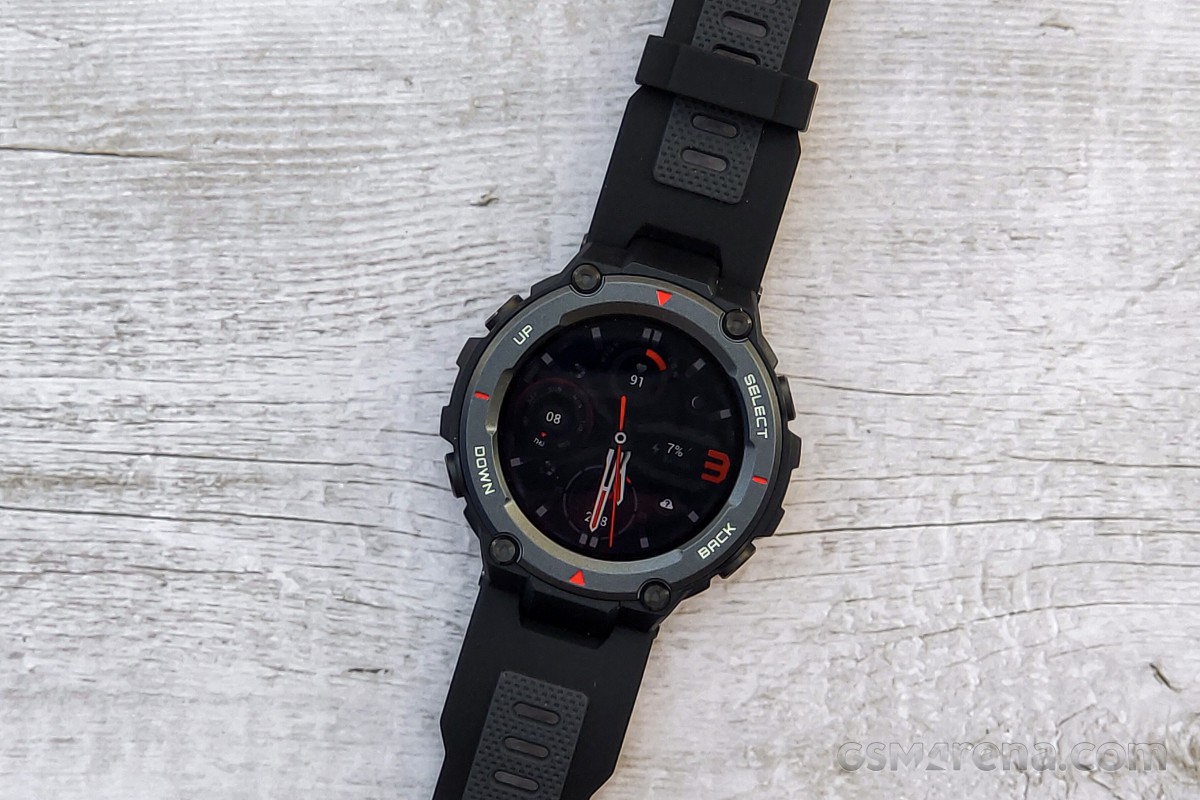 The raised outer rim of the T-Rex Pro managed to protect the display quite well in my testing. I did not go out of my way to test its durability though I can confidently say it survived the occasional dinks on doorknobs and other hard surfaces with the display glass remaining scratch-free.
Software
As with most smart wearables, the T-Rex Pro requires a phone companion app to set up and customize. The Zepp app supports both Android and iOS phones and features all the control and detailed health data graphics you'd ever need. It can sync with WeChat, Google Fit, Strava and Relive for cross-referencing your health and workout data.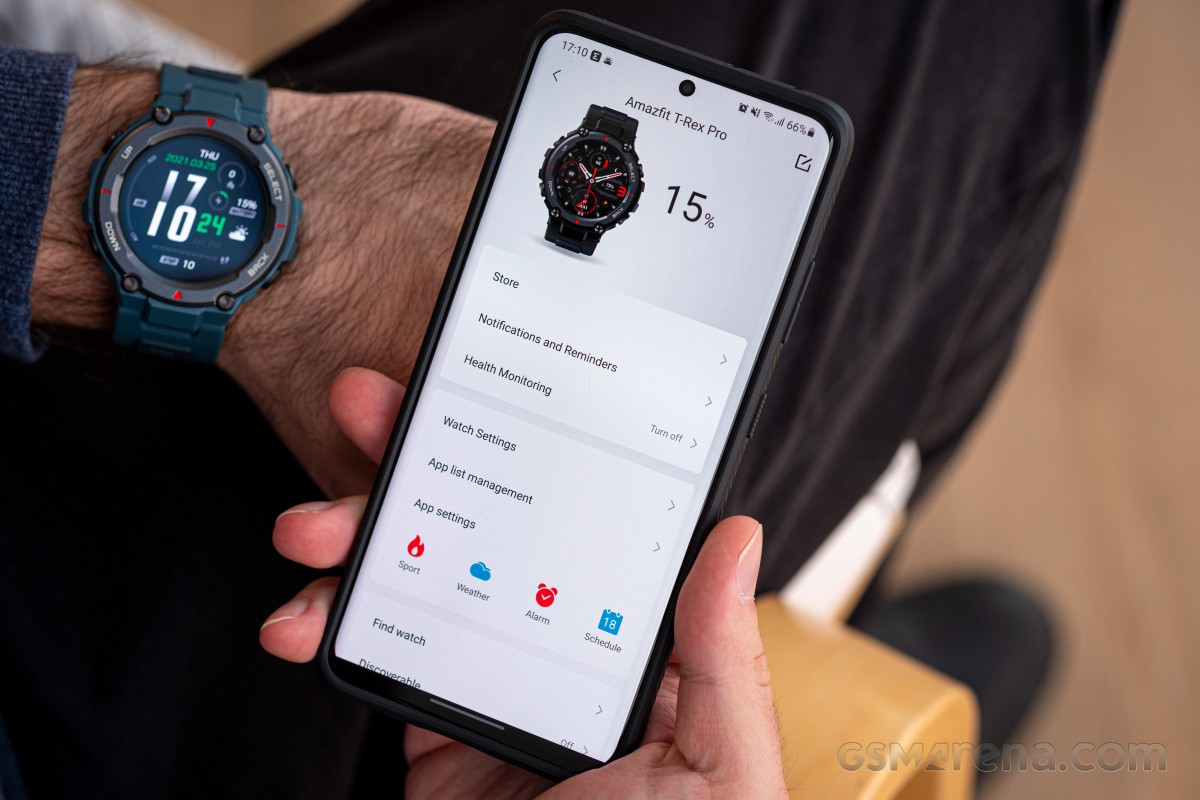 Operating the T-Rex Pro is done either through swipes on the touchscreen or through the four physical buttons. You can wake up the watch by pressing either of the four buttons and fully operate the interface in all areas without touching the screen which is really useful when wearing gloves or simply when your hands are dirty.
The new version of Amazfit's custom watch user interface on the T-Rex Pro features some slight improvements over the original T-Rex. A swipe down from the home screen gets you to the reorganized quick settings toggles. You'll find controls for display brightness, phone finder, battery saver and Do Not Disturb mode as well as a quick toggle to the watch settings menu. You get battery, weather and connectivity info just above the seven toggles.
A new addition on the T-Rex Pro is the card activities and health section which is accessed by swiping up on the home screen. It's a one-stop-shop combining the most useful features of the watch in the form of widgets. You get access to your daily activity stats, PAI score, weather info, heart rate, SpO2 monitoring and Maximum oxygen uptake. The last three can be measured directly from their respective card without the need to go into a separate screen or sub-menu.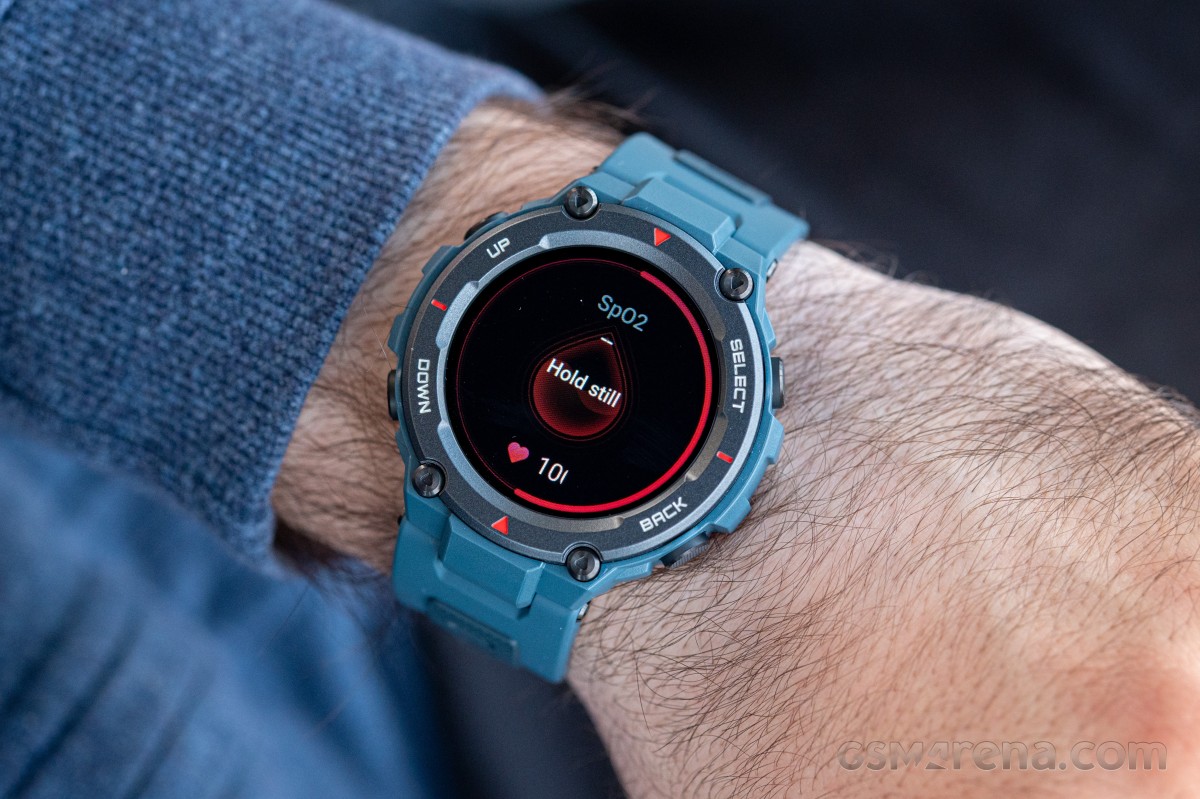 The software experience on the T-Rex Pro is definitely usable and the Zepp app brings plenty of detailed metrics for workout and health tracking data. Navigating the UI is fast and fluid and I did not encounter any app crashes or hiccups in my testing.
My main gripe is the notification system which is limiting in scope and usability. You are only getting a bubble of text without the option to reply and most app icons are not fully displayed on the watch which makes it difficult to see which app needs attention. In addition, you're not able to clear notifications individually and are only presented with the option to delete all incoming alerts.
Another letdown is that you cannot access any of the apps on the watch once you've started a workout. There's no way to control music or manage incoming notifications which would certainly be a useful addition with a future software update.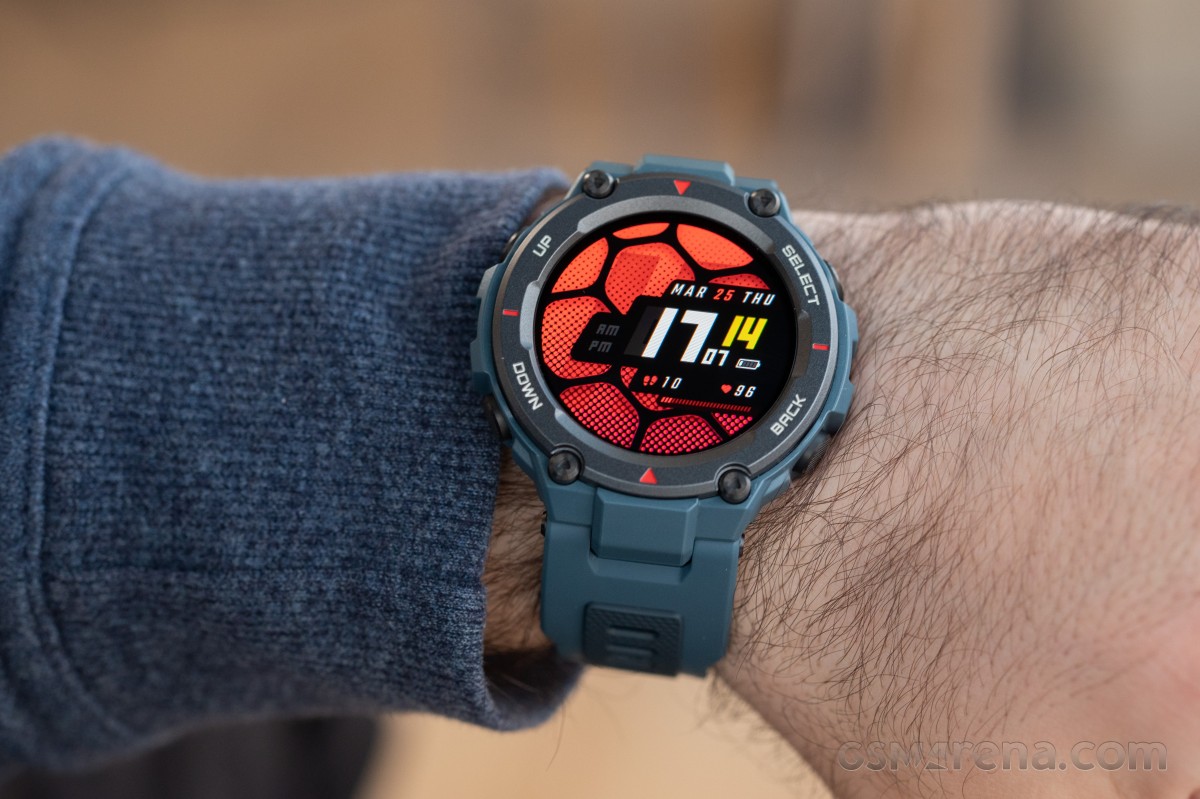 The watch face selection is solid and there are enough options to suit your style ranging from elegant analog options to feature-packed sporty styles. You can also create your own watch face with any image inside the Zepp phone app though these only display time and date which is rather limiting. There's also the AmazFaces app workaround which allows for the endless watch face customization though these options can severely limit battery endurance.
Features and Performance
On the health tracking side, we have the BioTracker 2 PPG optical sensor which was also present on the Amazfit GTR 2 series and promises to deliver more accurate readings for heart rate and SpO2 data as well as improved automatic workout detection. The T-Rex Pro also supports GPS, GLONASS, Galileo, and BeiDou satellite positioning to help you track your workout routes accurately.
Automatic workout detection was virtually nonexistent in my testing. During gym sessions, the watch failed to accurately recognize when I was switching through sets which also messed with the overall workout intensity metrics. On the other hand the sports and activity tracking selection is among the most varied I've seen to date with over 100 options to choose from.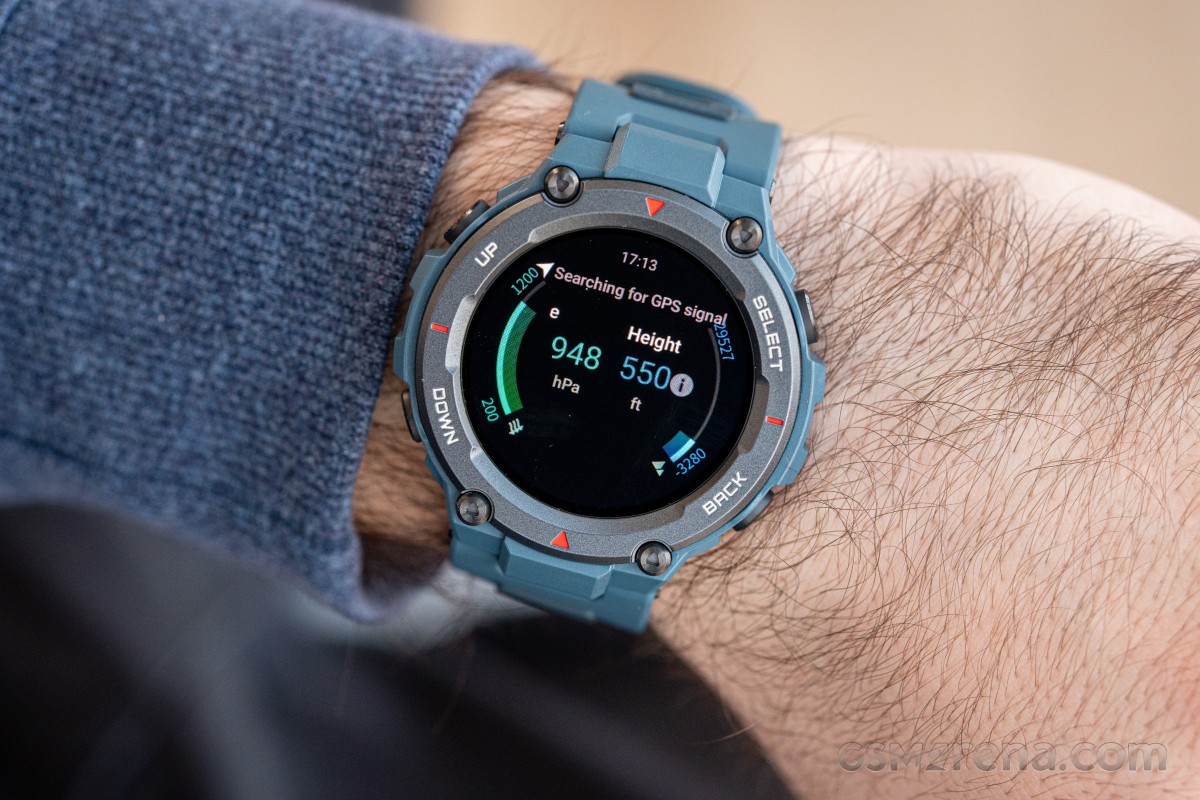 GPS locked in about 5-10 seconds after I started my workout and kept a reliable and strong signal throughout my time using it. As for GPS accuracy, it's still not on the level of a smartphone receiver. As an example, the data I recorded from a walk with the GPS info coming from the T-Rex Pro was persistently off by 10-20 meters from my actual location. The watch would also draw random lines if I switched directions.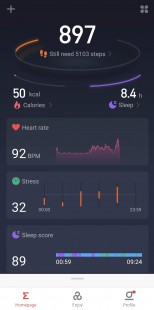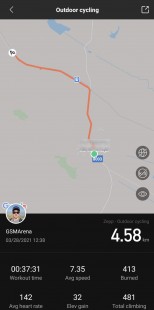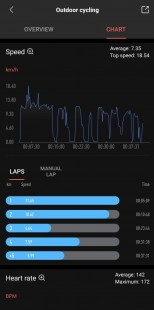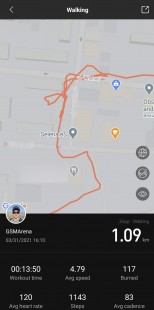 Zepp app and workout data metrics with GPS
Heart rate results were on par with other wearables from the Amazfit brand like the Amazfit GTS 2 which also sports the same BioTracker 2 PPG optical sensor. The blood oxygen saturation (SpO2) monitoring from the tracker is on point with previous Amazfit wearables and trackers from other brands. It's a useful feature especially in the times we're living in right now though it's no match for a dedicated pulse oximeter which gives you more accurate and consistent readings.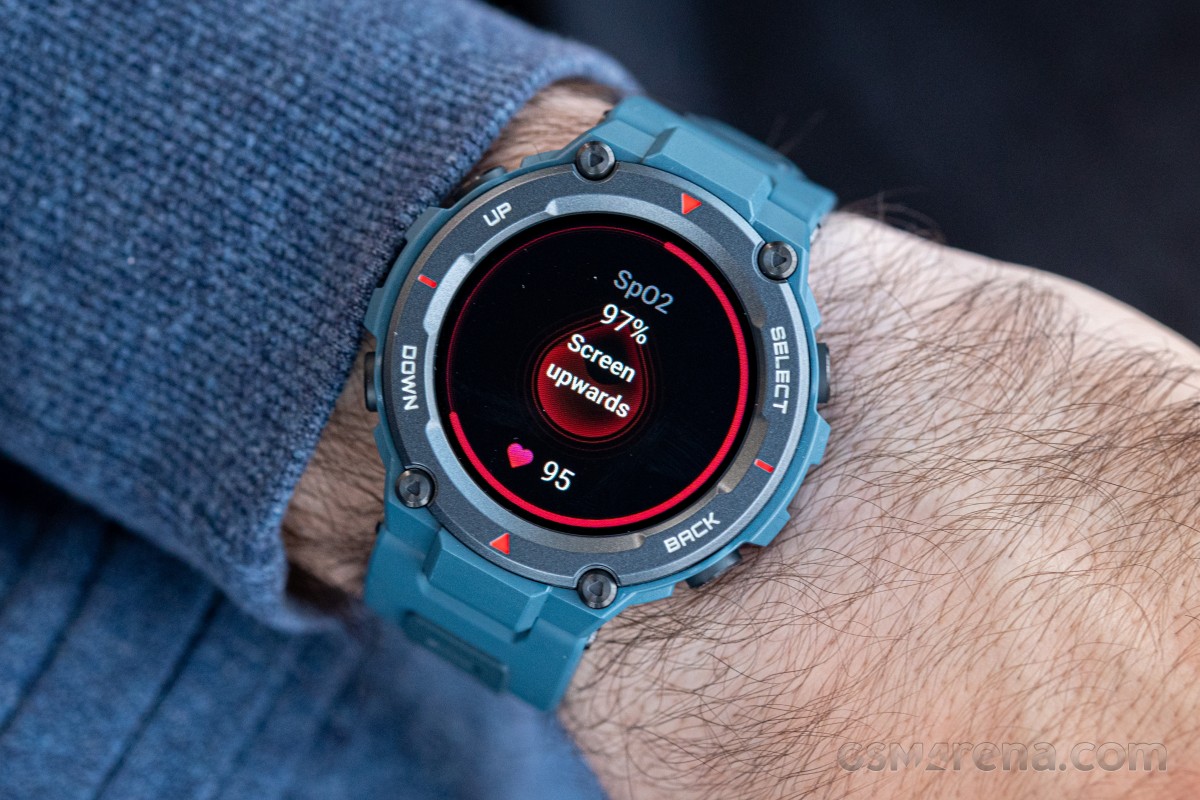 Sleep tracking was useful though not that accurate in my testing. For instance, one night while I was laying on my coach the watch suddenly decided I was sleeping and even had me in a deep-sleep state for a good 20 minutes which was definitely not the case. On most days my fall-asleep and wake-up times were added correctly.
It was cool to see your sleep stage breakdown though I'm still not convinced that this data is of meaningful value. It would also be useful to have a few of the sleep data metrics on the watch itself instead of having to go into the Zepp app each time.
Battery Life
My T-Rex setup included the default watch face with AOD enabled and brightness set on auto. Screen timeout was set to the lowest (5 seconds) and heart rate tracking was running in one-minute intervals throughout the day. I also had auto sleep tracking and stress monitoring on. I'd squeeze in at least 20 minutes of walking a day and three workouts on weekdays.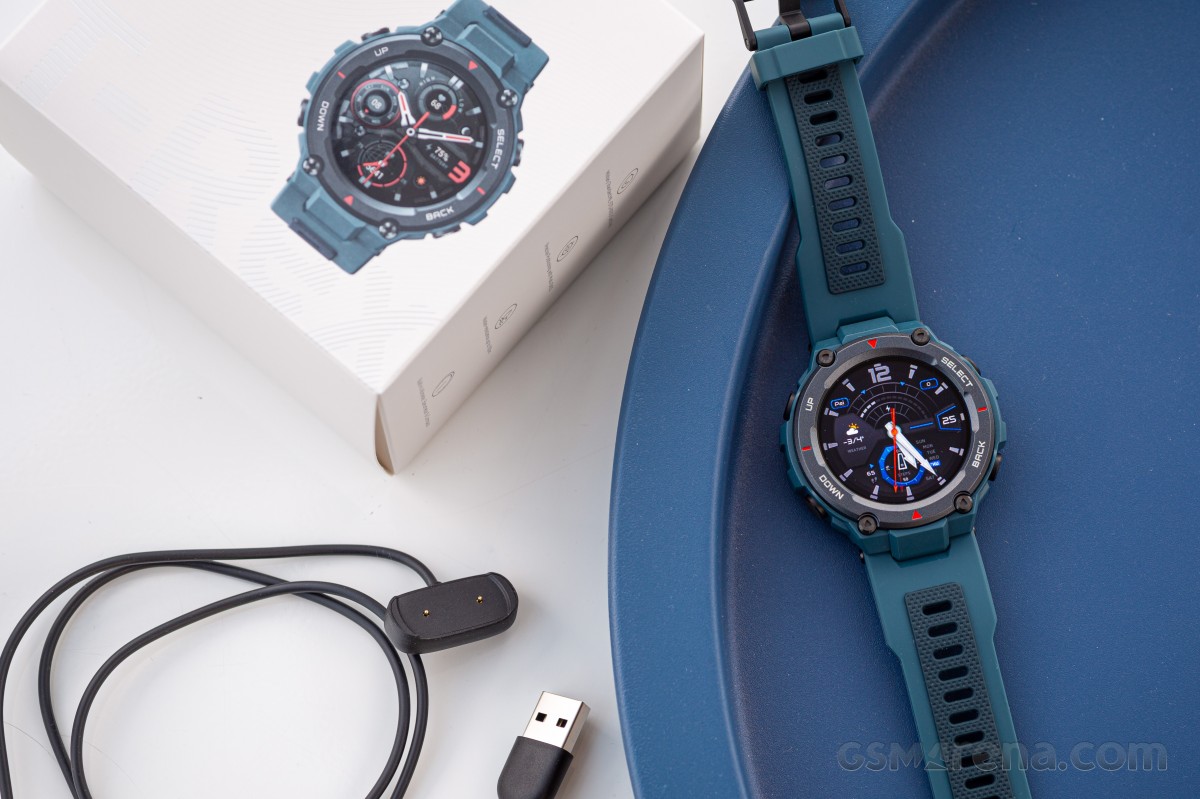 With these exact settings, the T-Rex Pro would last me for 5 days and usually started day six with about 10% battery life. Charging time was around one hour (1 hour and 4 minutes) from nearly empty to 100% which falls in line with what I've seen from competing watches.
Verdict
The Amazfit T-Rex Pro ticks a lot of checkmarks for an affordable rugged smartwatch. It brings a solid yet lightweight build, decently equipped spec list and delivers respectable battery life. It's hard to find a similarly built smartwatch under $200/€200 and this positions the T-Rex Pro in a class of its own. Upgrading from the original T-Rex though does not seem like a real consideration as the new additions on the Pro are not that worthy.
Despite its OS limitations, questionable GPS and sleep tracking performance, the T-Rex Pro deserves your consideration if you're after a capable smartwatch that's not afraid of extreme environments and can take a drop, bruise and even a deep dive underwater.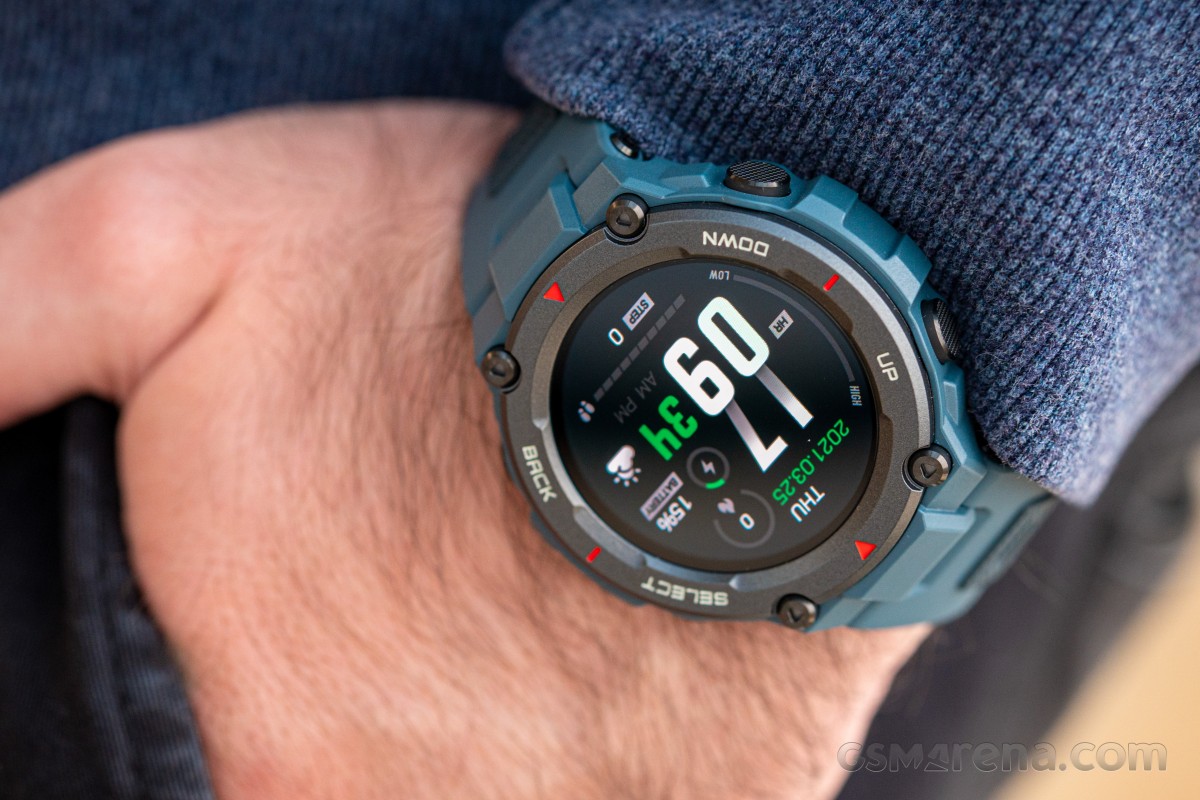 With its comfortable fit, capable spec sheet and detailed sports tracking metrics the Amazfit T-Rex Pro brings a balanced smartwatch offering that should suit most casual users. The small compromises in software and tracking accuracy are easily passable and do not hinder the solid foundation on which the T-Rex Pro is built.
Pros
Great build quality
MIL-STD-810G certified
Vibrant AMOLED display
Detailed workout data metrics and 100+ sports modes
Solid battery life
Cons
Subpar GPS tracking
Questionable sleep tracking
Limited OS with no third party apps
Automatic workout detection is flawed
Related
Anonymous
18 Feb 2023
fC{
No dude
bong rith
27 Jan 2023
693
can receive call, but cannot make a phone call
Popular articles
Popular devices
Electric Vehicles