Amazon refreshes Kindle Fire line with Alexa smarts
Petar, 17 May 2017
The Amazon tribe has new members - the Fire tablets got a minor refresh and a promo to go with it. The basic Kindle Fire 7 is still staggeringly cheap - $50/£50/€70 - but it now promises longer battery life (up to 8 hours). It's also thinner and lighter and Amazon claims it's "more durable than the latest iPad".
As usual, this price is with Special offers (aka ads). Getting rid of them will cost you $15/£10/€15. Naturally, Alexa is supported, you can read Kindle eBooks (complete with X-Ray), watch Amazon Video (or Netflix) and other niceties.
The Kindle Fire HD 8 goes up to $80/£80/€100, battery life is up as well - up to 12 hours for this latest generation. You also get half a gig more RAM than the previous iteration. Keep in mind that both the Fire 7 and Fire HD 8 run on weak quad-core processors.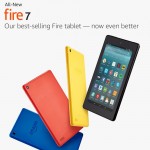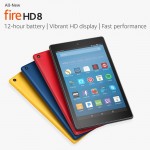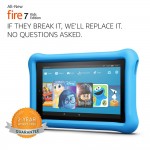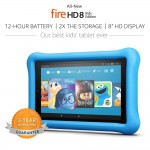 New Amazon Kindles: Fire 7 • Fire HD 8 • Fire 7 Kids edition • Fire HD 8 Kids edition
Then there are the Kids Editions of these tablets - $100/£100/€120 for the 7" model and $130/£130/€140 for the 8". The extra price is worth it for the "No questions asked" return policy (for two years). The tablets have extra padding too, making them harder to break in the first place.
As for the promo - if you buy any three of these (they don't have to be different) and apply the FIRE3PACK promo code, Amazon will knock 20% off the total price.
Note that the tablets are currently on pre-order in the US and Europe and will be released on June 7.
Related
Hmm, not too bad (where they applies).
Popular articles
Popular devices
Electric Vehicles