AMD announces Ryzen 6000 mobile platform, Ryzen 5800X3D CPU, and Radeon 6500 XT graphics card
Prasad, 04 January 2022
AMD today had an action-packed CES keynote filled with over half a dozen announcements and product launches for 2022. Most of these were for the notebook market but we also have a couple of announcements for the desktop segment.
The biggest announcement of the event was the launch of the Ryzen 6000 mobile platform. This announcement includes the launch of ten new APU models for the mobile market with updated CPU and GPU options.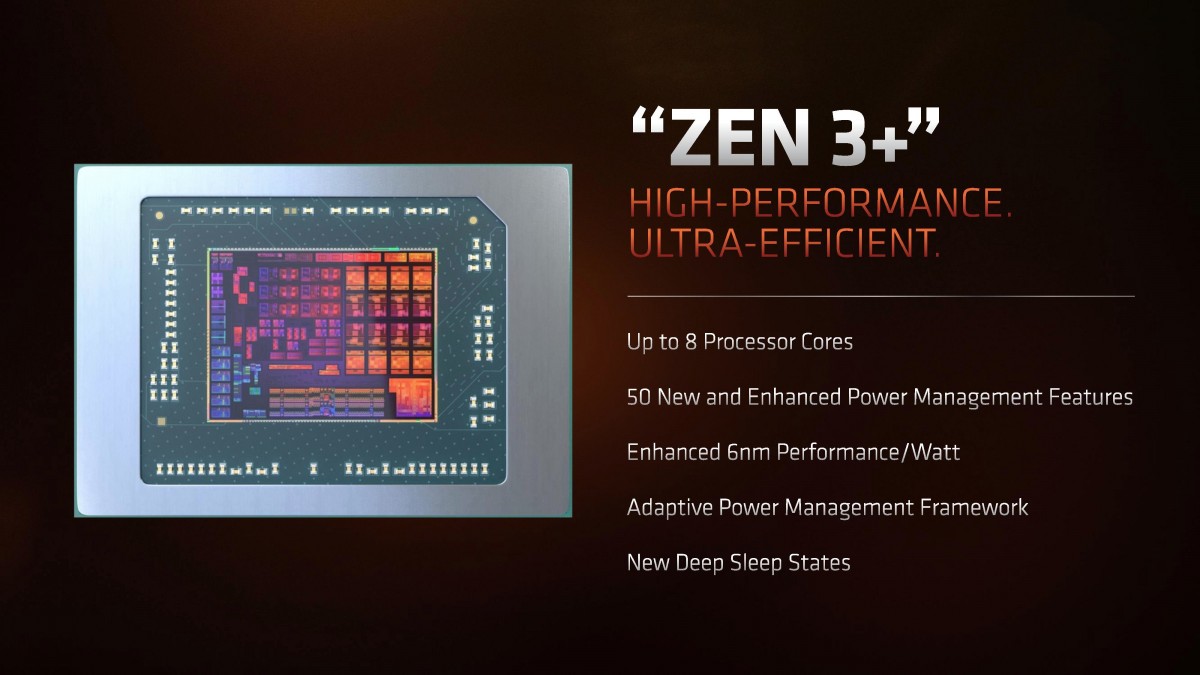 On the CPU side, AMD is switching to the Zen3+ architecture, an updated version of the Zen3 architecture used on the 5000 series. Based on an updated 6nm TSMC process, the 6000 series CPU are designed primarily around reduced power consumption. AMD promises around 40% reduced power consumption in tasks like watching Netflix. In terms of performance, the new CPU is around 28% faster when comparing the 6800U with the 5800U.
The Ryzen 6000 series also switches to RDNA2 integrated graphics, bringing features like hardware-accelerated ray-tracing, 2x larger L2 caches, 50% larger GPU compute engine, and DirectX 12 Ultimate support. AMD promises significant improvement in performance compared to the integrated Intel Core i7-1165G7 and the discrete Nvidia GeForce MX450, along with around 2x improvement compared to the Vega graphics in the Ryzen 5000 series.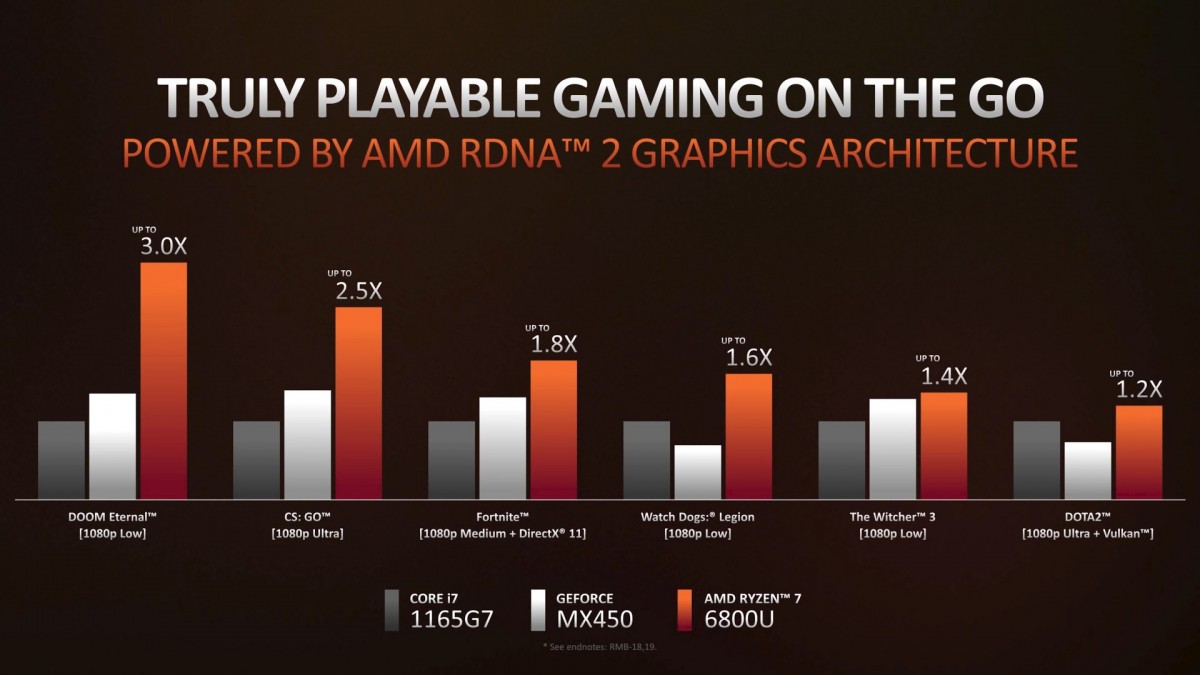 The Ryzen 6000 mobile platform will also feature support for modern features, such as USB4, PCIe Gen4, DDR5/LPDDR5, Wi-Fi 6, Bluetooth 5.2, HDMI 2.1, DisplayPort 2, and AVI decoding.
AMD also announced a range of discrete graphics options for notebooks. There is now a new Radeon 6600S series of GPU, which are designed specifically for thin and light gaming notebooks. This includes models RX 6800S, RX 6700S, and RX 6600S. AMD also updated the previous Radeon 6000M series GPU with five new models, 6850M XT, 6600M XT, 6600M, 6500M, and 6300M.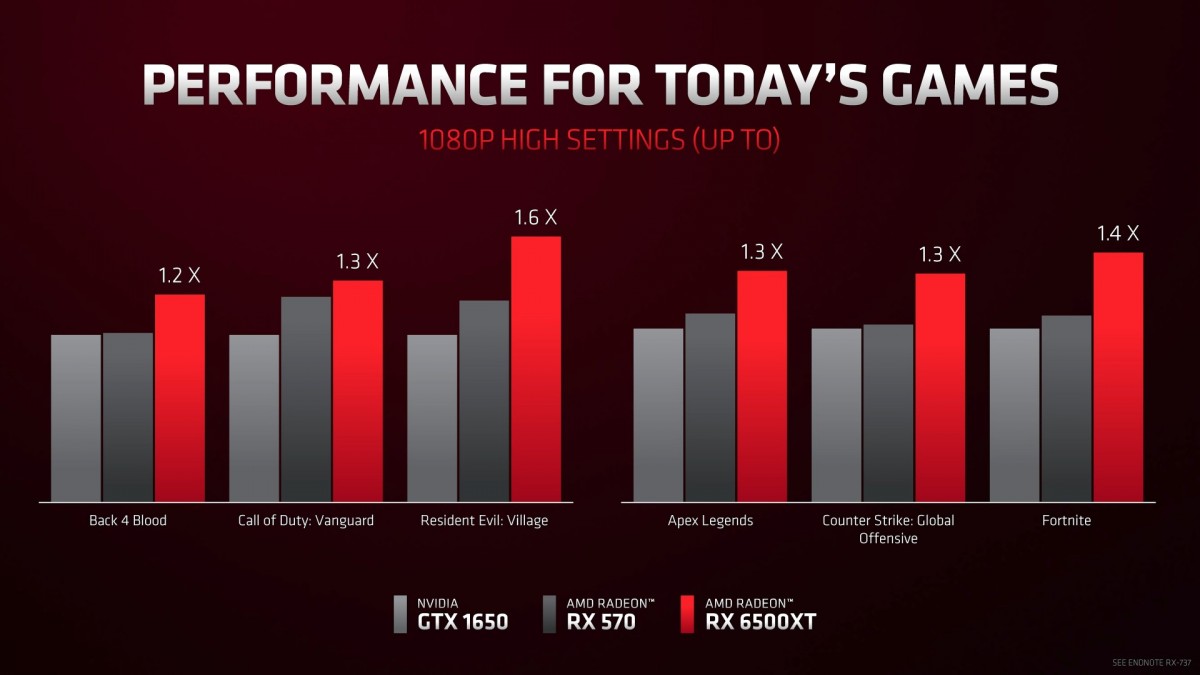 Moving on to the desktop side of things, AMD announced the Radeon RX 6500 XT graphics card, which is the new entry-level option in AMD's graphics card range. It is essentially a RX 6600 XT with half its specifications stripped off, running 16 compute units, 32 ROPs, 16MB Infinity cache, and 4GB video memory. It features a 2610MHz clock speed and is based on TSMC's new 6nm manufacturing process. The RX 6500 XT is priced at $199 and will be available on January 19 through partner OEMs.
AMD also announced an RX 6400, however, it will only be available to OEMs.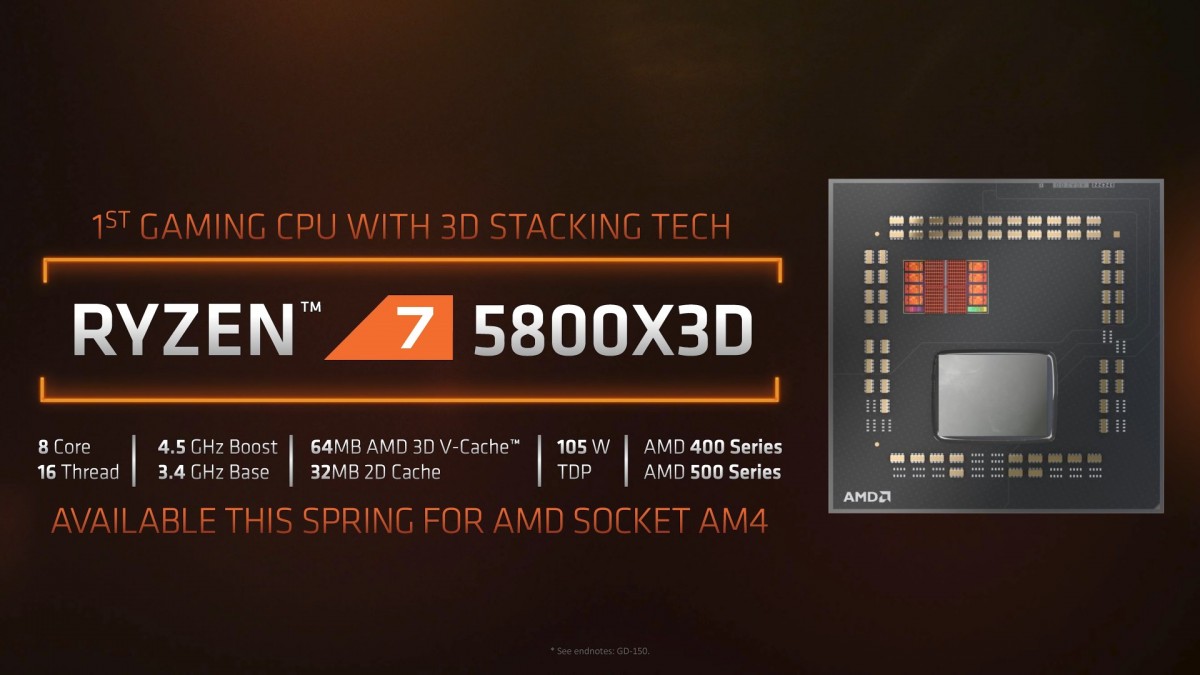 On the CPU side, AMD announced the Ryzen 7 5800X3D, which is essentially the 5800X but with AMD 3D V-Cache technology. It has the same core and thread count and slightly lower clock speeds but an impressive 100MB of cache. AMD claims it is faster than both the Ryzen 9 5900X and Intel Core i9-12900K in gaming, making the 5800X3D the fastest gaming CPU on the market. The 5800X3D will be launching in spring of 2022.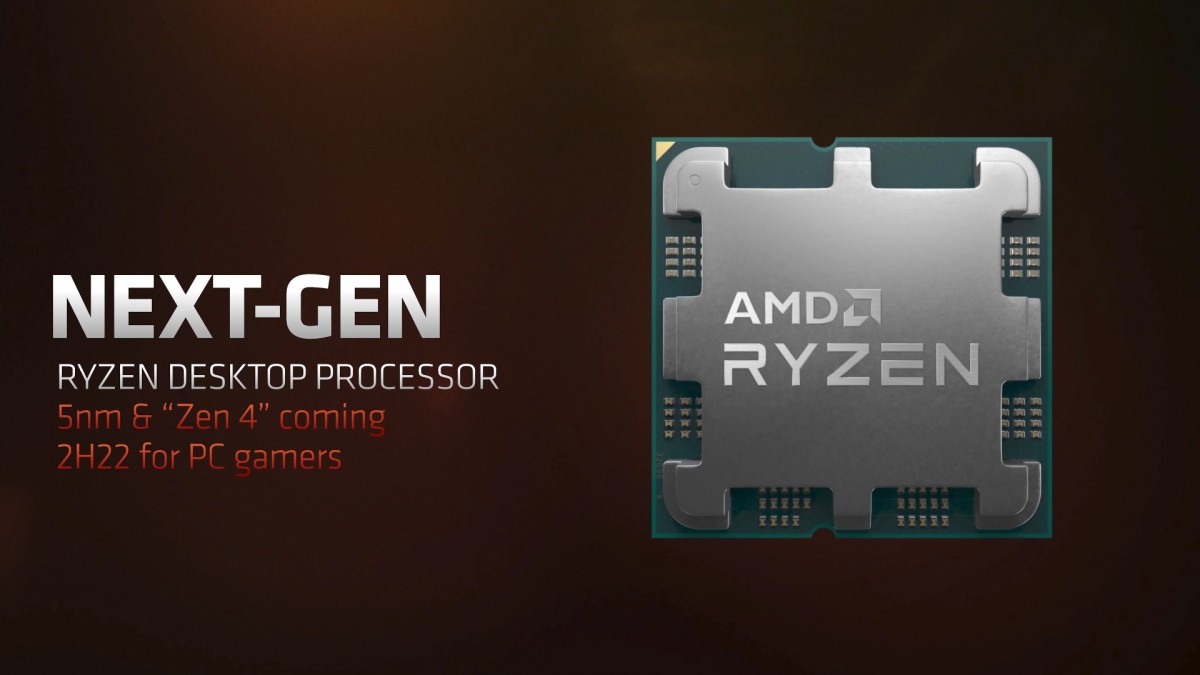 AMD also gave a sneak peak at its upcoming Ryzen 7000 series of desktop CPU. Based on the upcoming Zen4 architecture, the new CPUs feature a unique IHS design with exposed SMD capacitors. The new CPUs are based on the new AM5 platform and use an LGA socket design with the pins being on the motherboard as opposed to the PGA designed used by the AM4 CPUs that had the pins on the CPU. The new CPUs will support features such as DDR5 and PCIe 5.0.
AMD didn't provide any further details on the Ryzen 7000 range other than saying it will be releasing in the second half of 2022.
Related
if they have all that market, they can afford R&D, so i seriously doubt they will let their latest releases be "dead on arrival" and Intel will have quite a bit more supply than AMD unless something drasitcally changes. They are likely ...
Gamingerra
10 Jan 2022
ki$
Hi, I am Chris Slambery your article "AMD announces Ryzen 6000 mobile platform, Ryzen 5800X3D CPU" is very helpful for me. After reading your article I got a lot of knowledge from your article. I have some knowledge about Laptop CPU but after readi...
The days of these processors are numbered. ARM is the future of computing.
Popular articles
Popular devices
Electric Vehicles