AMD announces Ryzen 9 7945HX3D, first notebook chip with 3D V-Cache technology
Prasad, 28 July 2023
AMD has announced the new Ryzen 9 7945HX3D, the world's first notebook CPU with the company's 3D V-Cache technology.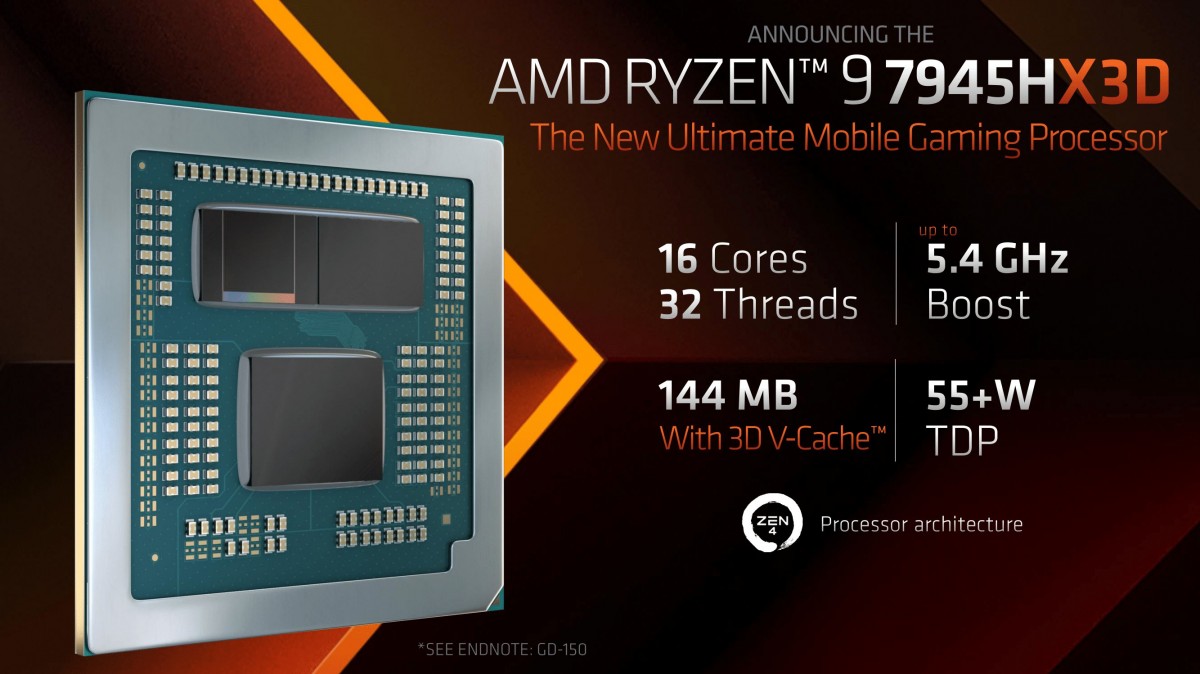 The 7945HX3D is essentially the 7945HX but with double the L3 cache. While the L1 and L2 cache remain at 1MB and 16MB, respectively, the L3 cache goes from the 7945HX's sizable 64MB to an impressive 128MB for a total of 145MB cache.
Introduced first on the Ryzen 7 5800X3D desktop processor last year, the AMD 3D V-Cache technology essentially stacks an extra layer of memory on the CPU die. While most apps show no improvement from the added cache, games tend to benefit tremendously from it. The extra memory on die means games don't have to access the slower and physically distant system memory as often, resulting in faster processing of each frame and higher frame rates overall.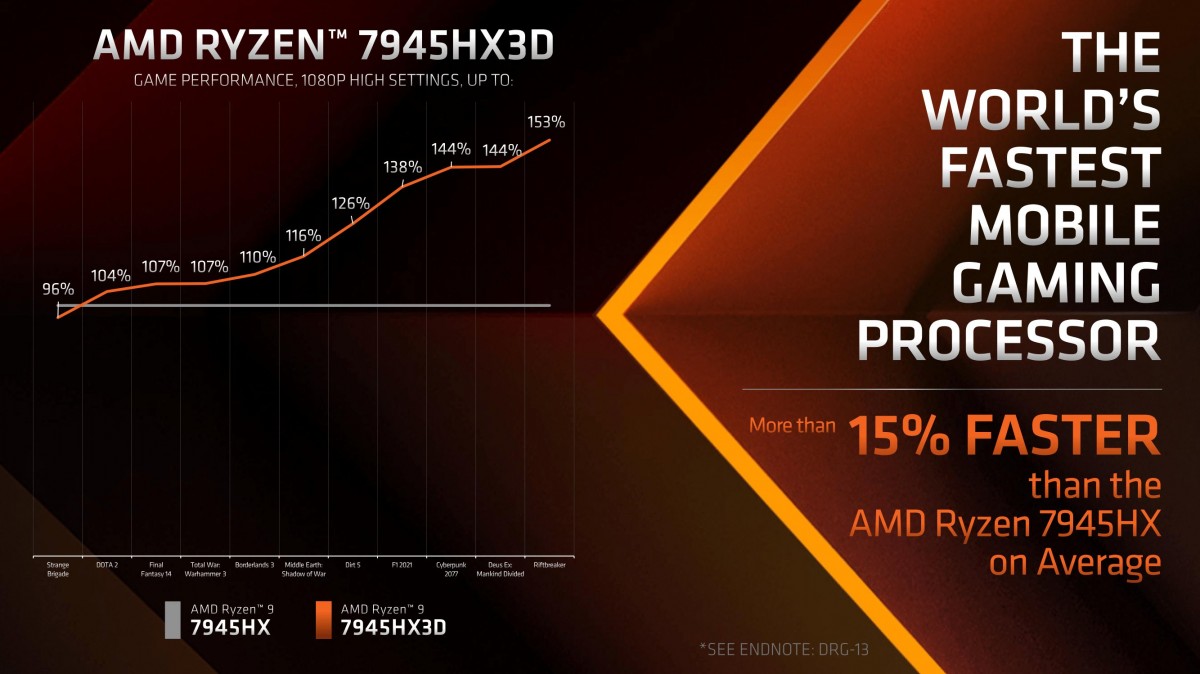 The 7945HX3D is otherwise very similar to the 7945HX. It has 16 Zen4 cores and 32-threads evenly split across two core complexes. Like the 7945HX, the cache is also split across the two CCD but on the 7945HX3D one CCD gets an additional 64MB of L3 cache, resulting in 96MB on one CCD and 32MB on the other one. This also means that only one CCD with 8-cores is used for gaming, with the other CCD being parked unless expressly requested by the program. This behavior is similar to the desktop 7950X3D and 7900X3D parts.
The 7945HX3D can boost up to 5.4GHz and can be overclocked manually or automatically using AMD Precision Boost Overdrive. Default TDP is 55W and can be configurable between 55W and 75W by the notebook manufacturer. Max operating temperature has been reduced to 89°C similar to other 3D V-Cache models as the extra memory layer prevents effective heat dissipation and requires the chip to run cooler.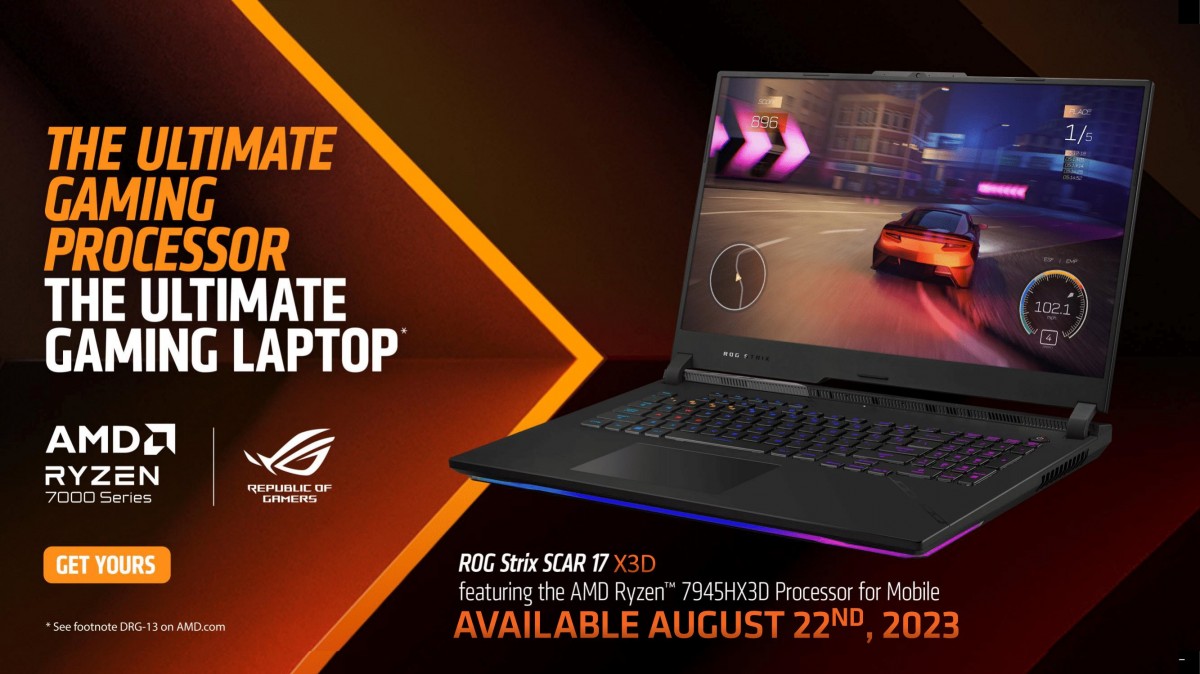 The 7945HX3D will first appear on the ASUS ROG Scar 17 starting August 22 and eventually on other models worldwide.
Related
Homelander
02 Aug 2023
XZs
TDP is very low and it makes battery life an improvement
Gaming laptop user here. I can carry it to my college classes and library to do work and study on battery. I can also take it back home, plug it in, and game on it and get 80% of the performance as a desktop. Or I can even take it to someone else...
If AMD really wanted to sway the benchmarks in their favor, they could've benchmarked Factorio and got literally double the performance as the regular CPU. This is hands down the best CPU for trying to build a Factorio gigabase on the go.
Popular articles
Popular devices
Electric Vehicles