AMD releases FidelityFX Super Resolution, available in seven games today
Prasad, 22 June 2021
AMD today released its FidelityFX Super Resolution or FSR. Announced earlier this month, FSR aims to render a high resolution output image from a low resolution source, thereby providing performance improvement without significant impact to image quality.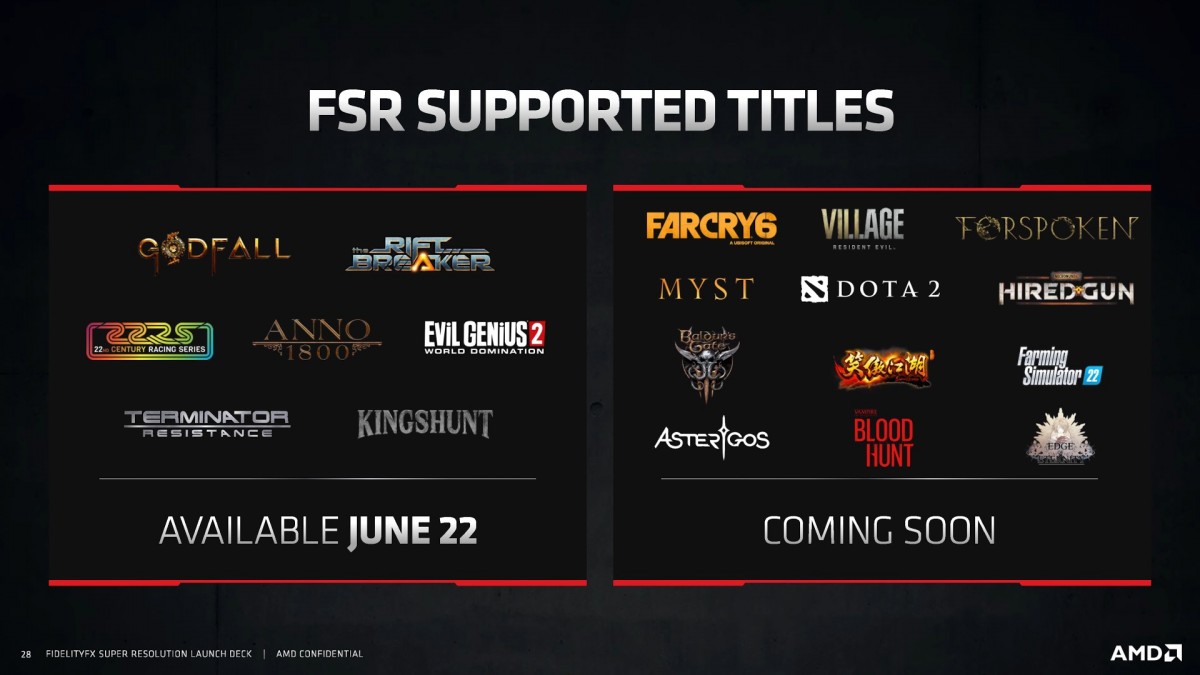 Starting today, the feature is available in seven titles, including 22 Racing Series, Anno 1800, Evil Genius 2, Godfall, Kingshunt, Terminator: Resistance and The Riftbreaker. AMD has announced that the feature is also coming to DOTA 2, Far Cry 6, and Resident Evil Village by the end of this year. The company claims that more than 40 game developers have pledged support for this feature.
FSR is a spatial upscaling technology that utilizes an advanced edge reconstruction algorithm to analyze features in the source image and recreate them at a higher target resolution, followed by a sharpening pass to further improve quality by enhancing texture details. This process is performed on top of the game's existing anti-aliasing solution and is not a replacement for it. FSR also works on a single frame at a time and does not utilize temporal information from previous frames or motion vectors.
This is where AMD's FSR fundamentally differs from Nvidia's DLSS or Deep Learning Super Sampling. DLSS utilizes temporal data and motion vectors while also incorporating an AI to do the final image reconstruction. Nvidia also does this on dedicated tensor cores on the GPU whereas AMD does all processing on its compute units.
In either case, the goal is to take a lower resolution input image and then reconstruct it to a higher resolution output image. So for example, you could be playing a game on a 4K monitor with your output resolution set to 4K. However, the game can internally be rendering at 1080p and then using a smart reconstruction technology like FSR or DLSS you output a 4K image that looks close to the output from a native 4K rendering.
Like DLSS, FSR also has four quality modes, including Ultra Quality, Quality, Balanced, and Performance. With each of these presets, the internal resolution is 1.3x, 1.5x, 1.7x, and 2.0x lower on each axis compared to the output resolution. This means that if your output resolution is 4K or 3840x2160, then Ultra Quality is rendering at 2954x1662, Quality at 2560x1440, Balanced at 2259x1270, and Performance at 1920x1080. As your output resolution decreases, so does your internal rendering. If your output resolution is 1920x1080, Performance mode will render internally as just 960x540.
Needless to say, the lower you go down the resolution ladder, the worse the image quality will get as the reconstruction algorithm as less data to work with.
One major advantage that FSR has over DLSS is that it is an open source technology. This allows the developers to freely implement it within their game or game engine. More importantly, the technology can be enabled on almost any hardware from any vendor, including Nvidia and Intel. This means that games with FSR will allow you to enable the option on an Nvidia graphics card or even an Intel onboard graphics solution (or their upcoming discrete cards).
There are plenty of videos out there demonstrating the technology in action and we have linked a few of them above. It's still very early days for FSR as it's still in version 1.0 and we should see it improve in the future. However, what needs to happen more urgently is adoption by the game industry as this is something Nvidia has a major head start in. DLSS is not just enabled in dozens of games at this point but also incorporated in popular game engines like Unreal and Unity. It's going to be an uphill battle for AMD before it catches up.
Related
Anonymous
24 Jun 2021
nmP
Dlss is better image quality but with support for wide range of gpus and next generation consoles amd just killed dlss.
AnonD-889996
24 Jun 2021
6c6
While DLSS is better, it is only used on few games, not even on multiplayer games, which DLSS and FSR should benefited on. Developers realises that using Nvidia propertiary feature could take more time and more money to spent on. Also does anyone rem...
Popular articles
Popular devices
Electric Vehicles