AMD unveils Zen 4 for laptops, timeline for Zen 5, RNDA 3 and 4 launches
Peter, 10 June 2022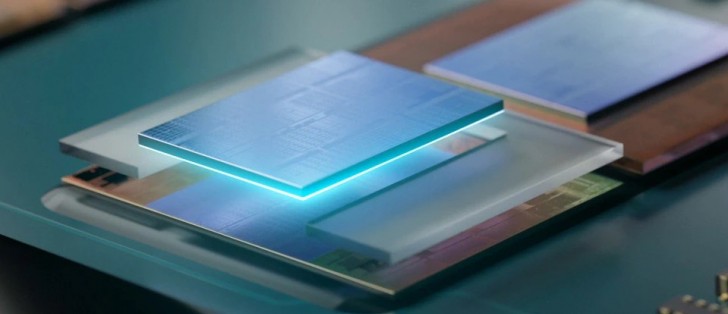 AMD has unveiled a timeline for releasing new CPU and GPU architectures over the next couple of years. This includes transitions to more advanced manufacturing nodes and covers laptop, desktop and server parts (both CPU and GPU).
The new Ryzen 7000 series will be based on the upcoming Zen 4 architecture. This promises over 15% improvement to single-thread performance and 8-10% higher Instructions Per Clock (IPC). Performance per Watt will see "significant generational" improvements (25% or higher) and higher memory bandwidth will be go up with the move to DDR5.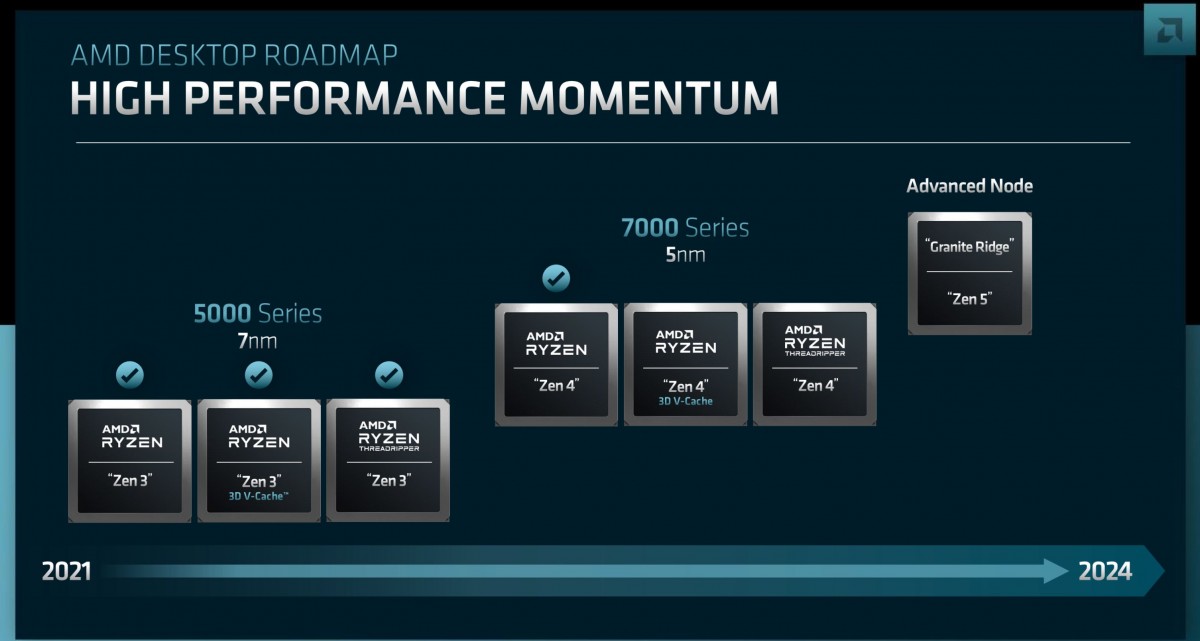 The first desktop and server parts made on a 5nm process are set to launch later this year. The laptop chips, however, will be manufactured on TSMC's 4nm node. The upcoming Phoenix Point will be feature Zen 4 CPU cores and RDNA 3 GPU cores (more on that in a second).
Phoenix Point is expected to come out next year. It will be followed by Strix Point, which will use Zen 5 cores and RDNA 3+ and it will be built on an advanced node that is yet to be specified.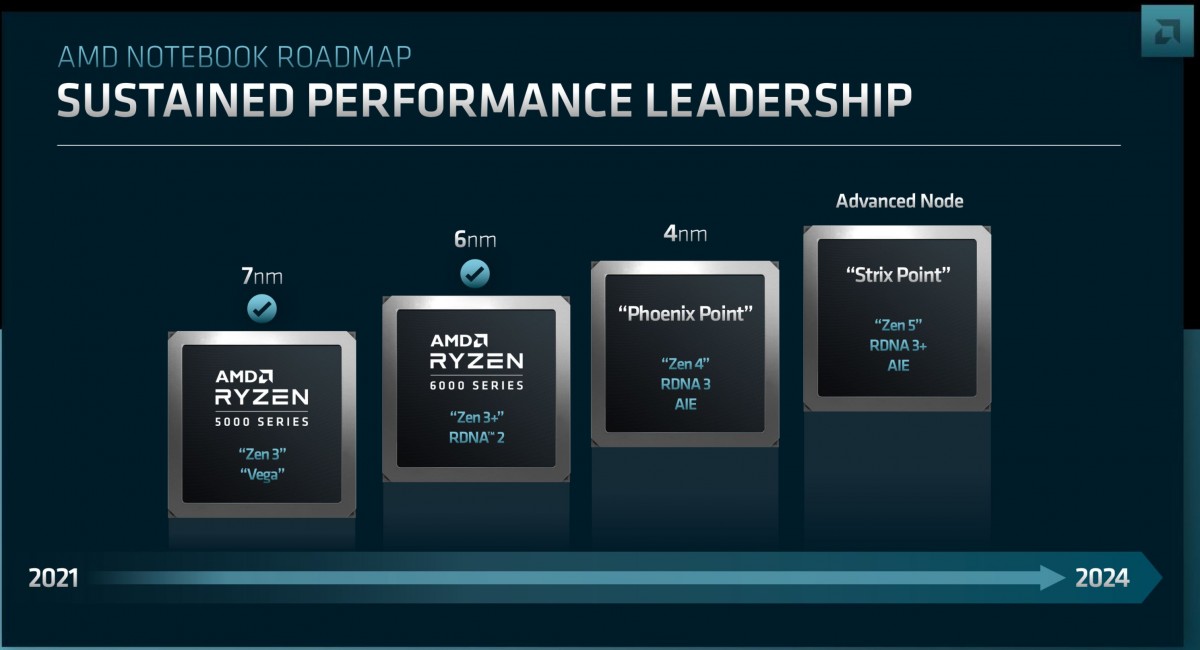 Zen 5 is described as an "all-new microarchitecture", but details are scarce. The company did reveal that these processors will be fabbed on both 4nm and 3nm processes. TSMC's 4nm node is just an optimized version of the 5nm node, but the 3nm one is completely different. The first Zen 5 chips are expected in 2024, so more concrete details will have to wait.
As for AMD's GPU products, the next major architecture, RDNA 3, will be fabbed on a 5nm process and will be the first to use a chiplet design (similar to the CPUs). RDNA 2 parts were fabbed on 7nm and 6nm, so the new GPUs will get the benefit of a new node.
This will be paired with an optimized graphics pipeline, improved compute units and the second generation of on-die Infinity Cache. All told, AMD expects to see performance-per-watt of RDNA 3 to improve by at least 50% compared to RDNA 2.
There will be an RDNA 3+ step for some products, but the next major upgrade will come with RDNA 4, which is expected in 2024. AMD was stingy with details, all we know is that the new GPU architecture promises further advancements in performance and efficiency and an even smaller manufacturing node.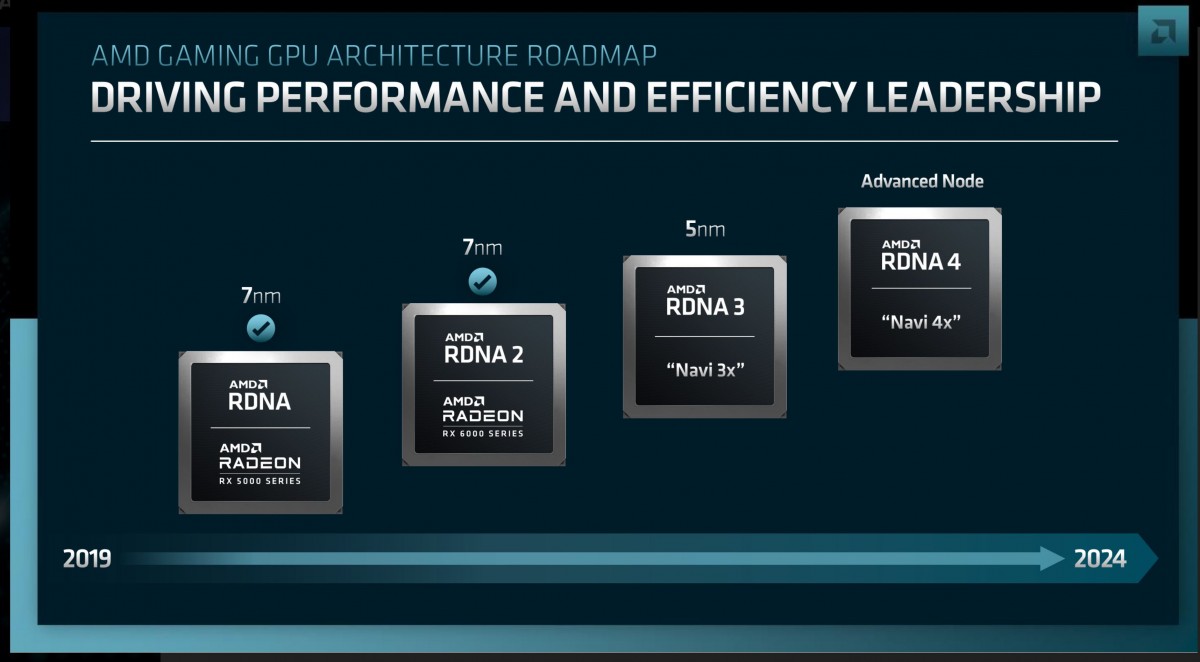 AMD's Financial Analyst Day was yesterday, which is what brought on this slew of announcements. But these are just the broad strokes – the company is yet to reveal how it plans to package these new Zen and RDNA parts into consumer and business products.
Take Zen 4 for example. There will be a mix of 5nm and 4nm parts. Some of the desktop and server chips will feature 3D V-cache (a massive extra layer of cache stacked on top of the CPU chiplets), some will use the Zen 4c variant. This is a trimmed down version of Zen 4 that allows more cores to fit in a single socket – the "Bergamo" (4c) design will offer up to 128 cores while the standard "Genoa" (4) design will top out at 96 cores.
Related
Anonymous
16 Jun 2023
npI
That is some crazy bullshit. Going for premade systems I can get a 6750 xt with 5600x or 12400, with other specs being better, for PS5 price in my country.
the only problem is that amd will announce zen5 but still a good zen 4 product won't be available.
kingshark
06 Jul 2022
KZK
Intel fanboy still living under a rock🤣
Popular articles
Popular devices
Electric Vehicles