Android distribution: Oreo climbs steadily, 9.0 Pie still nowhere to be seen
Ro, 01 September 2018
Even though Google skipped a few months of reporting the state of Android distribution, it's now back on track with the latest statistics for the end of August. The usual trend continues - most of the older Android versions are going down in numbers in contrast to the newer versions.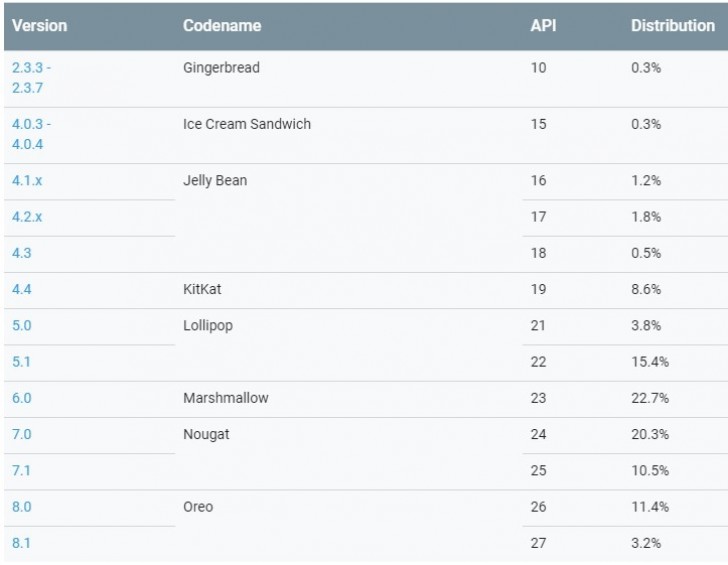 Compared to last month, 8.0 and 8.1 Oreo have risen by more than two percentage points from 12.1% up to 14.6%, which is probably directly related to the newly sold Oreo-powered devices. Interestingly, Nougat 7.0 and 7.1 numbers are exactly the same, although there's a small decline of 7.0 devices and an upwards trends of 7.1 handsets compared to July. In any case, the Nougat share remains solid at 30.8%.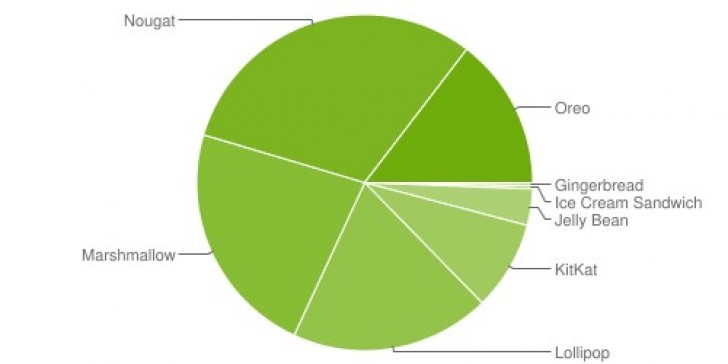 Also, Google doesn't display Android versions with less than 0.1% distribution, which probably explains why we don't see 9.0 Pie in the charts. After all, only the Essential PH-1, Sony Xperia XZ3 and Google Pixel phones are running the latest OS version.
Marshmallow has went down from 23.5% down to 22.7% - insignificant difference - and the same goes for Lollipop devices - from 20.4% down to 19.2%. The other versions appear to have leveled off with no meaningful difference between July and August's distribution.
There are also interesting stats regarding screen size and pixel density that will surely come in handy to developers looking to further optimize their UI according to the trends. Check out the charts below and for more information, visit the source link below.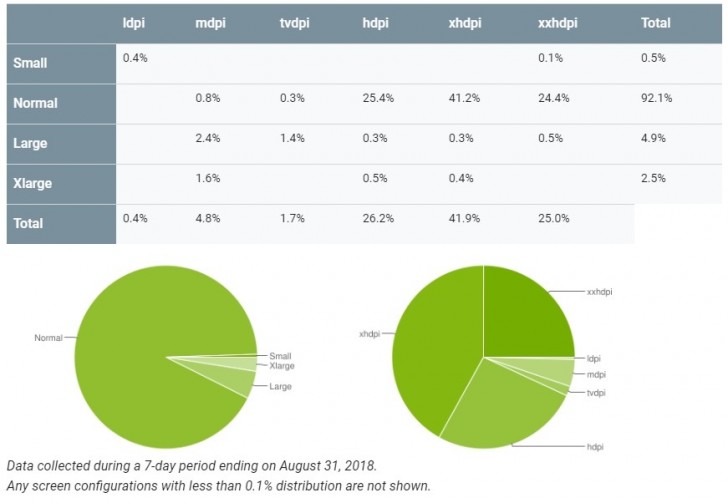 Related
which is what I wanna say sooner or later, a guy will either buy a new phone which supposed to come with latest OS out of the box, or he will be forced to update OS as his favourite app is no longer supported by his phone
Steve Max
04 Sep 2018
Fcm
Not at all. When you develop an application, this data is the key for where you will even start. Right now, you will develop for 4.4+ (losing ~4.1% of the whole Android market) or for 5.0+ (losing ~12.7% of the market). This is why Google releases th...
Popular articles
Popular devices
Electric Vehicles