Android in September 2013: 4.3 adoption going faster than 4.2
03 October, 2013
Google detailed the state of Android OS versions in September and it's business as usual – Jelly Bean is gaining slowly, while pre-4.1 versions decline. Pre-2.1 versions account for about 1% of devices, but they are too old for the new Play Store app and are not included in the charts. With that it's only 2.2 Froyo that remains of Android's archaic past at 2.2%.
Android 2.3 Gingerbread still powers around a third of all Android phones with 28.5%, having fallen a couple of percentage points since August. It's still the second most popular version after 4.1 Jelly Bean.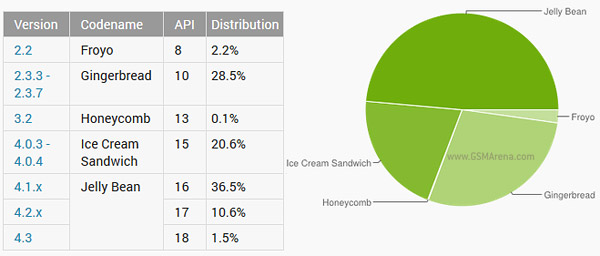 Android 4.0 Ice Cream Sandwich is losing ground at a slower rate, dropping a single percentage point. Honeycomb (3.2) is at the 0.1% threshold, where it has been for months now.
Anyway, it's Jelly Bean that's interesting – the first one, 4.1, declined a bit perhaps due to 4.2 updates rolling out. The second Jelly Bean version, 4.2, has crossed the 10% mark growing two percentage points and the third JB version, 4.3, scored 1.5%. Not bad considering it's mostly Nexus devices as devices with 4.3 out of the box are just starting to hit the shelves.
Also, 4.3 adoption is going faster than 4.2, which had 0.8% in November 2012 and took until February 2013 to reach 1.6%.
Google is also reporting the OpenGL version support and 2.0 has an overwhelming 99.8%. Strangely, OpenGL ES 3.0 isn't included even though 1.5% of Androids run 4.3, which supports the new standard.
Related
AnonD-177377
06 Oct 2013
JLM
IOS 7 reached 50% adoption in one week ! Is that the reason for the many android malware ?
I'm concerned about my privacy and i don't like anyone invade my privacy. Now, there's NSA on Android and NSA officials can collect data such as contact list, call log, SMSs, live chat history, browsing data, read your emails, access files from your ...
Popular articles
Popular devices
Electric Vehicles