Android platform getting closer to launch, runs Pacman too
29 May, 2008

The Google Android OS team held a demo event showcasing the latest developments in the Android platform. Last time we saw the Android OS in February at the MWC Barcelona where it was running on top of some rather quirky devices.
Getting closer to launch date the devices and the OS itself has certainly received a facelift. The fluid interface of the OS reminds so much of the Apple iPhone Mac OS and that's a good thing. If there is one thing that the iPhone excels in, it's the fluid almost physical reaction of the interface to a person's touch. So getting the same experience out of a competing OS and having a choice of several devices seem like a really good trend that we enjoy very much. But we digress.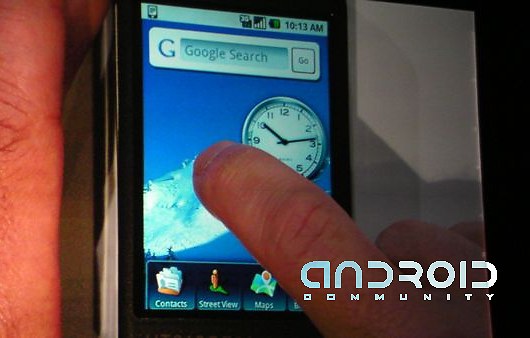 The device used for the demo purposes has an unknown manufacturer (we bet it's HTC) and runs on the latest Qualcomm MSM7201A platform. This makes for a 528MHz CPU, HSDPA 3.6Mbps, 128MB of RAM and 256MB of flash memory.
The handset uses a capacitive touchscreen display by Synaptics who are rumored to have manufactured the touchscreen display for the Apple iPhone too. This display offers high resolution finger input and multi-touch capabilities.
Although the Android demos use a touchscreen device, you have to remember that the OS will works just as easily on D-pad or trackball-enabled devices without a touchscreen.
Here's the first video from the event courtesy of AndroidCommunity.com. It shows the new interface and menu structure, including the customizable unlock screen. Some of the novelties here include the new taskbar which can be pulled down to show system alerts, the new desktop-like launcher for applications and the efficient way to place shortcuts to various items on this desktop and finally, the unlock screen which allows setting of user-specified unlock combinations.
There are other things too. This video shows the new built-in Compass mode of the Android. Using it to interact with Google Maps Street View panoramas is just awesome.
Google Maps is an exciting feature and having it on your mobile is even more exciting. Most phone manufacturers already ship their handsets with Google Maps application pre-installed. But just take a look at the possibilities that the Android OS offers when it comes to interaction with the map.
And of course, what's a new mobile operation OS without the games (do we hear you say an iPhone?). Here's a demo video showcasing the Pacman game created for the Android OS. It's even got vibration feedback.
Well, we guess there's really only one qestion left: "Will it play Crysis?".
Related
Hahahahaha, android is better
no doubt symbian wont die overnight, but Android isn't even done yet! I guess it really depends on how effectively they can get manufacturers to use this platform, because it does have a ton of potential. Lets not forget, google was just a search e...