Android TV and Google TV are moving to app bundles from 2023
Yordan, 22 November 2022
The standard for mobile and TV apps has been APK (Android Package Kit) for a long time. It is slowly being replaced by AAB (Android App Bundle), which allows for faster and smaller applications that save storage and optimize performance.
Josh Wentz from the Product Management team at Google TV revealed starting from May 2023, Google TV and Android TV will also require App Bundles. The company is giving a six-month notice to developers to repackage their apps lighter, although Wentz believes it might take about 3 days.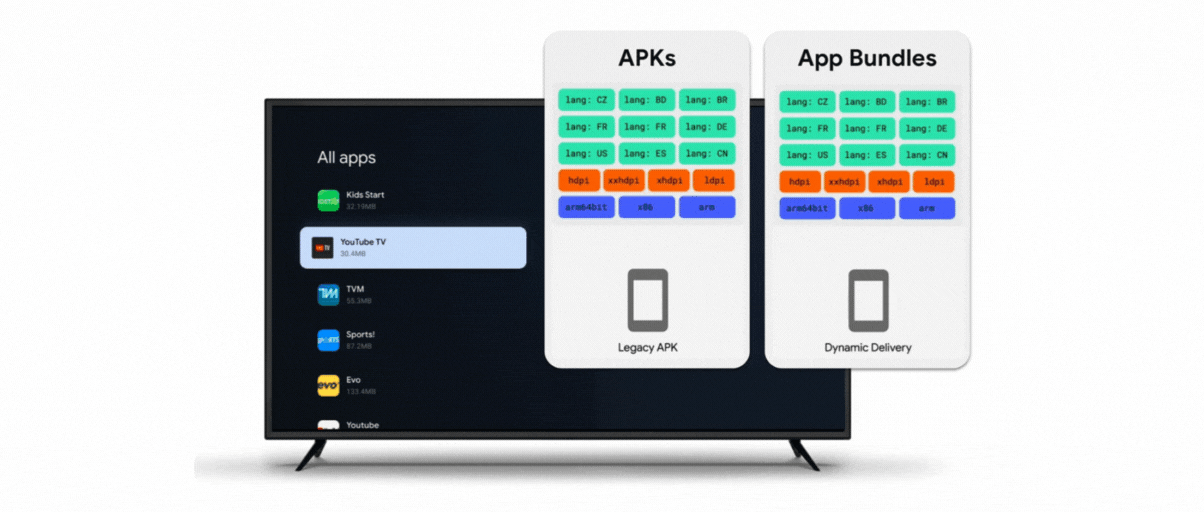 The key benefit of App Bundles is about 20% lower storage footprint as the app only uses the necessary resources while the rest is archived. TV apps will also have an archive/unarchive button which would reclaim more app storage. Wentz said over 10,000 apps are now available to Android TV OS, and lack of storage pushes users to uninstall apps, that's why their team is pushing for a switch.
The difference between Android TV and Google TV is the former is the core TV product, found in Xiaomi TV sticks, as well as some Sony and Sharp TVs. The latter, however, is a software layer on top, infused with Google AI recommendations, based on personal usage and is making its way to new and modern TVs.
Related
I mean, when youre making a streaming device, most of the buget is soaked up in the remote, processor, and the graphics/audio processing. when youre trying to make a 50$ streaming stick that runs efficiently and outputs at 4k, you cant really add mor...
That's the problem with AAB as the app is packaged in multiple files, unlike APK. Also, with AAB, you give all the coding assets to Google* and they will make an optimized APK for a certain device. *https://beebom.com/apk-vs-aab/
Popular articles
Popular devices
Electric Vehicles