Apple & Samsung take 70% of holiday activations
Paul, 28 December 2017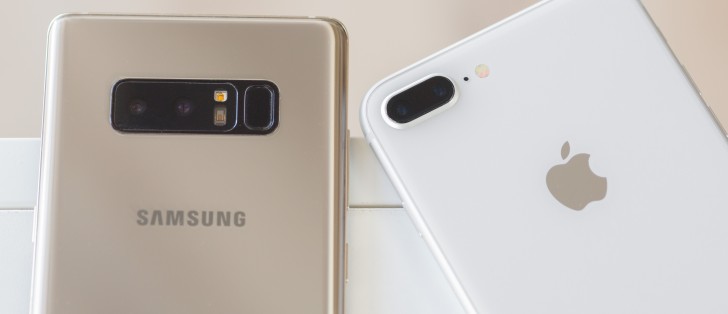 During this holiday season Apple & Samsung accounted for 70% of devices activated according to Flurry Analytics, with Apple taking the Lion's share with 44%. Google was a no show.
Flurry took a look at the most gifted smartphones and tablets around the globe this holiday season, examining activations throughout the week leading up to Christmas day. Flurry Analytics, part of Oath, is used by over 1M mobile apps and has insight into 2.1 billion devices worldwide.
Apple Dominate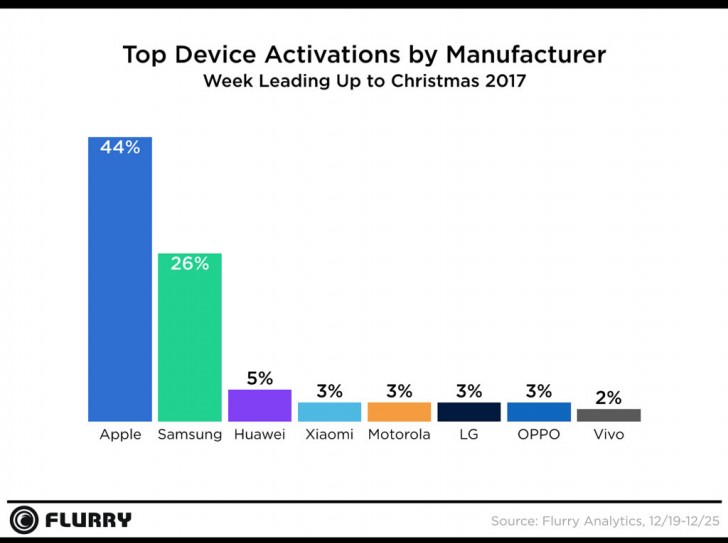 Similar to last year, 44% of new phone and tablet activations were Apple devices. Whilst Samsung's activation rate is up 5% from 2016 they fell short of Apple at 26%. Of note, Vivo who didn't appear in last years numbers, had a significant adoption, which was attributed to their growth in China and India.
Notably absent is Google, Flurry reason that due to a limited number of phone models (4) and lack of consumer mind-share, the Pixel is failing to garner users interest.
Due to their affordability the iPhone 7 and iPhone 6 beat out Apple's latest releases the iPhone 8, iPhone 8 Plus and the iPhone X, although the iPhone X was a close third.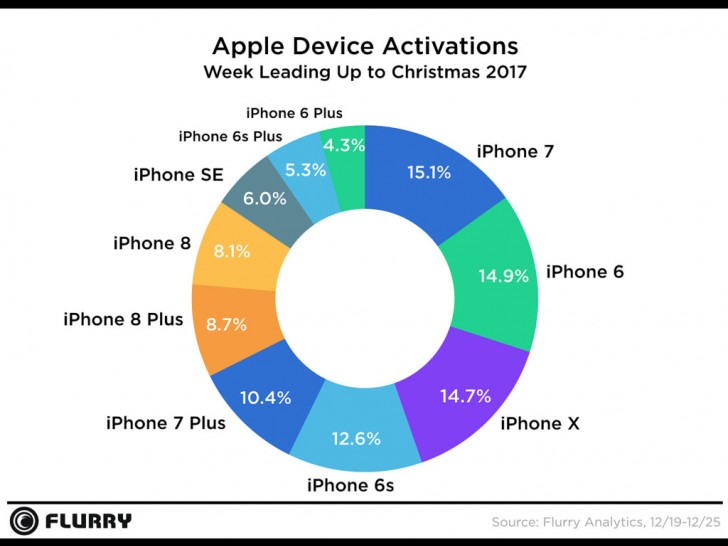 When combined ,however, Apple's latest releases - the iPhone 8, iPhone 8 Plus and the iPhone X - made up almost a third of all new activations at 31.5%.
The prominence of the iPhone 6 and the iPhone 7 however proves that cost is still a priority for consumers. The iPhone 6 was relaunched this year in select international markets as a more affordable option.
The year of the Phablet
Continuing the trend, Phablets (5in - 6.9in) have overtaken medium phones (3.5in - 4.9in) to take 53% of the market share.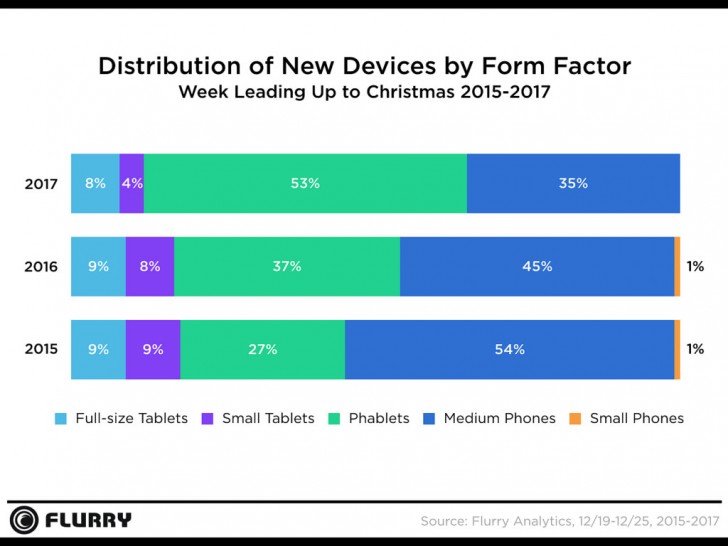 With consumers not replacing their tablets as often total tablet activations dropped to 12% down from 17% in 2016.
Related
Anonymous
31 Dec 2017
Trp
Wait, but the Android fanboys here were telling us Apple was dying and iPhone demand was super weak. Fake news! Fake news!
ITs a shame that sony does not even include fingerprint scanner on its $800 phones. So yeh .... people are smarter than you who buy sony phones even though it offers zero features !!
Anonymous
29 Dec 2017
7Ac
It's a shame people like you buy phones off their popularity and can't decide for yourself. You can see how well marketing does. I hate anything that is overblown by ads.
Popular articles
Popular devices
Electric Vehicles