Apple announces the Oceanic+ app that makes the Apple Watch Ultra into a diving computer
Enrique, 28 November 2022
The Apple Watch Ultra was unveiled last September as a highly durable and ruggedized Apple Watch. One of the first scenes shown during the livestream announcement was the Apple Watch Ultra as it was descending into water. The display showed ambient water temperature and the depth level in feet. Apple is announcing the Oceanic+ app for Watch Ultra which makes it a diving computer.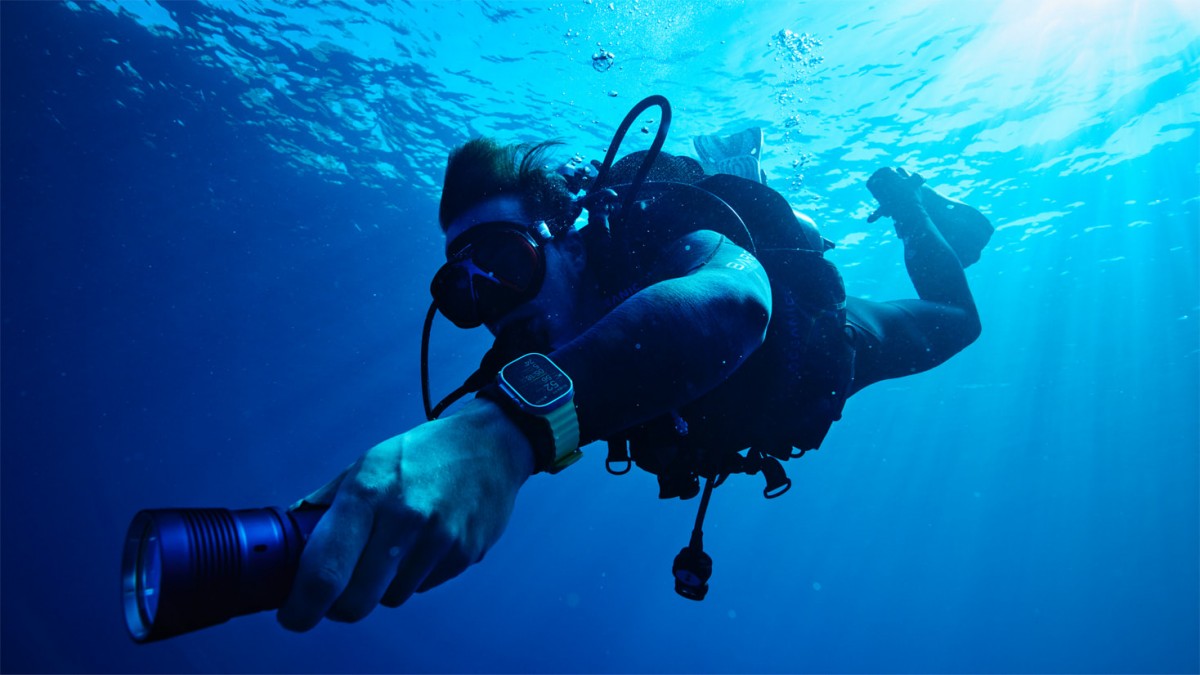 Source: Apple
Oceanic+ was designed by Huish Outdoors in collaboration with Apple and it lets the wearer access lots of relevant information for divers. The Apple Watch Ultra can be submerged to up to 40 m (130 ft) deep and uses its depth gauge and water temp sensors to collect additional data.
The app will show divers a warning if they are descending or ascending too quickly and it will show an estimated time it'd take to get back to the surface. The app will also let divers set compass heading during a dive. There is also a planner that takes tide, temperature, visibility, and currents into account before going on a dive. Watch face complications can show the wearer no-fly time, surface time, among others.
Oceanic+ will use the Taptic Engine and the Apple Watch Ultra's big bright display to notify the diver of any crucial info during a diving session. While there is a limited free version of the app, you can fully unlock the app for $5/day, $10/month, or $80/year. A family license of the app can also be purchased for $130/year. Oceanic+ requires the Apple Watch Ultra running WatchOS 9.1 and paired with an iPhone 8 or newer on iOS 16.1
Related
Anonymous
30 Nov 2022
nem
Wow, that's straight up predatory pricing. Well, that's Apple being Apple, they do the same with their storage options. Costs more than the Android alternatives but unlike them, you do not get more RAM aswell..
i am a certified beginner level diver and I can say that upto 20m is for upto intermediate level divers. they generally don't dive without an instructor. beginner or intermediate divers don't use advanced equipment like diving computers. ap...
SubmersedShutter
30 Nov 2022
HJ}
Puuh, this discussion has gotten so out of hand by troll narratives that have nothing to do with diving, nor the device's capabilities. So, here's a try: 40m is an insufficient safety margin for AOWD dives and I'm not sold on usin...
Popular articles
Popular devices
Electric Vehicles