Apple refreshes its Macbook Pro laptops with 8th gen Intel CPUs
Ro, 11 July 2018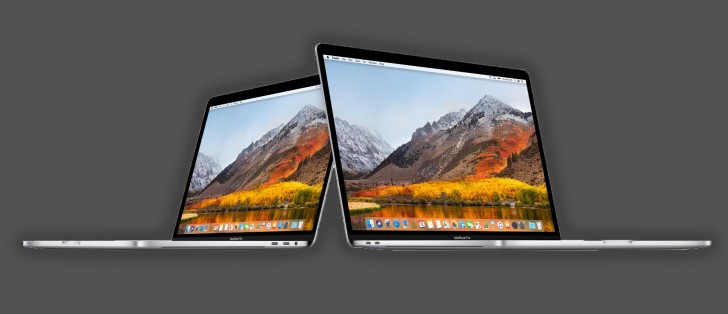 Apple just announced a major upgrade to the MacBook Pro lineup. The new 13-inch and 15-inch variants get a huge performance boost thanks to Intel's new 8th Generation chips and also add some essential features for professionals, including options with more memory.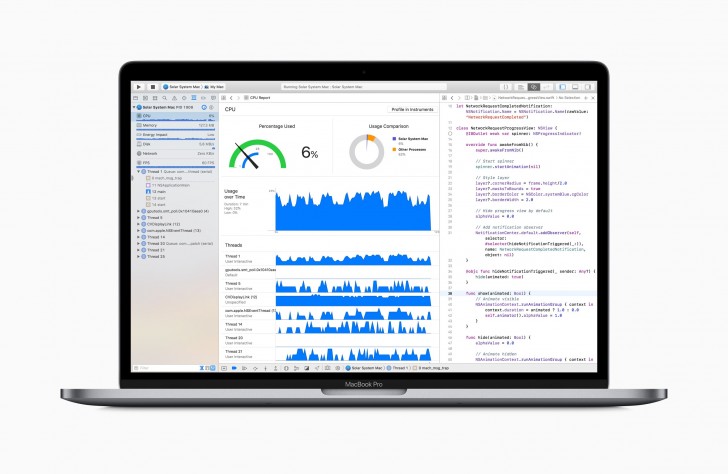 Let's start with the little guys. The MacBook Pro 13 gets two extra cores with Intel's Kaby Lake-R generation, so the i5 and i7 CPU's now have four cores instead of two while still supporting Hyper-Threading. According to Apple, the updated MacBook Pro 13 should deliver twice the performance of its predecessors with 7th Gen Intel chips.
The company says the Core i5 variants reach a maximum of 3.8 GHz with Turbo Boost and keep a base frequency of 2.3GHz. The Core i7 models are clocked at 2.7 (4.5GHz with Turbo Boost) while the integrated Iris Plus 655 graphics receives a bump to 128MB eDRAM - double the amount from the previous models. Also, storage can reach up to 2TB of PCIe NVMe SSD, but RAM remains limited to 16GB of LPDDR3-2133.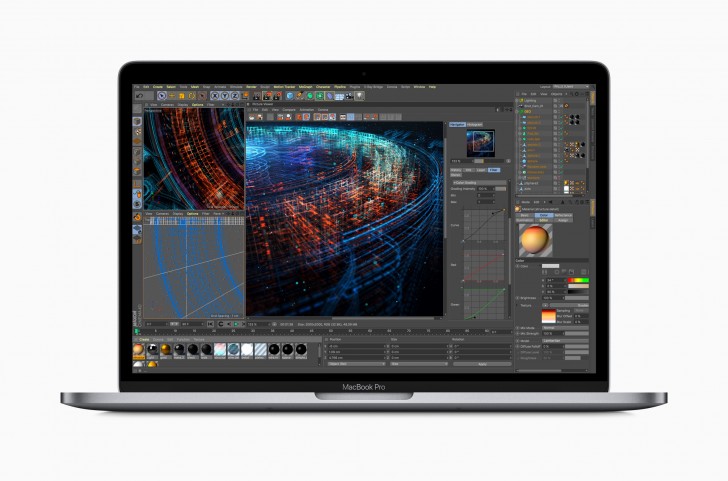 The 15-inch MacBook Pro gets a bit more attention. It carries Intel's 8th Generation chips too, yet this time around, you can get up to Core i9. Yep, Apple is actually offering a Core i9-equipped variant. You can expect 6 cores, 12 threads, 2.9 GHz base and 4.8 GHz of Turbo Boost frequency.
As for the Core i7 options, Apple is offering two of those - one that runs on at 2.20 - 4.1GHz and one at 2.6 - 4.3 GHz. Apple claims a 70% performance boost over the previous generation.
Moving onto the memory, Apple is finally offering an upgrade to 32GB of DDR4-2400 RAM as well as up to 4TB of PCIe NVMe SSD. The discrete graphics options are AMD Radeon Pro 555X with 4GB of GDDR5 VRAM and Radeon Pro 560X with 4GB of GDDR5 memory.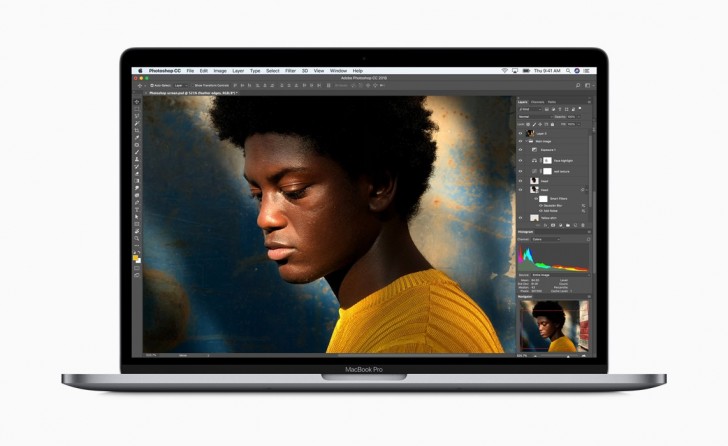 Along with all the hardware upgrades, Apple is bringing the so-called Apple T2 Chip introduced with the iMacs. The chip adds an extra layer of security and brings "Hey Siri" voice command support to the MacBook Pro.
The Retina Displays on both MacBook Pro models also got an upgrade - the company adds the so-called True Tone for more "natural viewing experience." The panels still boast P3 wide color gamut and 500 nits of peak brightness.
But that's not all. Apple is also releasing a leather sleeve for its laptops coming in Saddle Brown, Midnight Blue and Black. The more interesting accessory, if you can call it that way, is the eGPU (external GPU) for the MacBook Pros. Those Thunderbolt 3 connectors on the 13-inch and 15-inch models can support up to two 5K displays.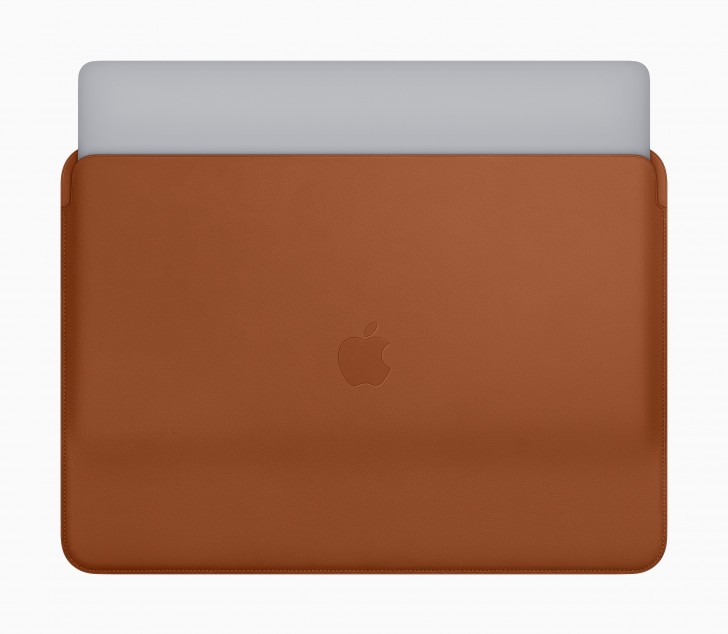 The enclosure holds a Radeon Pro 580 with 8GB of dedicated GDDR5 VRAM. It comes inside a small, compact and non-upgradable enclosure designed with Blackmagic. It has 4x USB 3.0 connectors, HDMI 2.0 port and can support 5K monitors through the Thunderbolt 3 standard.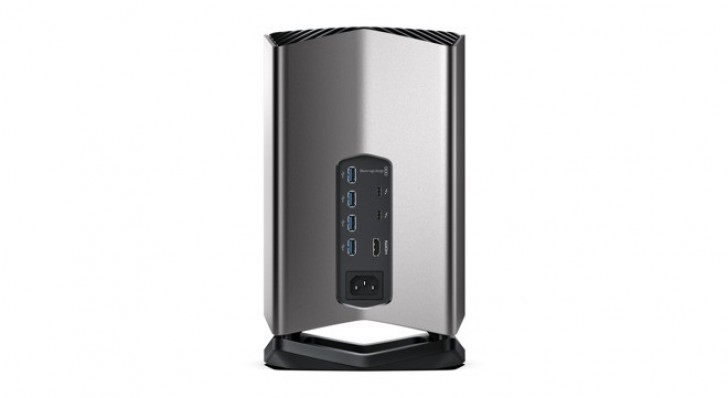 And now to the not-so-fun part - the pricing. The MacBook Pro 13 with Core i5 starts at $1,799 while the i7 model goes for $300 more. The 15-inch MacBook Pro starts at $2,399 for the Core i7 variant while the Core i9 will set you back at least $2,799. Adding a Radeon Pro 560X adds an extra $100 to the bill. As always, prices are hefty but are probably well worth it for die-hard MacBook fans.
Related
Anonymous
22 Jan 2019
vxw
Macbooks are really stronger when it comes to User Experience, and thus windows doesn't perform well in Music Studios and even in Editing(video, coloring) the display in Macs are always calibrated compared to Windows runned devices.
Anonymous
25 Sep 2018
Gxx
all these specs for a 2000+ laptop. I could build a custom rig with all these specs and better for 700$. you could even download the OS free. all this money wasted for just a logo. what is the gpu even capable for? low graphic at 1080p lol 30-60fps?
Popular articles
Popular devices
Electric Vehicles