Apple breaks its own in-app subscription rules for Apple News+
Enrique, 27 March 2019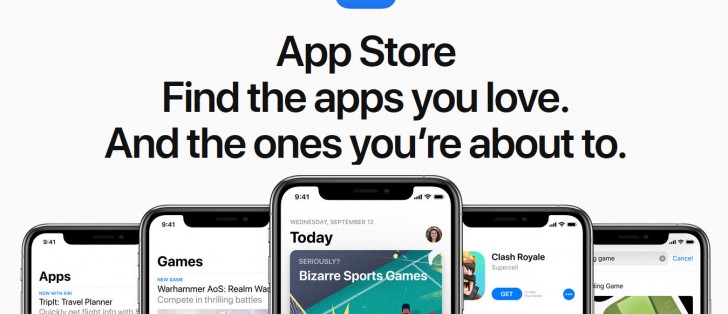 The latest offense from Apple is in the News+ app. Specifically, the way that Apple lets users sign up. It offers a "Try it now" button that takes you directly to the payment screen. Apple's guidelines say "Make sure users know that once the free trial is over, a payment will be automatically initiated for the next subscription duration, and they can cancel any time."
Hey @apple, your auto-renewing subscription screen is in violation of guideline 3.1.2 and your app should be rejected.

For starters… no links to privacy policy or support page; no info on how to cancel. pic.twitter.com/drvAZRZzqi

— Dave DeLong (@davedelong) March 26, 2019
The screen in question features no link to a privacy policy, no link to a support page, and offers no information about how to cancel - this according to iOS developer @davedelong, who tweeted the violation on Monday. The screen below is how Apple expects auto-renewing subscriptions screens to look like. Apple's News+ sign up page is embedded in the tweet above.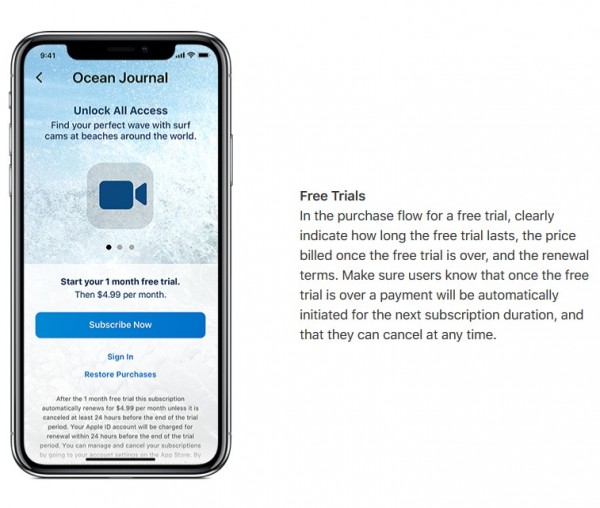 Other app developers in the Tweet's thread recall times when the text "Try it Free" on a subscribe button was immediately rejected by Apple since it as to "ensure that users are not misled" as per Apple's own guidelines below.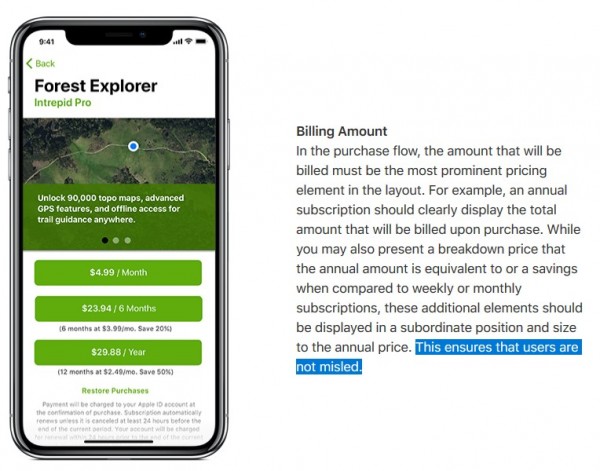 This isn't the first time that Apple was caught breaking its own rules. It also has previously pushed unwanted notifications promoting Apple Music when it first launched, as well as for Carpool Karaoke.
In mid-March, Spotify publicly called out Apple and filed a complaint with the European Commission for its anti-competitive practices. The complaint was directed at the 30% "tax" that Apple charges subscription-based apps for signing up with iTunes billing, among other "anti-competitive" practices.
The main takeaway of the complaint is that Apple doesn't follow the rules it sets for other app developers, which makes it difficult for them to compete with Apple's own services.
Related
Interesting he deleted his tweet and posted this: Dave DeLong "FYI: of my own choice, I deleted the tweets about subscriptions in News+, because it's drawing more attention than I want on me. It's not about me. It's about Apple, and I think...
Typically Apple. Apple wants to steal everything alone, it doesn't want any competition because they know how horrible they are.
Anonymous
28 Mar 2019
81X
It should be pulled until such time as it can be made to conform to their own guidelines. Everyone's apps should be submitted to the same approval panel, including their own.
Popular articles
Popular devices
Electric Vehicles