Apple FineWoven Case and Wallet hands-on
Prasad, 01 October 2023
Apple's Wonderlust event this year was as much about announcing the company's environmental efforts as about new products. One major change the company is making this year is that it will no longer be offering leather as a material for any of its products and accessories.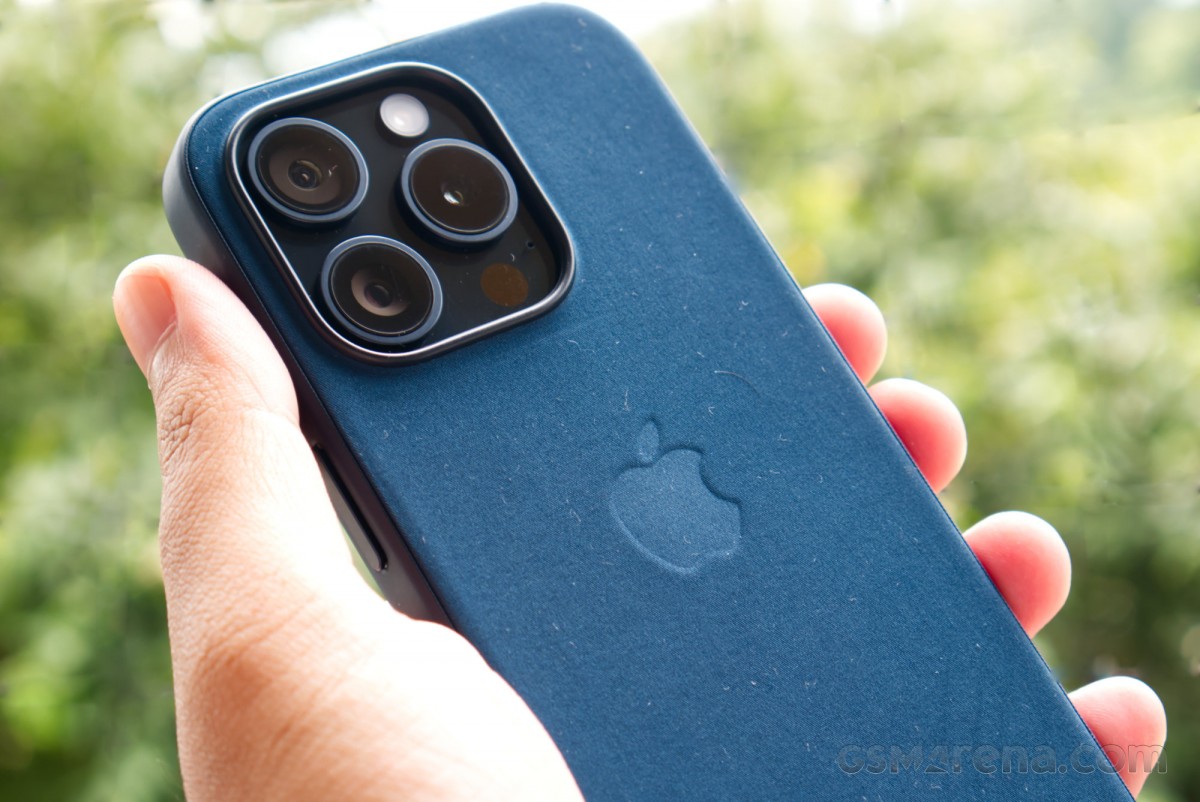 This is a pretty big deal, especially for iPhone users, as leather cases are a hot-selling item, and Apple itself, along with several other third parties, has always offered a great variety of leather cases and accessories for the iPhone.
So where does that leave us this year? Well, as a replacement, the company announced its new range of FineWoven cases with MagSafe for the iPhone 15 and iPhone 15 Pro range. We have one with us today, along with the FineWoven Wallet with MagSafe, so we decided to take a quick look to see how the new material feels compared to its outgoing leather counterpart.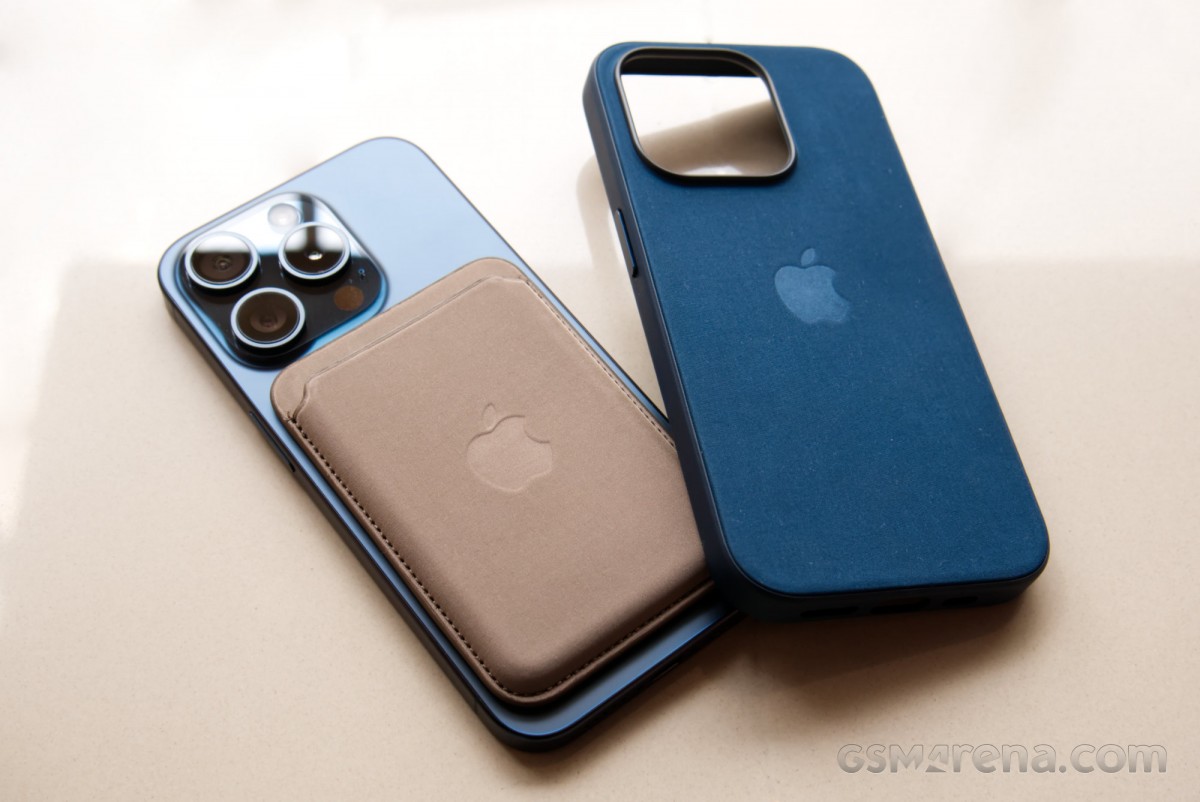 For starters, Apple describes FineWoven as being made from durable micro-twill. A twill, or a twill weave, is a type of weaving method for fabric with a distinctive diagonal pattern, and a micro-twill uses extremely small, microscopic fibers in equally small weave patterns. This material is used for the outside of the case as well as the inside as there is no felt lining on the inside as found on the leather cases.
Apple describes the material as suede-like and that's accurate. The material simultaneously has a hardened as well as a soft finish to it. You feel the weave if you run your fingers on the surface but there is also a soft, velvety texture to it. It also catches light like velvet, glowing and darkening depending on the angle it reflects.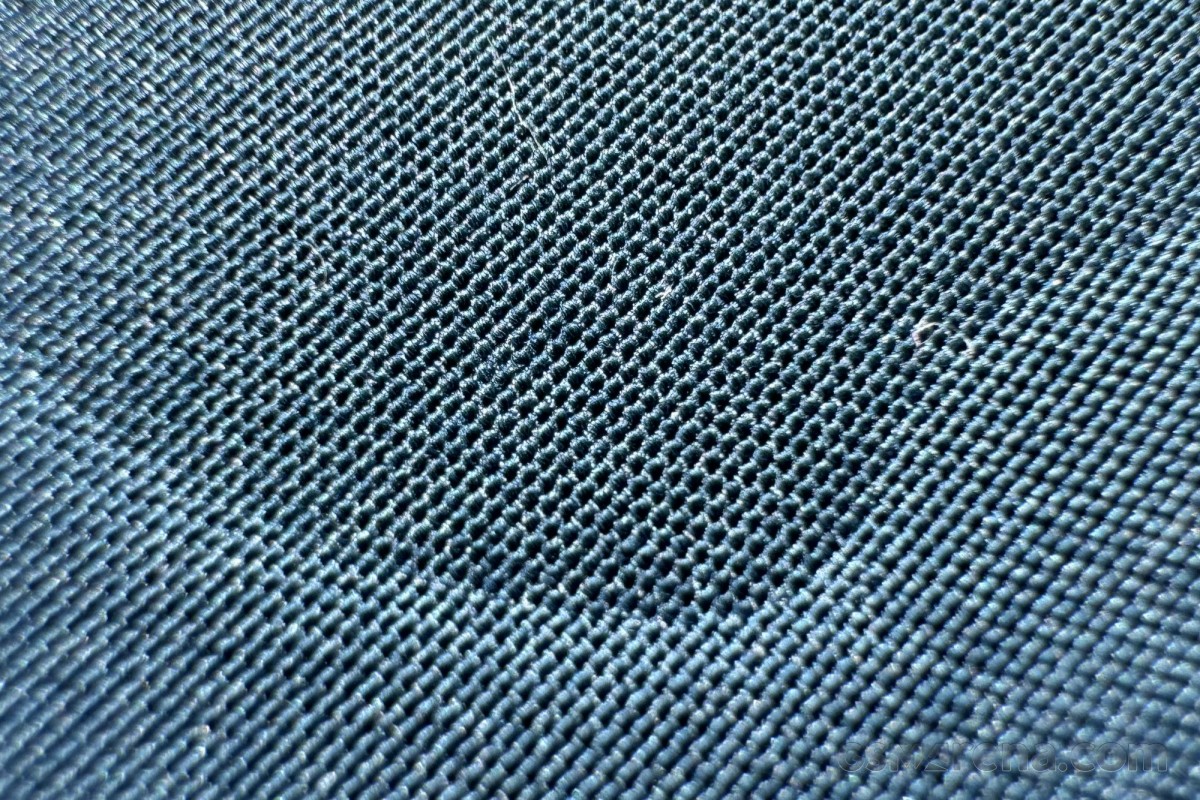 Macro shot by the iPhone 15 Pro
The fabric isn't very grippy and that could be a concern for some people. The phone in the case can slide clean off your hands if the only part making contact is the back. This is where the rubberized sides come in. They do offer more grip and help secure the phone in your hand.
Let's talk durability. Leather is a durable material but it's not shy about showing its battle scars. People like to call it patina and it's almost a desirable quality that is unique to leather. Unfortunately, other materials don't quite get the same preferential treatment and no one is going to call the wear and tear on the FineWoven patina.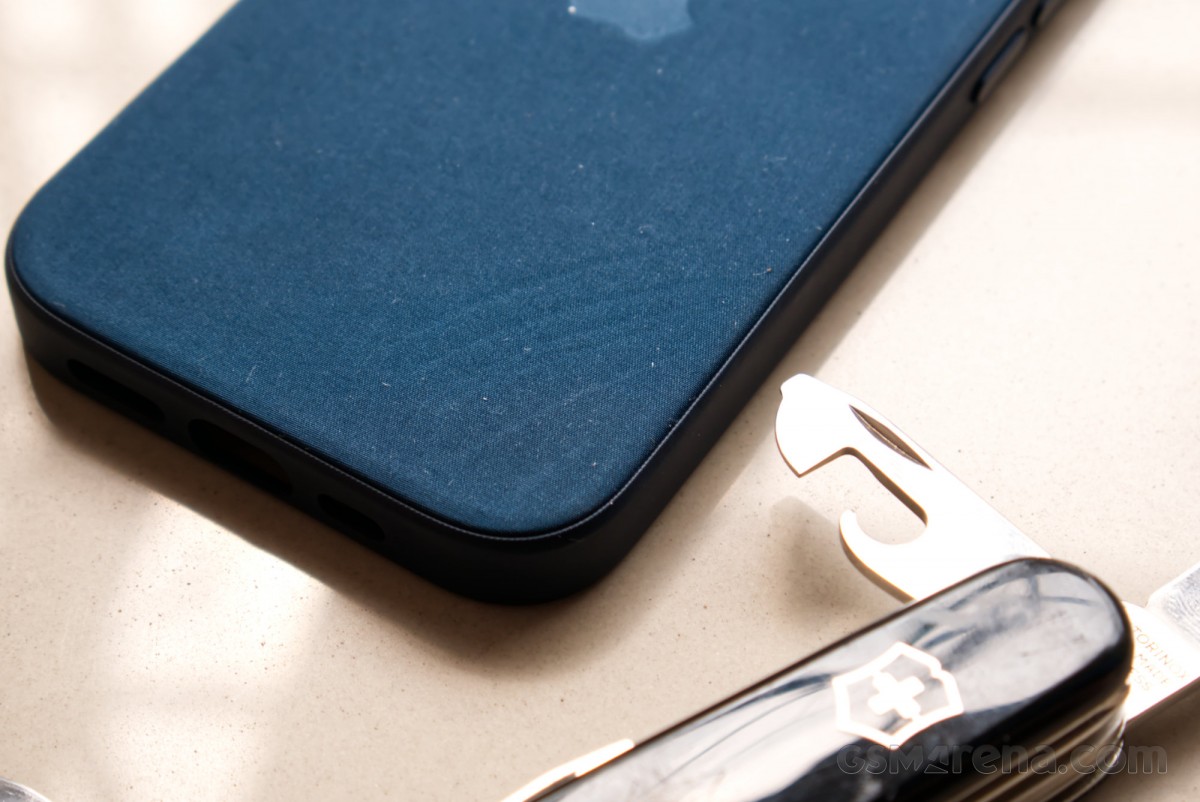 And wear and tear it does. After a few swipes with a blunt tool, the markings on the material were both visible and permanent. No amount of wiping, washing, or caressing the material is going to undo the permanent reorientation of the weaved fibers.
I should note that this is more or less a worst-case scenario. While it's not something the case won't come across in a bag full of paraphernalia or a pocket that also includes your keys (please don't do that), it's unlikely to drag across with the same strength that I had to use to make these marks. I also refused to make markings with sharp objects like tips of blades as that is simply an unlikely scenario unless you also carry knives in your bags or pockets.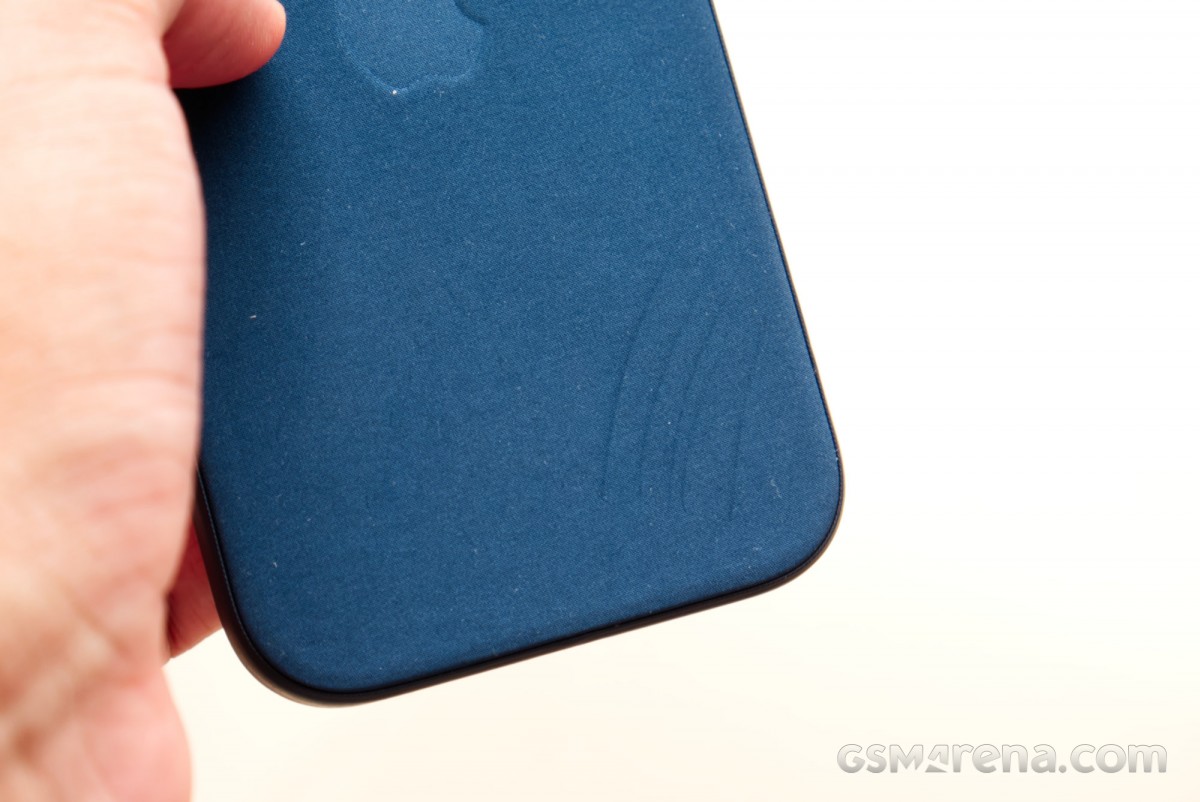 I couldn't get the material to scuff with just fingernails. Perhaps I just have particularly smooth nails but unless I chose to deliberately dig deep, fingernails simply weren't an issue.
As the inside of the case is made out of the same material, it also has the same level of durability.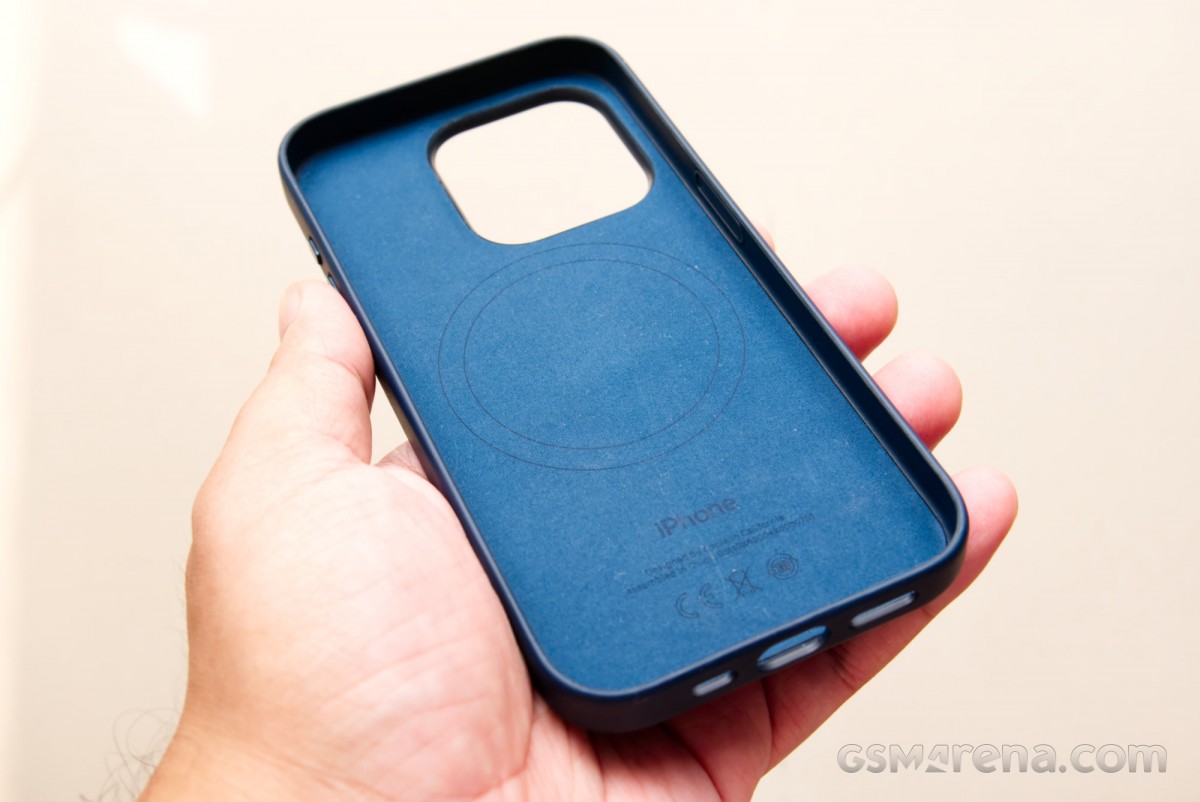 The sides of the case are made out of some magic material. Using the same blunt too, I couldn't make any decent permanent markings on it. The material heals itself near-instantaneously after the marking is made and it becomes invisible after a few seconds. The buttons on the case are made out of metal and you need a very sharp tool to damage those.
What about water damage? Well, it's a fabric so it just soaks in the water like there's no tomorrow. The material darkens, as you'd expect, when it gets wet but only if it absorbs some serious amount of water. A single droplet almost instantly vanishes with no trace of wetness.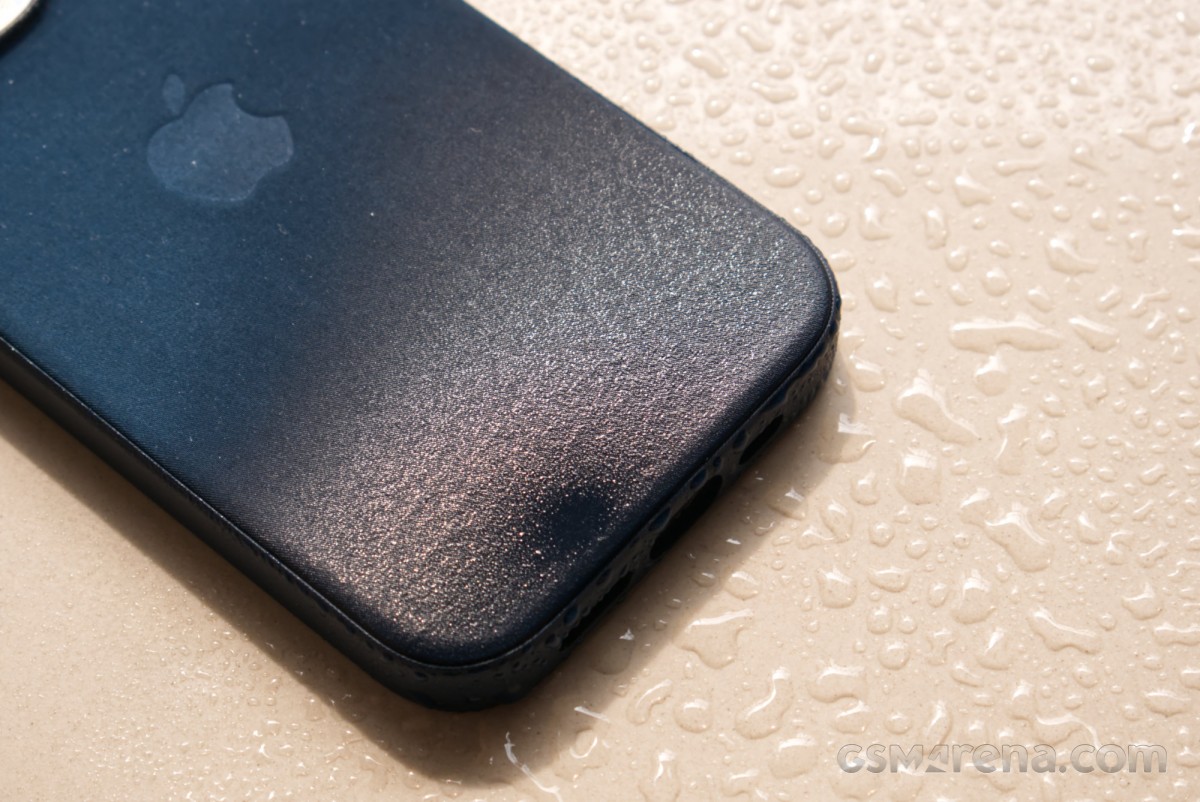 It's worth noting that any water absorption on the outside of the case remains there. No matter how wet I got the outside of the case, the inside remains dry since it's not fabric through and through.
So we tried scratching and water. But how does the case handle fire? Just kidding. This isn't that kind of website.
As for other notes on the case, it does seem to attract a lot of lint and dust and due to the coarse nature of the surface, they don't wipe away easily. The case also fits very snugly, which is a good thing but getting it off was a lot harder than I thought and I was not a fan of the way it pulled on the edges of the phone's buttons.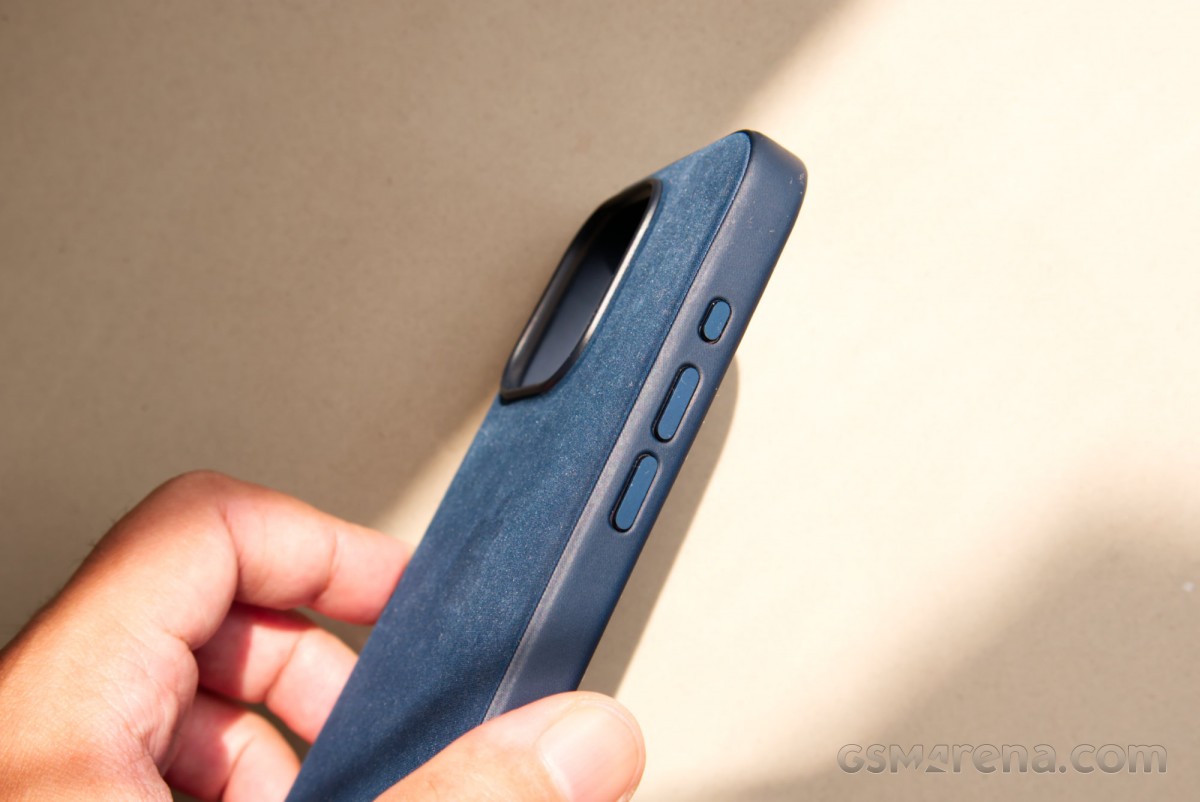 The case also still has a camera bump so if you're not a fan of those, this case won't help you. The case is, however, very light and relatively thin and doesn't add a lot to the phone's dimensions.
While I didn't talk a lot about the FineWoven Wallet, it really is the same material as the case and behaves in the exact same manner.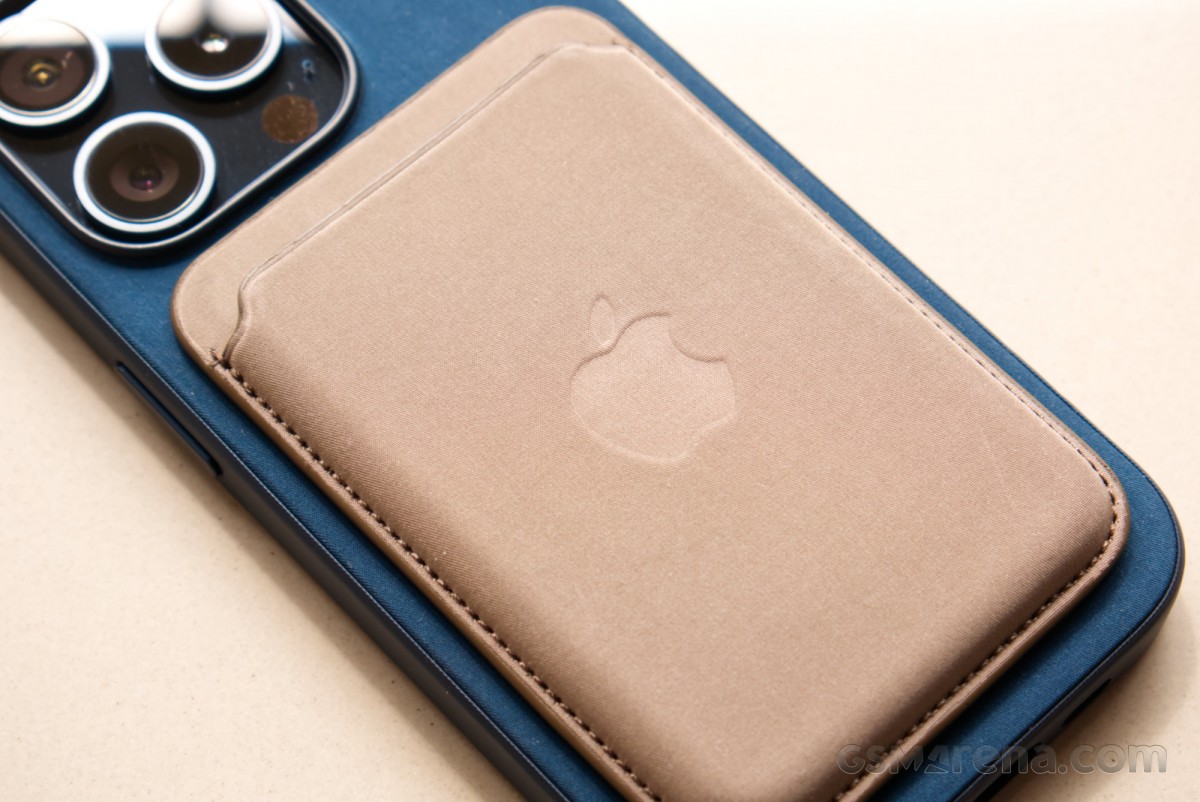 In conclusion, I have somewhat mixed feelings about the FineWoven accessories. As a material, it is an interesting and certainly worthwhile addition to the lineup for those who want to try something different from the usual leather and silicone options. The reduced environmental impact also cannot be understated for the volumes these products sell in and you can be sure Apple will make and sell millions of these throughout their lifetime.
However, I am struggling to see it as a good replacement for leather because of just how different it is. It's like replacing steak on the menu with noodles; noodles are great but if I'm in the mood for a steak I'm not ordering noodles. I'll just go to a different restaurant.
I assume there is a very deliberate decision behind Apple choosing to quit leather cold turkey and not even opting for artificial or vegan leather alternatives. Perhaps the company wants to move away from the material and everything it represents. But FineWoven simply does not have the premium feel to it, both physically and psychologically, and so now it feels like just another basic case instead of something special, even though it costs the same as the leather version at $59.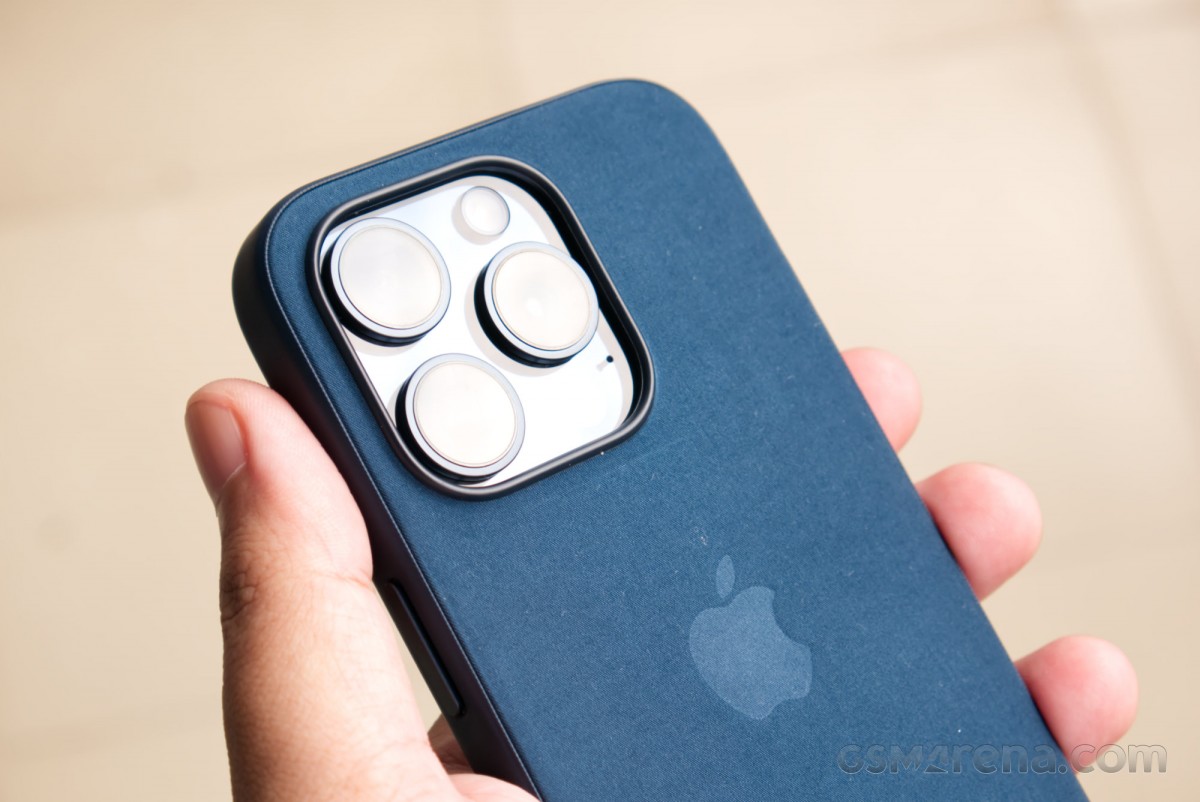 Still, there is a healthy ecosystem of third-party accessories for the iPhone so if you really crave the feeling of cowhide under your fingers then you just have to look elsewhere as Apple will no longer scratch that itch.
Related
Agreed, there's that Algae-based composites that can replace the jelly cases while being eco friendly
Popular articles
Popular devices
Electric Vehicles