Apple iPad Pro review: Slate of the art
Slate of the art
GSMArena team, 30 November, 2015.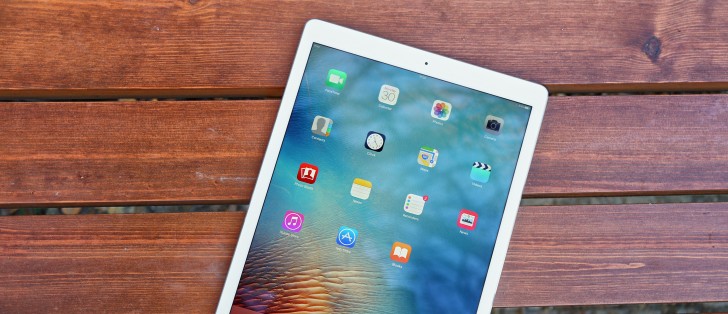 Introduction
Circulating in the rumor mill for two years, with a probability of near zero for the better part thereof, the iPad Pro was made official in September 2015 and is shipping worldwide as we speak. Guess we already know what's been going on under the surface but the bottom line is Apple lets you decide about the optional pencil and keyboard.
At 12.9 inches of display diagonal, the iPad Pro is Apple's largest tablet and largest handheld device running iOS, considering there are a couple of smaller MacBooks.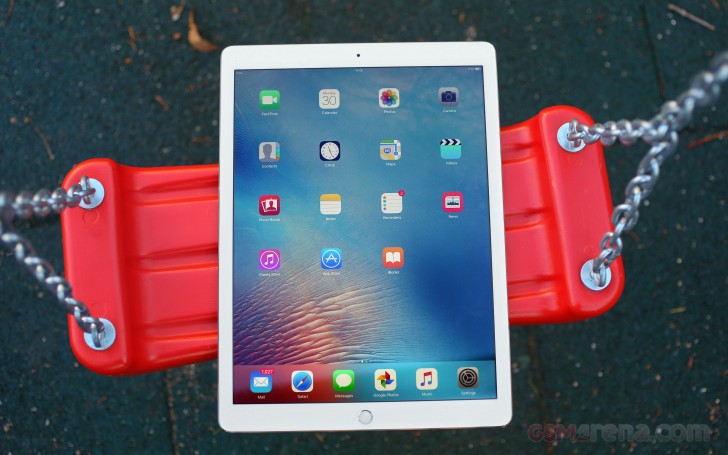 But while size quite obviously matters, there's more to the giant iPad than its sheer scale. A couple of firsts for Apple are also part of the package, though they naturally come at an extra cost.
First up is the Pencil. It's an easy target of ridicule, given Steve Jobs' abhorrence of the stylus, expressed at the original iPhone's launch. However, the Pencil here serves a fundamentally different purpose to a stylus on a smartphone, and the jokes are mostly groundless. The Pencil is an active battery powered device and houses all the tech needed for precise measurement of not only different levels of pressure, but also tilt, so that it's able to reproduce your drawing digitally with all its nuances as you would expect from say, a specialized Wacom tablet.
It's the Smart Keyboard that's more entertaining, however, at least for us. Well, depending on which side of the line you are in the so-called Surface tension. If you need it to, the iPad Pro can be equipped with a foldable keyboard dock/kickstand, which you can buy separately, just like you would the Apple Pencil.
Done with the trivia, the iPad Pro is a seriously capable machine with a huge display, a formidable A9X chip and 4GB of RAM, all powered by an extra large battery.
Apple iPad Pro key features
3G/LTE 150Mbps model available (comes with GPS/GLONASS)
Metal unibody, 6.9mm slim, 713/723g of weight
12.9" LED-backlit IPS LCD touchscreen, 2,048 x 2,732 pixels, ~ 264ppi density; scratch-resistant, oleophobic coating
A9X 64-bit chipset, dual-core 2.26GHz Twister CPU with an M9 motion coprocessor, 4GB of RAM
32/128GB of inbuilt storage
iOS 9.1 with Continuity allows you to take iPhone calls and messages on your iPad
4 on-board speakers
8MP auto-focus camera, 1080p video recording at 30fps, 120fps slo-mo, Burst mode, Panorama
1.2MP 720p front camera with a larger f/2.2 aperture
802.11ac Wi Fi connectivity
Dedicated secondary noise reduction microphone for FaceTime calls
TouchID fingerprint sensor
Four and five-finger gestures
Comes with a premium set of free Apple apps - Pages, Numbers, Keynote, iMovie, Garage Band, etc.
Optional Smart Keyboard magnetic dock and Apple Pencil
10,307mAh battery
Main disadvantages
Expensive to boot and the keyboard dock and stylus command a hefty premium as well
Big and heavy for single-handed use
No NFC
Storage upgrades are pricey and base 32GB storage maybe short for professional needs
No enhanced resistance to liquids or dust
Tied into iTunes for uploading most of the content
iOS UI lacks proper screen size optimizations and looks the same on phones and tablets
Wi-Fi-only version omits GPS
The iPad Pro carries a few inherent flaws. There's little that could be done about the weight - a device with a large display will inevitably be heavy. We're not too fond of proprietary ports either, or closed ecosystems, rich as they may be in content and apps.
The matter of base storage is another common issue with Apple devices - just like the iPhone should drop the 16GB option and start at 32GB instead, the iPad Pro has little excuse not to have 64GB in its base model, let alone at all.
Apple insists that if you're getting the Wi-Fi-only version, you won't be wandering the streets, so there's no GPS. There's also no protection against the elements either, but would you really be taking something the size of a small TV poolside?
Anyway, let's stick to the routine. Join us on the next page for the usual unboxing and hardware overview.
To all of the weirdos out there who think this ipad is still good - its rubbish for multitasking and therefore bad for working and gaming. Good for people who just surf the web tho. Ps info on the specs page is wrong - my one is running iPadOS 1...
AnonD-453339
28 Aug 2016
tZk
It pen was incredible good just like the real pen , nice job apple i hope there are ipad pro 2 come out
Faisal shafi
22 Apr 2016
uWG
Listen pls all non Apple users do not compare Apple wth shamesung or other devices apple never compare wth u all okkkkkk u all r best now get lostttt and be remember simple if u have iPhone u have an iPhone if u don't have iPhone u don't have an iPho...