Apple iPad Pro 12.9 (2018) review
Vlad Bobleanta, 05 December 2018.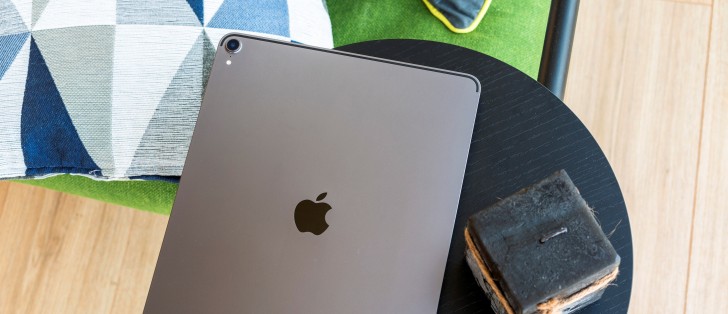 Connectivity
We've pretty much retired the connectivity section from our reviews, unless there is something important to say. And with the new iPad Pro being the first Apple mobile device with USB Type-C port we've decided to test a couple of things and see what happens.
The MacBooks have switched to USB-C for quite sometime at the expense of all other ports. This called for various adapters to pop up on the market - for SD cards, ethernet ports, USB Type-B ports, audio ports, among others. Now that the iPads have the same ports we wondered if those things would work here, too. After all, if you have a new MacBook it's only natural to have a few USB-C adapters in your bag, right?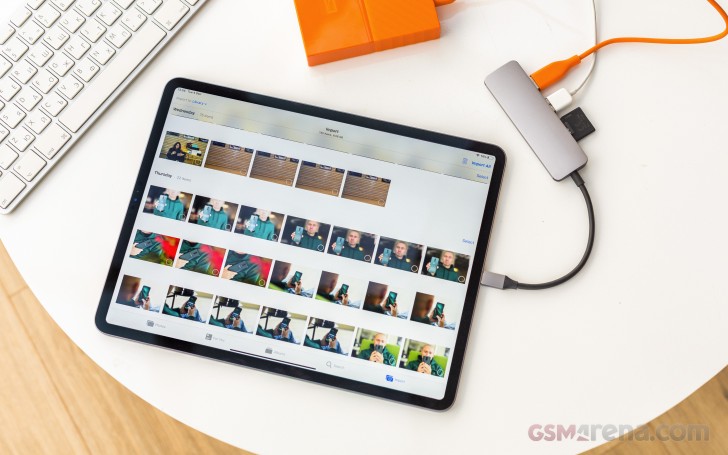 The short answer is - yes, they do work. Apple has provided the full functionality of the USB-C port and all the necessary drivers. You can hook up keyboards, an external monitor, a DSLR, or even charge your phone with a USB-C to Lighting cable. See, just like a MacBook.
But there are limitations, of course.
We had such MacBook adapter lying around, so we did a few tests.
First, all keyboards, wired or wireless worked hassle-free when hooked to those additional USB ports on our adapter. But iPads can't work with mice. You can't even connect one via Bluetooth, while the wired ones are just ignored. C'mon!
Then we tried the HDMI port. The iPad's screen was mirrored on the TV, as expected with black bars around the side because of the 4:3 aspect. If you open the YouTube app and use the full-screen toggle - things won't improve. But open the default Videos app and it gets much better - once you switch to full-screen the TV will go full-screen as well, while the iPad will show only video controls and nothing else. Solid!
Finally, and most importantly, connecting external storage. You can attach SD cards, USB sticks, external drives, and even cameras. Once you do this - the Photos app will open and will give you the option to view and import all compatible media - meaning pictures and videos.
You can charge other phones and cameras or use reverse charging to fill the iPad's battery.
And that's it.
Exporting media from the iPad to the external storage is tough but possible. If you hook the iPad with USB-C - USB-C cable to say a Pixel or Mate 20, you will be able to access (view and copy) the iPads or said device photos and videos.
But what about documents or PDFs? Nope, it works only with images and videos. For everything else you'll have to use a computer or the cloud. And this is where all Apple promises that that iPad is as good as a PC fall apart.
We do appreciate the connectivity options, but Apple really needs to work on the iOS <-> external storage communication. For now, we only have this super limited import/export option for pictures, which is no good for any power user.
Performance and benchmarks
The third generation iPad Pro tablets are powered by an upgraded version of Apple's first 7nm chipset - the A12 Bionic. It's called A12X Bionic and has an upgraded processor and graphics to suit the needs of the iPads.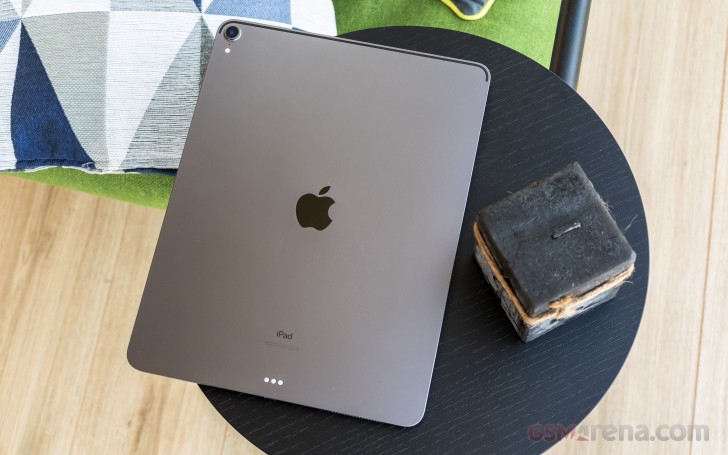 The A12X has a faster processor - while the iPhone XS had six-core processors, the new iPads add to additional performance cores raising the total count up to eight. So, the A12X Bionic power pair consists of four 2.5GHz units called Vortex, while the efficient quartet is made of 1.6GHz Tempest cores.
The A12X also brings a massive boost in graphics - the custom Apple GPU found in the latest iPhones have been granted 3 additional GPU cores, which means a total of 7 GPU cores or 75% increase in performance.
The 8-core neural engine found on the A12 Bionic is here to stay - it can do up to 5 trillion operations per second, up from the 600 million in A11 Bionic.
The 64GB, 256GB, and 512GB iPad Pro models pack 4GB LPDDR4X RAM, while the 1TB tablet gets to enjoy 6GB of RAM.
The ISP (Image Signal Processor) from the A12 is intact on the A12X. It captures much more data from the new sensors, there is also Smart HDR, and zero-shutter lag, among other benefits.
Now, you've probably figured that the A12X chip within the new iPad Pro will top all charts, but let's see it anyway.
The new processor blows every other Apple and non-Apple mobile processor out of the water.
GeekBench 4.1 (multi-core)
Higher is better
Apple iPad Pro 12.9 (2018)
18066
Apple iPhone XS Max
11432
Apple iPhone X
10215
Apple iPhone 8 Plus
10037
Huawei Mate 20
9793
Samsung Galaxy Note9
9026
OnePlus 6T
8977
The 4-core Apple GPU inside the A12 is any game's best friend, but the updated one coming with the new iPads offers 75% more oomph over the iPhone XS one. And as you can see, it delivers insane raw performance compared to the most current chips - S845, Kirin 980, and Exynos 9810.
GFX 3.1 Manhattan (1080p offscreen)
Higher is better
Apple iPad Pro 12.9 (2018)
181
Apple iPhone XS Max
99
Apple iPhone X
65
OnePlus 6T
60
Huawei Mate 20
53
Samsung Galaxy Note9
45
GFX 3.1 Car scene (1080p offscreen)
Higher is better
Apple iPad Pro 12.9 (2018)
102
Apple iPhone XS Max
60
Apple iPhone X
37
OnePlus 6T
35
Huawei Mate 20
28
Samsung Galaxy Note9
28
And here is how the new GPU does in native resolution.
GFX 3.1 Manhattan (onscreen)
Higher is better
Apple iPad Pro 12.9 (2018)
66
Apple iPhone XS Max
60
OnePlus 6T
53
Apple iPhone X
49
Huawei Mate 20
47
Samsung Galaxy Note9
25
Our compound benchmarks have a new champion, far ahead of any other chipset we've seen so far. And mean far!
AnTuTu 7
Higher is better
Apple iPad Pro 12.9 (2018)
552771
Apple iPhone XS Max
353210
OnePlus 6T
293994
Huawei Mate 20
273913
Samsung Galaxy Note9
248823
Apple iPhone X
233100
Basemark OS 2.0
Higher is better
Apple iPad Pro 12.9 (2018)
7298
Apple iPhone XS Max
4915
Apple iPhone X
4708
OnePlus 6T
4452
Huawei Mate 20
4093
Apple iPhone 8 Plus
3601
Samsung Galaxy Note9
3064
Apple iPad Pro
2813
It's a tradition for every new Apple chip to offer jaw-dropping performance. Apple has the time, money, and dedication to design its own chips and this has been one of the best decisions the company has made over the last decade. Having full control over your hardware and knowing how to use it pays off tremendously for the iPhones.
The Apple A12X Bionic chip is not only the fastest hardware today, but it gives a very good idea of how the next generation of iPhones will perform. And things aren't looking good for all of them Android chips. Not that Qualcomm, Huawei or Samsung aren't doing great, but they are playing the catchup game once again.
Long story short - the 7nm Apple A12X Bionic chip is the fastest mobile chipset on the planet today and a benchmark for the whole chip industry.
The iPad Pro is made of metal, which is among best materials for heat dissipation. And perhaps because of that, we didn't experience any throttling no matter what we threw on the iPad. While we ran various modern games, the iPad Pro did become slightly warm, but that's it.
Can I use the 24W and 61W charger to charge my iPad Pro 2018? Plz i need your help
Plz anyone tell me can we use the memoji feature in this ipad plz