Apple iPhone 4 review: Love it or hate it
Love it or hate it
GSMArena team, 01 July 2010.
Gallery displays Albums, Events, Faces and Places
The iPhone's gallery is rather simple and easy to work with. It hosts all you pictures organized in different albums or tabs. When you open a specific album you can scroll through the images with swipe gestures.
There is one interesting thing though. The iOS 4's gallery opens every image slightly zoomed in so fits the whole screen without leaving black bars. If you want to view the full picture, you'd need to pinch or double-tap to zoom out.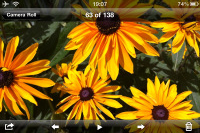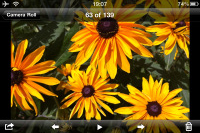 The default (zoomed) image • zooming out for actual size preview
If you use iPhoto software on any of the Apple computers, you are now able to sync your Events, Places and Faces image holders. In iPhone's gallery you will notice the respective four tabs available at the bottom – Albums, Events, Faces and Places.
As usual, Albums holds all of your synced, downloaded and captured images.
The Events and Faces folders on your iPhone 4 can only be filled with content from the iPhoto photo organizer on your Mac. You can't populate them with photos from your iPhone's camera.
All geotagged photos (saved from web or shot with the iPhone) appear in Places where they show up as pins on a map. Tapping a pin shows a small thumb with basic information about the image.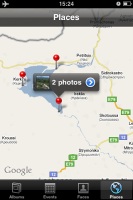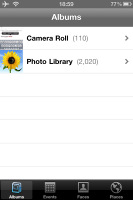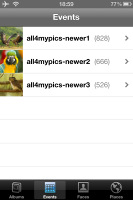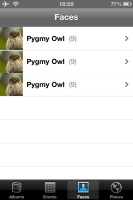 The new Events, Faces and Places tabs in the Gallery
The better iPod
The iPhone 3.0 OS enabled local search in the iPod player, as well media scrubber, shake-to-shuffle, third-party app access to your library and stereo Bluetooth headset/speaker support.
The iOS 4 treats the iPod player to a single, but important upgrade. You are now able to create, edit or delete playlists straight on your mobile (as opposed to only getting them from iTunes).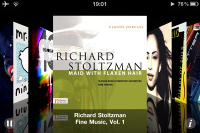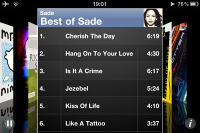 iPod in landscape mode – the Cover Flow view
After you've created a playlist, you can add or remove tracks from it anytime you want directly on your iPhone. There is no need to sync with iTunes. Yes, we know it's an option available on almost every other phone, but we are happy to see Apple finally respond to users. The iPhone maternal dependency on iTunes for uploading any content is perhaps the single greates limitation of Apple's iOS and it's the cause for a host of silly discomforts such as poor performance of iTunes under Windows (much improved in the recent year) and the limitation of syncing multimedia content to the iPhone from a single computer only. Syncing to iTunes on another computer will delete all the content of the same type uploaded to your iPhone before that.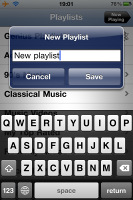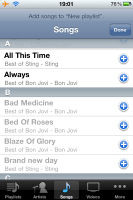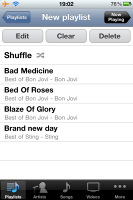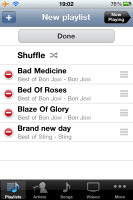 Creating and managing playlists
Audio quality impresses
It's hardly a secret that all the previous iPhones had perfectly clean audio output with relatively low volume being their only problem. However Apple have obviously done the right thing and fixed that here, making the iPhone 4 one of the best music player among the mobile phones that we have seen.
In fact the iPhone 4 is identical to the iPad tablet as far as audio output is concerned (volume levels included), which makes us suspect that Apple have somehow managed to squeeze similar hardware inside.
But let's cut the small talk and give you the results so you can see for yourselves what a great music player the iPhone 4 is. It might be about time that you retired that old iPod of yours.
| | | | | | | |
| --- | --- | --- | --- | --- | --- | --- |
| Test | Frequency response | Noise level | Dynamic range | THD | IMD + Noise | Stereo crosstalk |
| Apple iPhone 4 | +0.01, -0.07 | -90.1 | 90.0 | 0.0068 | 0.012 | -89.6 |
| Apple iPad | +0.01, -0.07 | -90.1 | 90.0 | 0.0068 | 0.012 | -89.6 |
| Samsung I9000 Galaxy S | +0.03 -0.04 | -90.7 | 90.6 | 0.014 | 0.019 | -90.6 |
| Sony Ericsson XPERIA X10 | +0.07 -0.37 | -85.4 | 85.3 | 0.018 | 0.068 | -83.6 |
| Google Nexus One | +0.19, -0.55 | -86.1 | 85.8 | 0.023 | 0.088 | -85.2 |
| HTC HD2 | +0.39, -2.99 | -89.0 | 89.1 | 0.057 | 0.960 | -87.5 |
| Apple iPhone 3GS | +0.01, -0.05 | -92.1 | 92.1 | 0.0035 | 0.011 | -95.0 |
| Apple iPhone | +0.34, -1.16 | -90.8 | 91.3 | 0.0050 | 0.016 | -91.4 |
| Apple iPhone 3G | +0.52, -1.05 | -89.9 | 90.1 | 0.0033 | 0.016 | -93.1 |
| Apple iPod Touch 2G | +0.04, -0.05 | -91.4 | 91.5 | 0.0027 | 0.012 | -90.0 |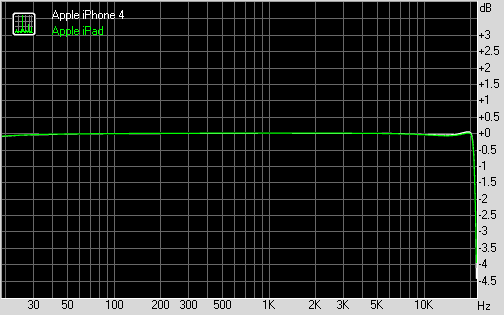 The Apple iPhone 4 frequency response is simply perfect
You can find more information about the test itself and the meaning of the different numbers in the table here.
Very simple video player
It's the iPod app of course – and it makes no sense that in there you can access all your downloaded clips but not the videos you captured with the phone's camcorder. The video playing interface is very simple, with nothing more than the usual player controls and a scrubber for precise skipping back and forth.
Supported video formats are not really varied and as you probably already know, DivX and XviD videos are out of the quiestion without a conversion. The nice thing about the iPhone 4 is that it can easily play 720p HD videos. Unfortunately, FullHD 1080p video is not supported - they can't even sync to the iPhone via iTunes.
Updated 9 July: The nicest thing about watching video on the iPhone 4 is its efficient battery. We just concluded a dedicated video playback test for battery life. The results are surprising - the iPhone 4 kept playing our test video for good 9 hours and 40 minutes making it the best perfomer in this area that we've seen so far.
Still an amazing device 10 years later except the fact that it's software version is only upgradable up to iOS 7.1.2. If your essential apps support that version, then go for it and buy this. Would be better to keep as a backup.
It's tiresome so l hate it coz it doesn't favour us the of cellular dataonly most things are of use of wi if
the best phone i've ever had still working great