Apple iPhone 6 review: Scaled to order
Scaled to order
GSMArena team, 26 September 2014.
Photos
One of the highlights of the WWDC keynote earlier this year where we first saw iOS 8 was the new Photos app.
Apple has upgraded the default gallery with a new Search option. The smart suggestions implemented within the new Spotlight and Safari browser work here too. You can search by place, date, people, nearby location, etc.
Just like before, images are organized by date and location, for those that have been geo-tagged. This view is called Moments. You can go a step back, to Collections view where you can better view your sorted photos into groups with labels and much smaller thumbs. Finally, there is the Year view. It squeezes your collection into tight grids for each year.
There is a new default album called Recently Deleted. It stores your recently erased photos for 30 days before deletes them for good. Each photo shows the days remaining until deletion. It works like a recycle bin and, of course, you can restore the files you want.
One of the major new additions to the Photos app is the new integrated image editor. It supports standard features such as crop, rotate and filters, but it also offers advanced settings allowing full control over light (exposure, highlights, shadows, brightness, contrast, black point), color (saturation, contrast, cast), black & white (intensity, neutrals, tone, grain). In case you aren't into meddling with your photos, you can use the new intelligent Auto Enhance feature, which will do things automatically for you.
Shared photos are available - the tab has all your Photo streams. Photo Stream, which acts like a social sub-network, works really well and is very simple to set up. You choose what pictures to share and which people to share with. Your buddies on the receiving end will be able to like them and post comments. You can invite users you want to share your Photo Streams with via email or get invited. If you are using the new Family Sharing options you can easily configure Photo Streams shared between your homegroup.
If your iCloud Drive is active you can gain access to your cloud gallery and browse it on your iDevice without the need of storing it locally. If you have opted to store everything in your iCloud Drive, you can save precious space (those with 16GB of storage on their iPhones should know best) and still have access to your images and videos. You'll need a working internet connection, of course, and the iDrive free quota is only 5GB.
Thanks to the new third-party access to the Photos SKD, now developers are able to add their own editing settings, filters, sharing options, among others.
Limited video player
Many things have changed in iOS 7 and iOS 8 but the video player is definitely not one of them. You can upload only supported formats via iTunes or purchase videos from the iTunes store. This is an extremely disappointing showing by a platform that is supposed to excel at multimedia consumption.
The lack of extra functionality is bad enough, but having to use just an extremely limited number of media format or resorting to converting files, which is both slow and inconvenient is a real deal-breaker.
Music and iTunes Radio
The iOS 8 music player is exactly the same as the one in iOS 8 with minor UI and font improvements. You can create playlists, delete songs right from within the player and reorder tabs whichever way you like.
Album view is available too - you access it by flipping the device landscape. It lists all the covers to the albums you have in your library. Tapping on an album thumb lists all the tracks in it.
The Now Playing screen hasn't changed in functionality neither is the settings. Even in its seventh major iteration iOS still fails to offer configurable equalizers.
If you are logged in with an Apple ID that supports iTunes Radio, your iOS 8 music player will get an additional iTunes Radio tab. It's a music streaming service with the entire iTunes content available for streaming.
The stations are divided by genres, but once you add a station, you can choose to remove artists or add more songs from an artist/group. You can preview a station before adding it to your list.
In case you like a particular song, you can buy it with just one tap. History is available and you can always return to buy songs later. A Wish List is available as well.
iTunes Radio is ad-free if you are using iTunes Match. Otherwise, every 7 to 10 songs are interrupted by about 15sec worth of commercials.
Audio output takes a step back, is still pretty great
The Apple iPhone 6 comes from a long line of excellent audio performers and naturally our expectations about it in this test were pretty high. As it turns out the latest flagship does a tad worse than its predecessor, and comes a bit closer to the iPhone 5.
When plugged into an active external amplifier, the Apple iPhone 6 posted excellent scores with the rather mediocre stereo crosstalk reading being the solitary exception. We guess the less than perfect stereo has something to do with bringing the waistline down, but it shouldn't be too big an issue in most scenarios.
Rather impressively, there's virtually no degradation when you plug in a pair of headphones. The spike in stereo crosstalk is so limited that in comparison the iPhone 6 fares way better here in the first test. Granted, there are phones out there that do even better, but that will only matter to the most extreme audiophiles.
In both cases, Volume levels were pretty high - not quite HTC One (M8) or One mini 2 high, but just on par with the likes of Samsung Galaxy S5. That adds up to an excellent overall performance - Apple may not be the leader in terms of audio quality anymore, but it's not far from the top either.
| | | | | | | |
| --- | --- | --- | --- | --- | --- | --- |
| Test | Frequency response | Noise level | Dynamic range | THD | IMD + Noise | Stereo crosstalk |
| Apple iPhone 6 | +0.06, -0.02 | -94.0 | 93.9 | 0.0012 | 0.0065 | -73.4 |
| Apple iPhone 6 (headphones attached) | +0.11, -0.06 | -93.8 | 93.8 | 0.0022 | 0.099 | -65.1 |
| Apple iPhone 5s | +0.02, -0.05 | -93.6 | 93.7 | 0.0013 | 0.0068 | -90.3 |
| Apple iPhone 5s (headphones attached) | +0.12, -0.00 | -93.4 | 93.3 | 0.0016 | 0.060 | -76.1 |
| Apple iPhone 5 | +0.06, -0.51 | -91.3 | 91.3 | 0.0015 | 0.0093 | -76.5 |
| Apple iPhone 5 (headphones attached) | +0.00, -0.26 | -90.6 | 90.6 | 0.0035 | 0.111 | -56.2 |
| Samsung Galaxy Alpha | +0.01, -0.04 | -96.6 | 92.8 | 0.0058 | 0.0091 | -97.1 |
| Samsung Galaxy Alpha (headphones attached) | +0.04, -0.01 | -95.7 | 92.7 | 0.013 | 0.033 | -65.6 |
| Sony Xperia Z3 | +0.02, -0.08 | -86.4 | 86.4 | 0.014 | 0.021 | -86.6 |
| Sony Xperia Z3 (headphones attached) | +0.29, -0.10 | -85.7 | 85.7 | 0.035 | 0.064 | -50.8 |
| Samsung Galaxy S5 | +0.02, -0.08 | -96.3 | 93.3 | 0.0017 | 0.0089 | -95.2 |
| Samsung Galaxy S5 (headphones) | +0.01, -0.08 | -96.3 | 93.3 | 0.0095 | 0.018 | -61.9 |
| HTC One (M8) | +0.04, -0.10 | -95.4 | 93.4 | 0.0012 | 0.010 | -93.2 |
| HTC One (M8) (headphones attached) | +0.04, -0.08 | -94.9 | 93.9 | 0.0014 | 0.018 | -79.7 |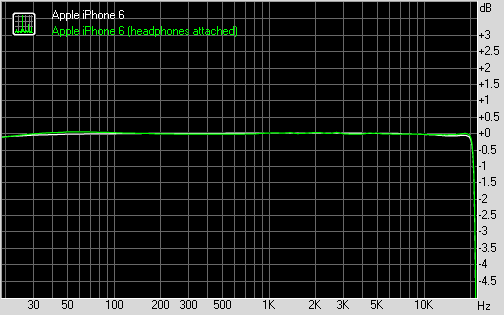 Apple iPhone 6 frequency response
You can learn more about the tested parameters and the whole testing process here.
Latest iOS is 12.4.2. So far I don't experience any problem on my phone.
Had you done setup correctly? My iPhone works fine, do not have any problems so far with Touch ID.
No iPhones in the history of Apple has a secure folder feature. As far as I'm aware, that feature is available on Samsung devices.