Apple iPhone 7 Plus review: Hail to the king, baby!
Hail to the king, baby!
GSMArena team, 12 October 2016.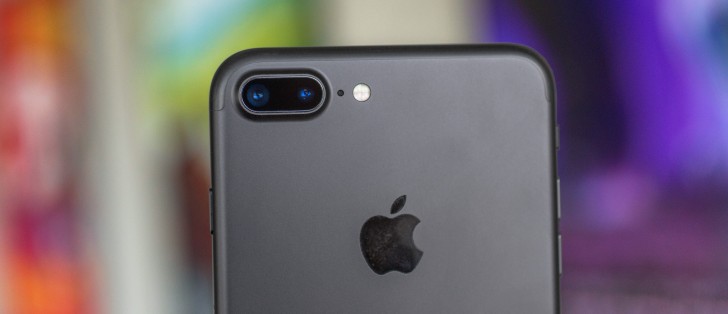 Telephony
The iOS 10 Phone and Contacts apps look the same as before utilizing a clean interface and you can force press here and there for some quick actions. Blacklist is available for those needing this feature.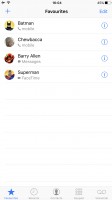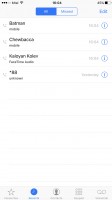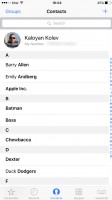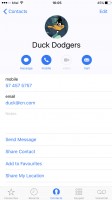 The phone app with Favorites • call log • phonebook • a contact
The Phone app has been opened to third-party messengers such as Skype, Viber, and WhatsApp and those can now share the same in-call screen as your phone calls. Even better, you can assign numbers within your phonebook to make calls through Viber or Skype by default, no need of switching apps whatsoever.
FaceTime is naturally available for all compatible iOS and Mac devices and allows you to make free voice and video calls to any other FaceTime-enabled device. The same goes for iMessage - once enabled you can send free text and multimedia content, including voice-recorded messages, to any other iMessage-enabled Apple gadget.
Apple is also offering Wi-Fi calling. If your carrier supports it, your phone can be set to automatically place calls over Wi-Fi whenever you prefer. Some carriers won't even count the talk time generated over Wi-Fi against your monthly allotment.
As usual we've tested the new stereo loudspeaker setup performance of the iPhone 7 Plus. It is the loudest iPhone Plus model to date and among the loudest iPhones ever. Its two speakers are equally loud and with excellent sound quality. It posted a Good score on our test and so it's a solid improvement over the previous iPhones.
| | | | | |
| --- | --- | --- | --- | --- |
| Speakerphone test | Voice, dB | Pink noise/ Music, dB | Ringing phone, dB | Overall score |
| Apple iPhone 6s Plus | 65.8 | 65.1 | 64.6 | Below Average |
| Apple iPhone 6 Plus | 67.3 | 65.7 | 66.5 | Below Average |
| HTC 10 (Music mode) | 63.1 | 66.7 | 74.3 | Average |
| Samsung Galaxy S7 edge | 70.0 | 69.1 | 71.8 | Good |
| OnePlus 3 | 62.4 | 71.0 | 77.8 | Good |
| Apple iPhone 7 Plus | 68.3 | 72.2 | 72.9 | Good |
| Huawei P9 Plus (stereo) | 66.9 | 70.0 | 76.9 | Good |
| Apple iPhone 7 | 67.6 | 73.2 | 75.7 | Good |
| LG V20 | 68.2 | 68.6 | 80.9 | Good |
| Meizu Pro 6 | 64.0 | 71.5 | 89.1 | Very Good |
| Huawei P9 Plus (regular) | 71.7 | 73.7 | 81.3 | Very Good |
| Microsoft Lumia 950 XL | 74.9 | 75.7 | 84.3 | Excellent |
Messaging
Apple decided to freshen up its Messages app this year and it made some serious upgrades on its clean and easy to use messaging client. The good news is the interface remained very much the same.
You can now change the look of the messaging bubbles, but not in a traditional way. You can add bubble animations and your friends can all see if you are shouting or whispering with the new pop-up animations and styles.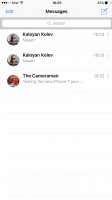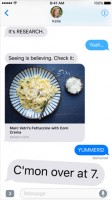 Messages app • A shouting bubble
You can also send handwritten text. There is also support for full screen animations for occasions like birthdays or national holidays. You can now wish someone Happy birthday and balloons will appear on screen, typing congratulations makes confetti fall down. You can also get these for any text by typing your message and then pressing and hold the send button to get to screen effects panel. There's balloons, confetti, lasers, fireworks, and shooting star.
You can even make invisible messages where your friends need to scrub the screen to reveal them.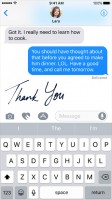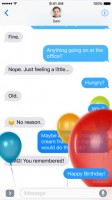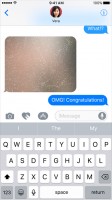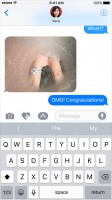 Handwriting • Full-screen animations • A hidden message • Scrub to reveal
The cool drawings and heartbeats introduced with the first Apple Watch are now available in Messages, too. There are also new emojis, word to emoji translation, new predefined quick replies which appear as badges in the conversation.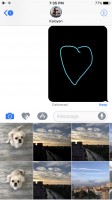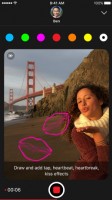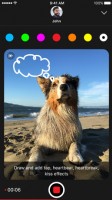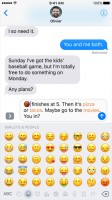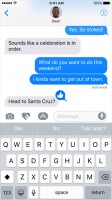 Drawings • More drawings • Drawing on a picture • Words to emoji translation • Predefined quick replies as badges
One of the biggest addition to Messages is the Sticker support. You can download sticker packs from the App Store (Viber says 'Hi').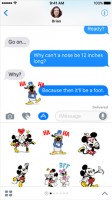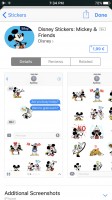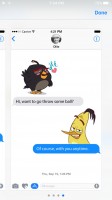 Stickers • Download more stickers • Angry Birds stickers
Another small addition is that now when you paste a URL, iMessage will show a link preview. This works for all kinds of links but if it's a YouTube link then you can even play the video in line within iMessage. Same goes for Apple Music links, where if the other person is subscribed they can play the track within iMessage itself.
Finally, the Messages app has been also opened to third-party apps and now you can send money, add or edit pictures, share content straight within the Messages interface. Apps can vary in functionality. The recently released Tinder app, for example, lets you send a stack of photos to someone that they can then swipe on and vote. There is also a built-in app that lets you search for any image and GIF and paste it quickly in the chat. Over time we will see what this functionality is truly capable of.
Now, as cool as some of these things are, there is an unmistakable sense of convolution and unintuitiveness. The stickers need to be downloaded through a store and are mixed with the apps. The handwriting feature has no indication and only appears if you rotate the phone. The effects and animations need you to press and hold the send button, a gesture no one will be able to guess. And for whatever reason, the camera, digital touch, and app store buttons appear for regular SMS conversations, even though you can't actually press them. All this makes Messages a bit of a mess and although eventually people will figure it out and get used to it, it is the exact opposite of the user friendliness that Apple and iOS are known for.
Keyboard
Apple's keyboard has been updated as well. While it keeps the same looks, there is a big improvement underneath. It now learns from your content, and is capable of contextual predictions including suggestions, free time according to your calendar schedule, numbers from phonebook corresponding to names, and, of course, just words by learning from your type patterns.
Multilingual typing is available and iOS will know you are typing in both English and Spanish and will predict and correct words on both languages without you changing keyboards.
Lastly, and not strictly speaking limited to Apple's keyboard, iOS 10 has a new set of emoji. It still does not support Unicode 9.0 (Android Nougat and Windows 10 do), something we expect would probably be coming in iOS 10.1, but it does have an updated set.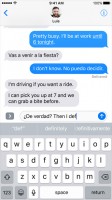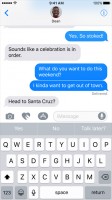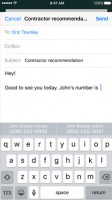 Quick Type keyboard with multilingual support • Keyboard suggestions • Number suggestions
Notable default apps
With every newly activated iPhone you also get the complete iWorks suite including Pages (viewing, editing docs), Numbers (viewing, editing excel files), and Keynote (viewing, editing presentations).
Apps such as Calendar, Notes, Weather, Calculator and Alarm are available, but they received very few upgrades, if any. Perhaps the Notes app is worth mentioning, which now supports collaboration between different contributors. Other than that it still has all the features from before like sketching, checklists, different formatting with bullets and lists, inserting multimedia, among others.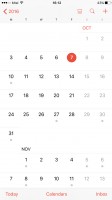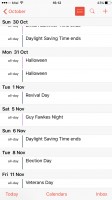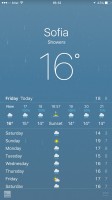 Calendar • Calendar • Weather • Calculator
The News app gets the same design as the new Music app. It is still in a very regionally limited run, but it will probably make it to most markets. As the name suggests, the app is a news aggregator developed by Apple that will search for stories you may like and offer them for you at a glance. It supports various topics and comes with clean interface. Save for Later is available as well. For now News is only available in the US, Australia, and the UK.
Apple Maps is getting better, too. For those unfamiliar, the default Maps client uses TomTom map data and supports Siri directions and voice-guided navigation, public transport support, real-time traffic info, nearby POIs with reviews.
The Maps app is getting a boost with Map layers, smarter and proactive assistance which can help you throughout your day by offering the fastest routes by following all the traffic around you and suggesting places nearby.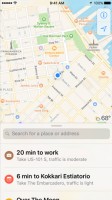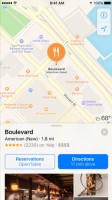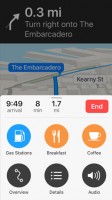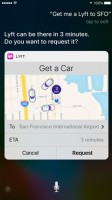 The new Maps with Reservations and Lyft support
Maps now supports extensions - thanks to those you will be able to make reservations for Uber or Lyft, as well as reservations at restaurants or other supported places. The support will grow over time when more apps add supported plug-ins for Maps.
Anonymous
10 hours ago
X5u
Pls Between the iphone 7 plus and Samsung s8 which is better
Anonymous
19 Oct 2022
UGp
don't even have dual sim, external storage are supported, no face unlock, does not support 5G, Only 2 back cameras, does not support latest IOS, Shittiest phone, don't buy this phone waste of money. does not support android application. no...
Anonymous
31 May 2021
Nu6
Be careful with your words