Apple iPhone SE (2020) review
GSMArena team, 1 May 2020.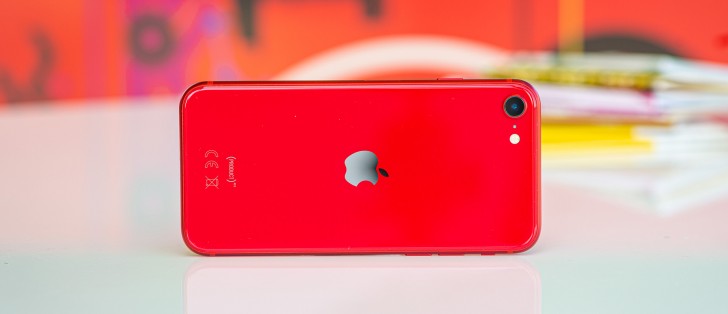 Display
The iPhone SE (2020) borrows iPhone 8 display - yes, the same that was borrowed in the first place from the iPhone 6. The panel in question was introduced way back in 2014, but it was improved over the years with wide color gamut support, True Tone enhancements, and HDR adjustments.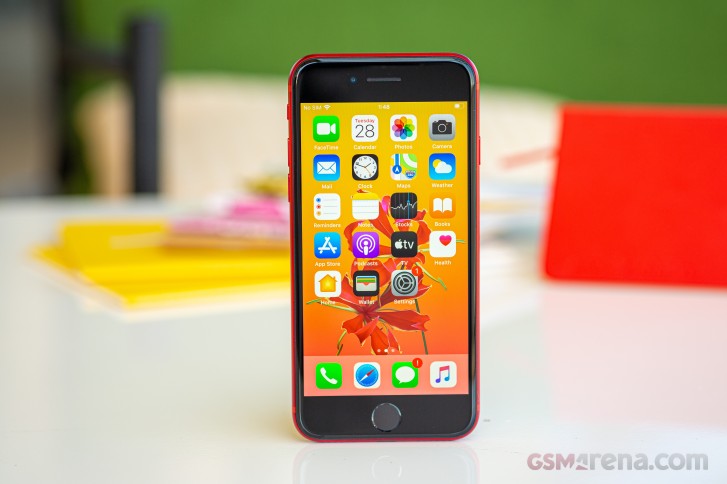 So, the new iPhone SE packs a 4.7" 16:9 LED-backlit IPS LCD screen, also known as Retina display, which has 326ppi or 1334 x 750 pixels. This particular pixel density has been introduced with the iPhone 4, and it is the true meaning behind the word Retina in Apple's world all these years. The iPhone X was first to change that to Super Retina 458ppi.
The screen is flat, protected by a custom-made glass by Corning and has oleophobic coating for additional smudge resistance.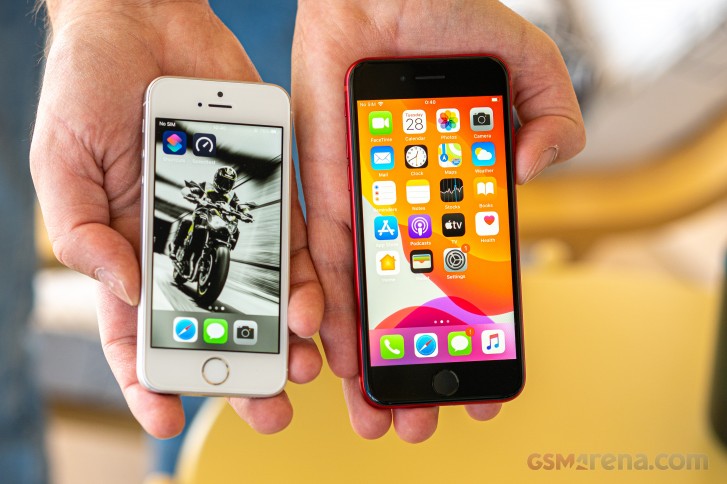 TrueTone color-correction adjustments are available for the iPhone SE display, Night Shift - the blue-light filter, is a part of the iOS feature set, too.
Apple says the screen can display HDR10 and Dolby Vision content. Thanks to the wide color support, the high screen brightness, and contrast, the display can do some improvements to the dynamic range, and you can indeed see some benefits. But a proper HDR-enabled screen, like the iPhone 11 Pro's, can show you true HDR10 with all the benefits.
And now with all these technicalities out of the way, let's look at some numbers.
The Apple iPhone SE (2020) screen can be very bright - we measured 670 nits at the top end of the brightness slider. That's even more than the promised 625 nits from Apple. The black levels are about average, and the iPhone SE panel delivered north of the suggested screen contrast ratio of 1400:1.
The minimum brightness we captured on the white color is 2.7 nits - a great one for reading sessions in the dark!
Display test
100% brightness
Black,cd/m2
White,cd/m2
Contrast ratio
Apple iPhone SE (2020)
0.434
670
1544:1
Apple iPhone 8 (Standard)
0.399
566
1419:1
Apple iPhone 8 (Max Auto)
0.468
640
1368:1
Apple iPhone SE
0.77
618
804:1
Apple iPhone X
0
679
∞
Xiaomi Mi 9 SE
0
444
∞
Xiaomi Mi 9 SE (Max Auto)
0
637
∞
Realme 6
0.343
451
1315:1
Realme 6 Pro
0.318
421
1324:1
Realme X50 Pro 5G
0
525
∞
Realme X50 Pro 5G (Max Auto)
0
635
∞
Samsung Galaxy S20
0
397
∞
Samsung Galaxy S20 (Max Auto)
0
814
∞
Apple iPhone 6
0.61
740
1213:1
We did our usual measurements on the iPhone SE screen, and we captured very accurate levels of color rendering. The screen has an average deltaE of 1.4, while the maximum deviation of 2.8 is at point white. All measured colors are well below deltaE of 4, which means the screen has excellent calibration.
These measurements were taken with TrueTone turned off, as it changes the color calibration depending on the ambient light and can fool our colorimeter. For the most realistic colors, you should keep this option off, whereas for the most eye-pleasing rendeding of white and gray - keep it on.
Battery life and charging
The iPhone SE (2020) is powered by 1,821mAh battery - the same capacity as iPhone 8's, though a different cell. You can charge the iPhone SE with its ancient 5W charger, the Pro's 18W charger, or any USB-PD charger really. The iPhone SE also supports wireless charging, so that's an option as well.
The iPhone SE ships with a regular 5V/1A charger plug that replenish 27% of a dead battery in 30 mins, while a full charge requires about 2 hours and 30 mins.
We also tested the iPhone SE with the iPhone 11 Pro 18W charger - it refills about 57% of the SE's battery in 30 mins, while a full charge takes about 100 mins.
The iPhone SE posted balanced scores on our battery test - it can do about 10 hours of 3G calls, north of 13 hours of web browsing on a single charge, or you can watch videos for about 9 hours. The standby endurance turned out above average and thus the good but unremarkable overall endurance rating of 59 hours.
Still, for such a small battery, the screen-on times turned out to be rather respectable.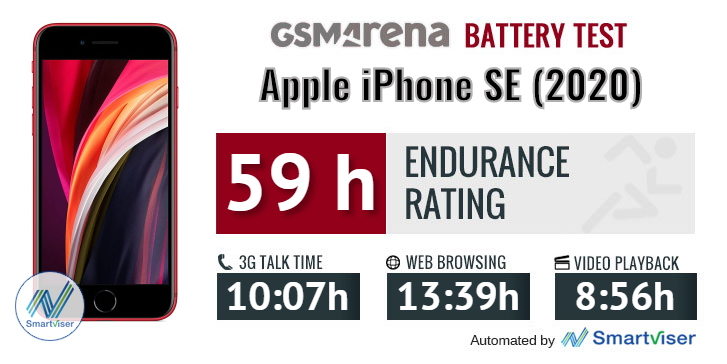 Our battery tests were automated thanks to SmartViser, using its viSerDevice app. The endurance rating above denotes how long a single battery charge will last you if you use the Apple iPhone SE (2020) for an hour each of telephony, web browsing, and video playback daily. We've established this usage pattern so that our battery results are comparable across devices in the most common day-to-day tasks. The battery testing procedure is described in detail in case you're interested in the nitty-gritty. You can check out our complete battery test table, where you can see how all of the smartphones we've tested will compare under your own typical use.
Speakers
The Apple iPhone SE (2020) has two speakers - one dedicated at the bottom and the other one is the earpiece. The bottom one offers more bass than the earpiece, but other than that - their loudness seems balanced enough.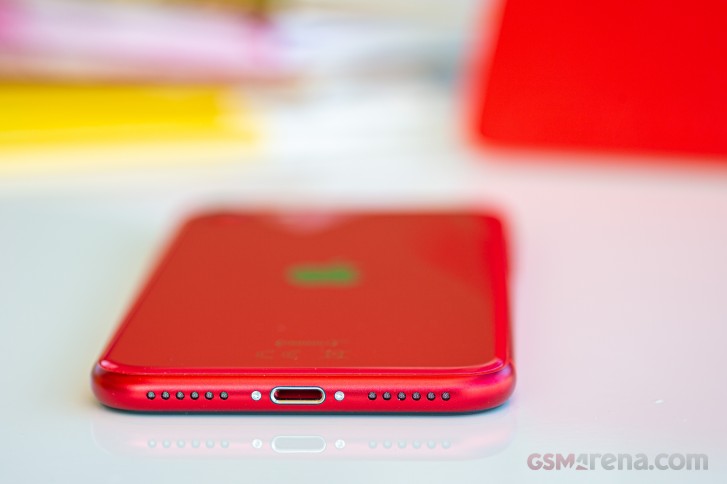 In our new speaker test, the iPhone SE scored a Very Good mark for loudness. As for the quality - it's also very good. The bass and melodies are great, but the vocals could have been better as they sound suppressed at times.
Use the Playback controls to listen to the phone sample recordings (best use headphones). We measure the average loudness of the speakers in LUFS. A lower absolute value means a louder sound. A look at the frequency response chart will tell you how far off the ideal "0db" flat line is the reproduction of the bass, treble, and mid frequencies. You can add more phones to compare how they differ. The scores and ratings are not comparable with our older loudspeaker test. Learn more about how we test here.
Audio output quality
We've recently discontinued our audio output quality test.
The reason for that is that most phones were already excellent in this regard and whatever difference there was, it was marginal and probably indistinguishable to anything but lab equipment.
"Oh my goodness this iPhone is terrible. This other iPhone is so much better in comparison so everybody should buy this other iPhone." Notice how you consider Apple as your only option when it isn't.
You should definitely use one because one drop and the back will most likely be cracked, and if that happens, you can't easily repair it
i buy this phone yesterday, refurbish condition i think, cause the rear and front camera abnormal also touch id may be changed when i check on 3utools. so far the performance is very well, playing game(pes cm) work smoothly, charging fast with 20wa...