Apple iPhone XS review
GSMArena team, 25 Sept 2018.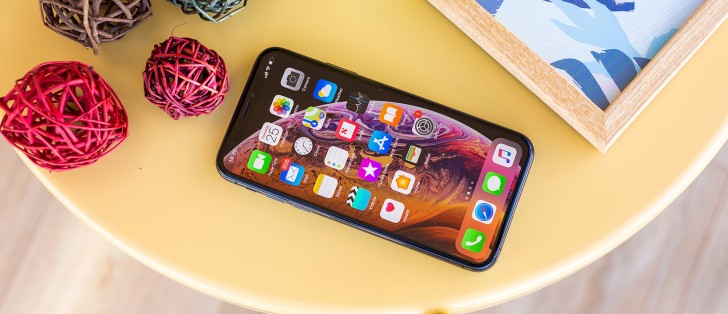 Apple A12 Bionic, performance and benchmarks
The new iPhone XS and XS Max are powered by the Apple's first 7nm chipset - the A12 Bionic. The company is famous for making chart-topping and power-efficient chips, so the A12 is building on this legacy.
The highlights of the A12 Bionic are the new manufacturing process and the new 8-core neural engine, which can do up to 5 trillion operations per second, up from the 600 million in A11 Bionic!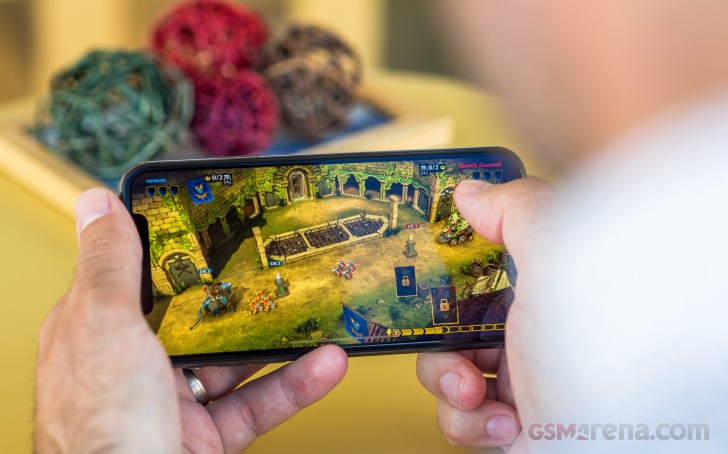 Of course, the A12 has a faster processor - it has the same six-core design introduced with the A11 Bionic a six-core one with two powerful and four efficient cores. The power pair consists of two 2.49GHz units called Vortex, while the efficient quartet is made of Tempest cores. Apple promises that the big cores are 15% faster and 40% more power efficient than the A11's Monsoons, while the power usage of the small Tempest cores has been cut in half when compared to the A11's Mistrals.
What this means is that the fast Vortex cores, thanks to the new 7nm manufacturing process, benefit from a 15% bump in the performance without hurting the battery life. If they were clocked at the same (lower) frequency as the A11's Monsoons, they would have improved the battery life of the device - thus they are more power efficient.
Also you gotta give it to Apple's marketing department for picking these awesome names for its different CPU cores.
It can't be a new chip without a proper GPU upgrade and the A12 Bionic has a new Apple-designed 4-core GPU. It offers 50% higher performance and higher memory bandwidth thanks to lossless compression.
Both the iPhone XS and XS Max pack 4GB LPDDR4X RAM. The iPhone XR and last year's X have 3GB.
The Apple A12 Bionic also comes with brand new ISP (Image Signal Processor), which is one of the two major upgrades for the main camera. It captures much more data from the new sensors and allows for Portrait Mode with just one camera (that's important for the iPhone XR), adjustable blur post shooting, there is also the highly advertised Smart HDR, zero-shutter lag, among other benefits. But more on that in a minute.
We can't wait to see how the A12 chip will fare against the competition, so let's cut to the chase and run some tests, shall we?
Not changing our habits, we ran GeekBench first. Apple has been a leader in GeekBench charts, and with the A12 it continues to be the chart-topper. And it's much faster than anything the Android competition has to offer - even the highest clocked Kryo 385, Mongoose M3, Cortex-A73.
GeekBench 4.1 (single-core)
Higher is better
Apple iPhone XS
4823
Apple iPhone X
4256
Apple iPhone 8
4234
Samsung Galaxy S9+
3771
Samsung Galaxy Note9
3642
Apple iPhone 7 Plus
3503
vivo NEX S
2466
HTC U12+
2456
OnePlus 6
2450
Xiaomi Mi 8
2431
Oppo Find X
2322
Samsung Galaxy S9+ (Snapdragon)
2199
Google Pixel 2 XL
1915
Huawei P20 Pro
1907
The A12 processor has also the best score to date in the multi-core chart. The A12 CPU is 15% faster than the A11's - exactly what Apple has promised.
GeekBench 4.1 (multi-core)
Higher is better
Apple iPhone XS
11472
Apple iPhone X
10215
Apple iPhone 8
10214
vivo NEX S
9160
Samsung Galaxy Note9
9026
OnePlus 6
9011
HTC U12+
9001
Samsung Galaxy S9+
8883
Xiaomi Mi 8
8494
Samsung Galaxy S9+ (Snapdragon)
8349
Oppo Find X
8018
Huawei P20 Pro
6679
Google Pixel 2 XL
6428
Apple iPhone 7 Plus
5956
Now, let's see if the new 4-core GPU will also live up to the promise of 50% performance jump. We know little about the Apple's custom GPUs. The A11 had a 3-core one, the A12 has a 4-core, and that's pretty much it.
The best way to inspect the raw performance is to run some offscreen benchmarks. And the A12 GPU was almost or exactly 50% faster in the three offscreen tests we ran - Manhattan, Car Chase, and Aztec Vulkan. Also, Apple's GPU is beating Qualcomm's Adreno 630 by a huge margin!
GFX 3.1 Manhattan (1080p offscreen)
Higher is better
Apple iPhone XS
98
Apple iPhone X
65
Samsung Galaxy S9+ (Snapdragon)
61
Oppo Find X
60
HTC U12+
60
vivo NEX S
60
OnePlus 6
58
Xiaomi Mi 8
53
Samsung Galaxy S9+
47
Samsung Galaxy Note9
45
Google Pixel 2 XL
42
Huawei P20 Pro
40
Apple iPhone 7 Plus
39
Apple iPhone 8
39
Apple iPhone 6s Plus
27.9
GFX 3.1 Car scene (1080p offscreen)
Higher is better
Apple iPhone XS
44
Apple iPhone X
37
HTC U12+
35
OnePlus 6
35
Oppo Find X
35
Samsung Galaxy S9+ (Snapdragon)
35
vivo NEX S
35
Xiaomi Mi 8
33
Samsung Galaxy S9+
28
Samsung Galaxy Note9
28
Google Pixel 2 XL
25
Huawei P20 Pro
23
Aztek Vulkan Normal (1080p offscreen)
Higher is better
Apple iPhone XS
52
Apple iPhone X
34
Apple iPhone 8
27
We also ran a few onscreen tests with the iPhone XS. Its display is not a 1440p one, but it isn't 1080p either. At 1125p it's somewhere in-between, so the 1440p phones are at a little disadvantage here. On the Manhattan test the iPhone XS GPU is limited by the V-Sync, and thus it hit the limit of 60fps. On the Car Chase test, it once again keeps the major lead it has over the rest of the phones we've tested to this very day.
GFX 3.1 Manhattan (onscreen)
Higher is better
Apple iPhone XS
60
Apple iPhone 8
59
vivo NEX S
55
OnePlus 6
55
Oppo Find X
50
Xiaomi Mi 8
50
Apple iPhone X
47
Apple iPhone 7 Plus
42
Huawei P20 Pro
37
Samsung Galaxy S9+ (Snapdragon)
34
HTC U12+
33
Apple iPhone 6s Plus
27.9
Samsung Galaxy Note9
25
Samsung Galaxy S9+
24
Google Pixel 2 XL
21
GFX 3.1 Car scene (onscreen)
Higher is better
Apple iPhone XS
47
vivo NEX S
34
OnePlus 6
33
Xiaomi Mi 8
33
Oppo Find X
28
Apple iPhone X
25
Huawei P20 Pro
21
Samsung Galaxy S9+ (Snapdragon)
20
Apple iPhone 8
20
HTC U12+
20
Samsung Galaxy Note9
15
Samsung Galaxy S9+
14
Google Pixel 2 XL
13
Aztek Vulkan High (onscreen)
Higher is better
Apple iPhone 8
49
Apple iPhone XS
36
Apple iPhone X
23
And before we call it a day, we had to run a few compound tests - AnTuTu 7 and BaseMark OS II 2.0 in our case. Quite expectedly the iPhone XS not only aced these, but became the new benchmark of the chip makers.
AnTuTu 7
Higher is better
Apple iPhone XS
346379
Oppo Find X
291218
vivo NEX S
287081
OnePlus 6
264200
Samsung Galaxy S9+ (Snapdragon)
264044
HTC U12+
263696
Samsung Galaxy Note9
248823
Samsung Galaxy S9+
246660
Apple iPhone 8
237594
Apple iPhone X
233100
Xiaomi Mi 8
217298
Huawei P20 Pro
209884
Google Pixel 2 XL
203119
Basemark OS 2.0
Higher is better
Apple iPhone XS
6060
Apple iPhone X
4708
OnePlus 6
4440
HTC U12+
4300
Samsung Galaxy S9+ (Snapdragon)
4196
vivo NEX S
4167
Apple iPhone 8
3934
Xiaomi Mi 8
3858
Apple iPhone 7 Plus
3796
Oppo Find X
3636
Google Pixel 2 XL
3379
Samsung Galaxy S9+
3354
Huawei P20 Pro
3252
Samsung Galaxy Note9
3064
Apple iPhone 6s Plus
2261
Love it or hate it, when launched, the new iPhone is always the fastest smartphone on the planet. Apple has the time, money, and dedication to design its own chips and this has been one of the best decisions the company has made over the last decade. Having full control over your hardware and knowing how to use it pays off tremendously for the iPhones.
The Apple A12 Bionic chip is not only the fastest hardware today, it once again will be the one the 2019 Android chips won't be able to beat, if history taught us anything. And that's fine, as it will never see the light of day running under Google's OS.
So, Apple completely delivered on its speed promises and the A12 is faster than the A11, though not by that large of a margin. Still, its NPU is impressively better, so this might turn to be the most important upgrade in the long run.
Long story short - the 7nm Apple A12 Bionic chip is the fastest smartphone chipset on the planet today and a benchmark for the whole chip industry.
On the other hand, the iPhone XS is made of glass, which is definitely not the best material for heat dispersion. And the XS does get hot at one particular spot at the back when it's been running full steam for a while. And it cat throttle with performance drops of up to 30% or even 50%. But those were observed only with prolonged benchmark runs.
While we ran various modern games, the iPhone XS did become warm, but that's it. No hot spots and nothing to suggest drops in performance. But, as always, you should have that in mind.
Anonymous
14 Aug 2023
B$9
yes it is true
Anonymous
26 Jun 2023
r3a
Battery U need to change it
Yasir Noor
11 Feb 2023
JFx
Ok