Apple Music reaches 60 million users
Vlad, 27 June 2019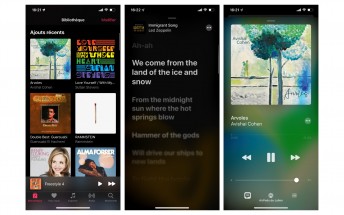 Apple Music has reached 60 million users - paying subscribers and people trialing the service for free - in the past four years, since its launch. The number was shared by Eddy Cue, Apple's SVP in charge of services.
That definitely represents solid growth for Apple Music, and yet it still lags behind Spotify - that service announced it has passed 100 million paying users back in April. Apple Music gained 10 million subscribers in the first six months after launch, and went up to 20 million in December 2016. In April 2018 the number climbed to 40 million, and a report from July last year claimed it actually scored more paying users than Spotify in the US. Clearly though, it's another situation entirely when you factor in the rest of the world.
Beats 1, the Apple Music-exclusive radio station, has "tens of millions of listeners".
Related
Good luck downloading an mp3 file to your iPhone and have it play that. It can't. As a multimedia and emulator gamer guy I found these limitations quite annoying and so for me, iPhone sucks. It's not even close to the awesome versitility of android a...
Both Spotify & Apple Music offers download and offline playback. I always use Android but I've been iTunes user for quite a long time. Apple Music saves the downloaded files somewhere in phone/sdcard storage, while Spotify stores the music 'insid...