Apple starts roll out of iOS 9.0.2, stops signing iOS 8.4.1 and 9.0
Himanshu, 01 October, 2015
Just a week after iOS 9.0.1 started rolling out, Apple has pushed the iOS 9.0.2 software update, which brings fixes related to iMessage, iCloud Backup, and screen rotation, as well as improvements related to the stability of Podcasts.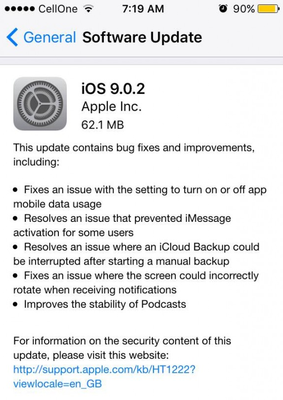 The new update brings along a fix for an issue related to the setting to turn off/on app mobile data usage. The issue that prevented iMessage activation has also been fixed.
Similarly, issues that prevented iCloud Backup during manual backup and incorrect screen rotation when receiving notifications are also fixed in this update, which weighs in at 62.1 MB.
In addition to pushing out iOS 9.0.2, the iPhone maker has also stopped signing iOS 8.4.1 and 9.0, which means that you won't be able to roll-back from a more recent iOS version to these versions.
Related
1) Right, because Apple has a strong record of true claims... Perhaps like when they steal ideas from others and call them innovation? Anyways, yes, it´s called CHOICE. If you try to think with your brain instead of letting Apple tell ...
1) You don´t need to explain that to me, explain it to Apple, who make all kinds of confusing claims about fragmentation. What you call fragmentation I call choice. You are probably happy having a portfolio of 3 devices total, where all you c...