Apple tvOS 12 adds Dolby Atmos support, can replace your set top box
04 June 2018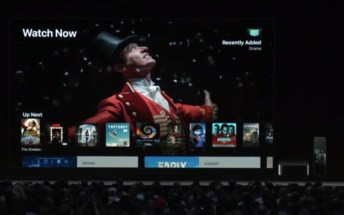 Since introducing 4K HDR support last year, the Apple TV has grown 50%. The latest tvOS update ups the fidelity on several fronts and brings more live action.
After the update, the Apple TV 4K will support engulfing Dolby Atmos audio. You will need an Atmos-enabled soundbar, however. The good news is that Apple will update all the movies and TV shows youíve purchased to Atmos sound.
Apple says that iTunes has the largest collection of 4K HDR movies and (just like with Atmos), it will upgrade your collection to 4K HDR. Maybe itís time to rewatch some of your favorite films. The Apple TV supports both HDR10 and Dolby Vision flavors of HDR. In fact, itís the first box to support Dolby Vision and Atmos.

Your Apple TV can just about replace your set-top box. It can play live sports and live news, in total there are over 100 channels. And Apple has simplified the setup Ė the box will detect your cable TV provider and enable all apps that are available to you, just like that.
The iPhone control center will grow an Apple TV button, great for those times you canít find the remote. The remotes for certain home systems can also command the Apple TV.
Related