Apple unveils new Mac Pro and Pro Display XDR
Prasad, 04 June 2019
Apple today announces its new Mac Pro at WWDC 2019. It's the most powerful and most expandable Mac the company has ever made. Alongside that, the company also announced its new Pro Display XDR, a professional grade monitor for HDR and pro-grade applications.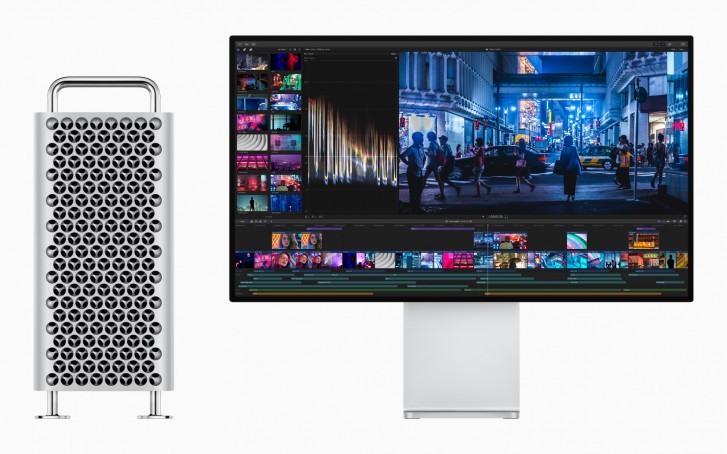 The new Mac Pro has been a long time coming and is an update to the previous generation model, which was launched all the way back in 2013. That model ended up never being updated, as according to Apple's own admission, the design put severe restrictions when it comes to upgrade so back in 2017 Apple announced it was working on a brand new Mac Pro, which is what we see here today.
The new 2019 Mac Pro goes back to the roots of the product. Gone is the compact cylindrical design of the 2013 model and instead we see a return of the tower-style design adopted by the older generations Mac Pros from 2006-2012.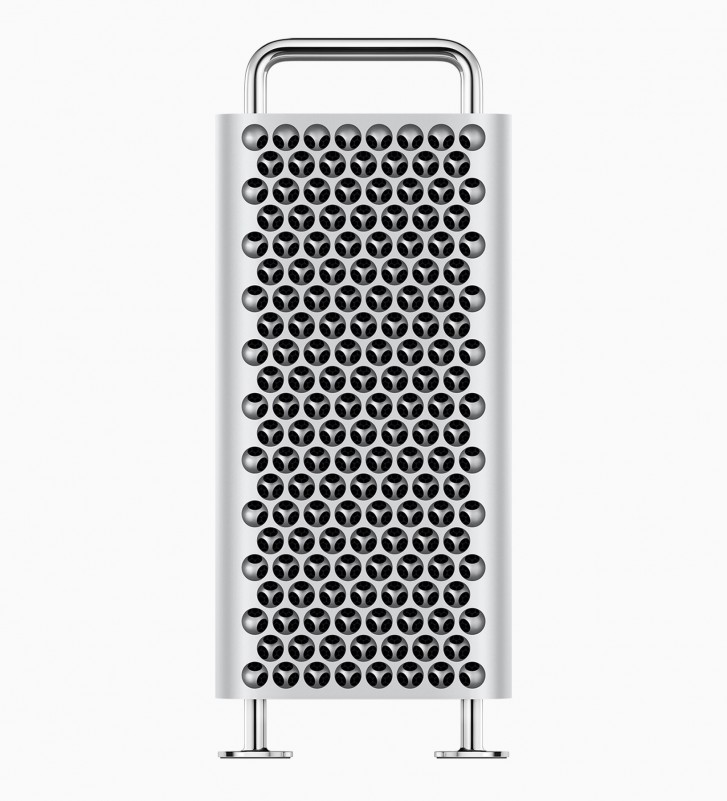 The general aesthetic is very similar to those models, with an unpainted aluminum body that has feet and handles as well as a prominent grille on the front that gave the older Mac Pros the "cheese grater" moniker from its users. The new design is more refined, with larger air vents up front that cover the entire surface. The handles and feet are actually the same steel piping that forms the frame of the chassis.
To provide access to the internals, the entire body can be removed using a latch on top that rotates and lets you pull up the side shell. This gives access to all four sides of the body as well as the top.
The inside is where it's really at. Expandability is the name of the game here and the new Mac Pro comes with eight PCI Express expansion slots for all sorts of accessories. Four of these are double-wide x16 slots, one is single-wide x16 slot, two are single-wide x8 slots and the last one is half-length x4 slot that's pre-populated with Apple's own I/O card that includes two Thunderbolt 3 ports, two USB-A ports and a headphone jack. There are also two Thunderbolt 3 connectors on top of the chassis.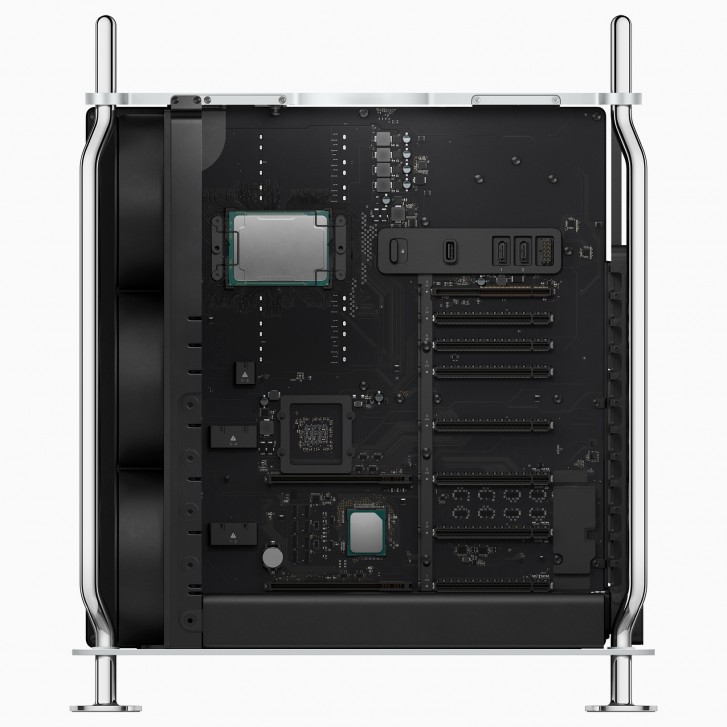 While you could populate the remaining slots any way you see fit, Apple has come up with an interesting solution they call Mac Pro Expansion or MPX Modules. Each of these modules utilizes one of the x16 PCIe connector and then a second PCIe connector on the side. The second connector allows the card to transfer data to the four Thunderbolt 3 ports found on the machine. They also allow passing up to 475W of power to the module, on top of the 75W that is possible through the standard x16 PCIe connector. This allows Apple to do crazy things like having two GPU on a single card without requiring ugly 6/8 pin power connectors.
While the right side of the machine houses the graphics and CPU, the left side houses the memory, the storage and the power supply. The cooling for the whole system is managed by four fans. Three of these fans are placed on the front of the case that pull in cold air through all those holes. One of the passes the air through the CPU heat sink and the other two pass it through the MPX Modules. On the other side, the fan for the power supply pulls in air from the front, passing it over the storage and memory modules then routing it through the power supply and finally sending it out the back.
Now, let's get into the specs. Starting with the CPU, all models come with the Intel Xeon W processors. The base model comes with 8-core CPU but you can configure it with 12-core, 16-core, 24-core or 28-core models as well, all of which support Hyper Threading, so you get twice as many threads.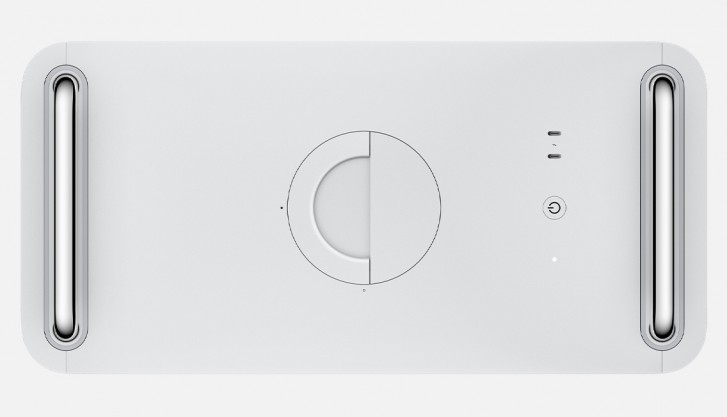 In terms of memory, things get a bit more bonkers. There are 12 user-accessible DIMM slots on the new Mac Pro and you can have memory configured in up to six channels. You can start with 32GB but there's also options available for 48GB, 96GB, 192GB, 384GB, 768GB and 1.5TB DDR4 ECC. Just to reiterate, these are memory modules, not storage. That comes later. It's worth mentioning only the 24 or 28-core CPUs support the full 1.5TB memory and that the base 8-core model is limited to running all memory at 2666MHz while you will need 12 to 28-core CPU models to access the full 2933MHz speed of the memory.
Now for the storage. The new Mac Pro supports flash only storage but the connector doesn't seem standard like with the memory. The base model comes with 256GB but it can be configured up to 4TB. These are controlled by Apple's T2 security chip, which handles the encryption. Now, there are two visible SATA ports on the motherboard but Apple didn't quite specify their purpose and there doesn't seem to be any provision to mount standard SSD inside the case.
Taking things further up a notch are the GPU. Base model comes with a fairly tame AMD Radeon Pro 580X inside a half-height MPX Module. You can also get Radeon Pro Vega II inside a full-height MPX Module. You can go crazy and get one that has dual Vega II graphics inside a single MPX Module. And just to go absolute nuts, you can have two of these modules inside, meaning you can have four Radeon Pro Vega II graphics cards inside your Mac Pro.
As if that's not enough processing power, you can also get something called Afterburner for your Mac Pro. This is a programmable ASIC that is designed to do one thing and one thing only: accelerate video encoding and decoding. Since it's purpose built for this task, it is extremely good at it, which means it can handle 3 streams of 8K ProRes RAW 30fps video, 12 streams of 4K ProRes RAW 30fps video or 16 streams of 4K ProRes 422 30fps video. This level of performance is currently impossible even for the fastest graphics card on the market.
For connectivity, the Mac Pro has the aforementioned 4x Thunderbolt 3 ports, 2x 10Gb Ethernet ports, Wi-Fi 802.11ac and Bluetooth 5.0.
Powering all of this, the 28-core processors, four graphics cards, 12 sticks of memory, 4TB storage and a video processor, is a 1400W power supply.
That's just the Mac Pro. But the Apple Pro Display XDR is somehow even more impressive. This is Apple pouring all of its color and display calibration knowledge all into one product to create possibly the best professional grade monitor on the market for Macs.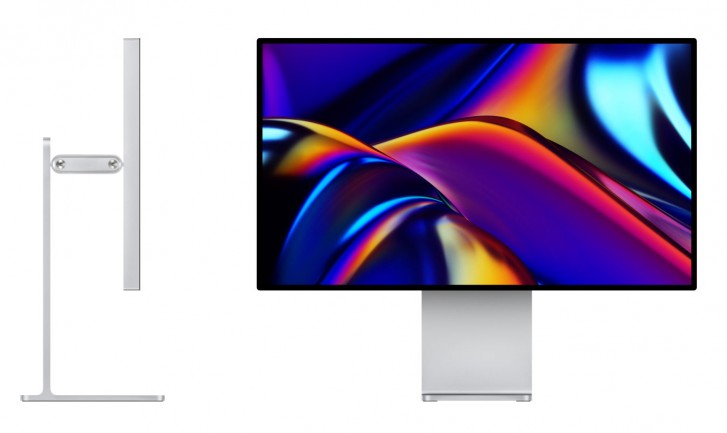 To start with, this is a 32-inch IPS LCD with a resolution of 6016 x 3384 (16:9), which Apple calls Retina 6K. It's a native 10-bit color panel with DCI-P3 wide-color support.
The brightness is one of the main attributes of this display. With SDR content, the display can reach 500 nits of brightness, which is already pretty bright. However, since this is also an HDR display, it can achieve even higher brightness levels. Apple claims a 1000 nits of brightness sustained over the entire surface, which is very impressive and also extremely bright for something you sit two feet away from. To make it even more impressive, it can also go up to 1600 nits under 25 degrees Celsius ambient temperatures for short bursts of time.
Since this is an LCD panel, to achieve proper HDR quality it would need full array local backlight dimming. The Pro Display XDR has a fairly impressive 576 zones, which can be selectively turned on or off to provide high contrast and less blooming.
The monitor includes multiple reference modes for working in your selected format of choice, You can choose between HDR Video P3-ST 2084 (HDR10/Dolby Vision), BT.709, BT.601, P3-DCI, P3-D65, P3-D50, and sRGB. These cover most of the current color standards from cinema to television and photo.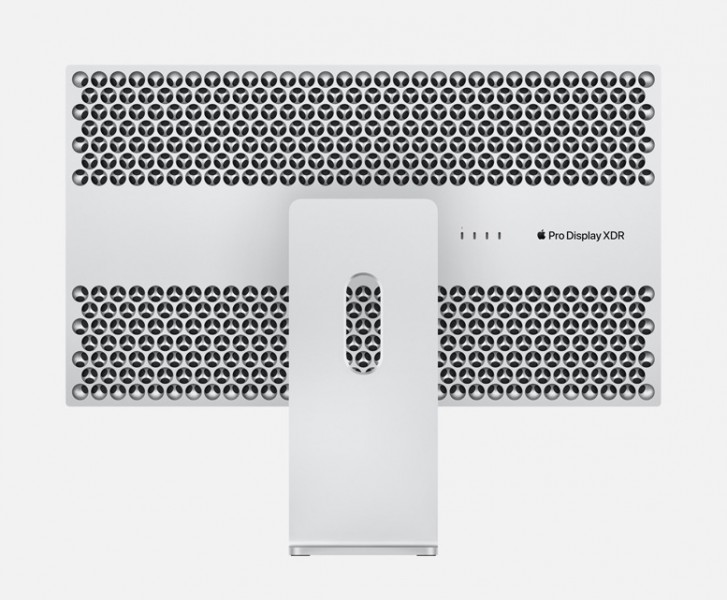 The monitor also supports 47.95Hz, 48.00Hz, 50.00Hz, 59.94Hz and 60.00Hz refresh rates, allowing you to work with content recorded in a variety of frame rates at the correct cadence without motion judder.
In terms of connectivity, the Pro Display XDR has four Thunderbolt 3 ports at the back, which also double up as USB-C ports. This monitor is specifically designed to work with Thunderbolt devices.
Lastly, there's the stand. You can get the display with the optional Pro Stand. The Pro Stand supports height adjustments and also allow tilting the display into portrait orientation. You can also detach the monitor from the stand with a single button.
Now, for the price. The new 2019 Mac Pro starts at $5999 for the base model with the 8-core CPU, 32GB 2666MHz memory, 256GB SSD storage and AMD Radeon Pro 580X graphics. The Pro Display XDR is priced at $4999 with the optional Pro Stand costs $999 and the VESA Mount Adapter is $199. Both these products will be available this fall.
Related
Lol, IPS is the only panel used in profesional work dealing with accurate colors and editing movies, there is no other panel used in professional editing work, why? Because it is best panel for this kind of work. Contrast it is definitely not an issu...
Anonymous
06 Jun 2019
MwH
I'm not a big company and I don't need such a computer. Also, think of it this way: the monitor is $6,000. And if you opt out of getting it with a stand, the price goes down to $5,000.
Popular articles
Popular devices
Electric Vehicles