Apple Watch 2 rumored to get mobile data connectivity
Vlad, 25 April, 2016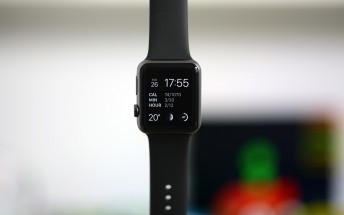 Apple has sold an estimated 12 million units of its smartwatch in the first year of availability. That's a pretty decent result, especially considering that the Apple Watch jumped to first place in the market share battle in the smartwatch space from its first year - and it represents 61% of that pie.
Now though Apple is already busy developing the successor to its first generation wearable. And according to "people familiar with the matter", the Apple Watch 2 will come with built-in mobile connectivity support. This means you'll be able to use it for certain tasks even without having your iPhone nearby tethered to the watch. The next Apple Watch should also receive a faster processor, the same report goes on to state. That's par for the course with Apple hardware updates, though.
As for cellular connectivity, Android Wear devices (primarily from LG) as well as Samsung's Gear line of smartwatches have had this feature over the past few years, so it makes sense for Apple to go the same route. Unfortunately there's no new information on when Apple might launch its next wearable. That said, the obvious choice would be the fall event during which the iPhone 7 pair is introduced.
Related
Adults like you used to defend in similar fashion the great American Kodak .
I hope Apple copies Galaxy Gear S2 design too.
Apple copy Samsung AGAIN. But the media don't dare to say it. ROTFL .