Apple Watch Series 3 brings LTE and faster chipset
Peter, 12 September 2017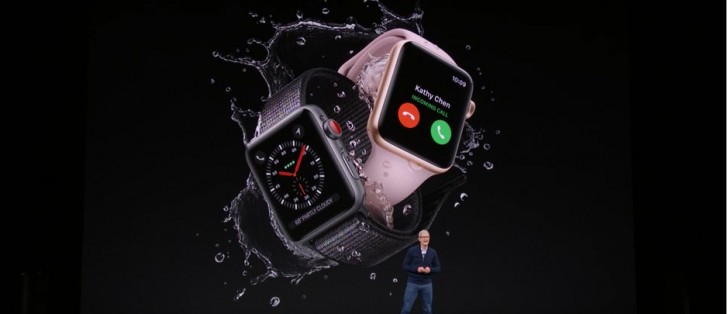 The Apple Watch has grown quickly – so fast in fact that it is now the #1 watch in the world, topping the former leader Rolex. The Watch has a 97% customer satisfaction, but it's time for a new model.
Meet the Apple Watch Series 3. It features cellular connectivity via an eSIM, sharing your phone number with your iPhone. This means you can receive calls even if you left your phone at home. The display of the watch is the antenna for 4G LTE and 3G.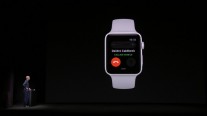 Calling from the Apple Watch Series 3
And you don't have to leave Apple Music at home either, the Series 3 can stream on the go. A new chip (the W2) enables 85% better Wi-Fi performance with lower power usage (down to half!). The new watch is powered by a new dual core processor that is 70% faster than the one it replaces. It's now fast enough to allow Siri to talk!
But not all new models will have wireless connectivity. The Series 3 with cellular will cost you $399, without is $329. The Series 1 remains available at a lower cost at $249.
The new watch also features a barometer to count the flights of stairs you've climbed during your day. With all these new features, the Apple Watch Series 3 is the same size as the Series 2.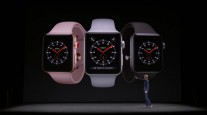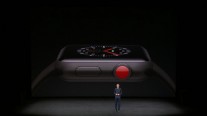 New Gold color option • Black ceramic
Two new color options are available: gold aluminum and a special Black ceramic. There's a new band to look forward to as well.
They will be available 9 markets initially (with multiple carriers supported). Pre-orders start on September 15 and sales begin on the September 22. A wider selection of markets will get the non-cellular model.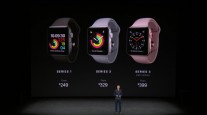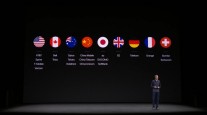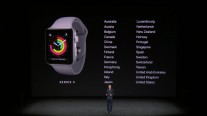 Apple Watch Series 3 prices • Initial availability • Availability for the model without cellular
Alongside the new watch, Apple is releasing a new version of Watch OS 4. Coming out on September 19, it features smart coaching with high intensity interval training and automatic swim sets counting (obviously, the watch is swim-proof).
It also features much more extensive heart care. You heart statistics are now more visible and include resting heart rate and recovery heart rate. And if the watch detects a high heart rate and you're not moving, it can sound an alarm.
Related
how come with limited os ? with no support for actual different phone number ? with usable size screen ? the sales figures not always project the quality of product look at many examples for example there are tons of people in the world ...
yes i agree but if only this is proper watch with real sleek design not like cartoonish apple watch it is like kids watch that cost 20 usd from little distance unless you purchase very expensive steel version
for companies it maybe about sales but for real customer who want cutting edge tech i really like the gear s because not very many people has this device and it still rocks
Popular articles
Popular devices