Apple's 5G iPhones to have 5nm chipset, Qualcomm's X55 modem
Vlad, 31 October 2019
Although a lot of Android device makers have already launched 5G capable smartphones, Apple is still holding out. This year's iPhones top out at 4G, but that situation has long been rumored to change in 2020.
Now a new report out of Japan claims that next year's iPhones will employ Qualcomm's X55 5G modem, according to four people familiar with the plan. However, there may be supply constraints on the X55 as everyone will want to use it in 2020.
Apple's A14 SoC that will debut in next year's 5G iPhones is said to use the world's most advanced 5nm fabrication process, and TSMC will be manufacturing it. Only Apple and Huawei currently have plans to go to 5nm next year.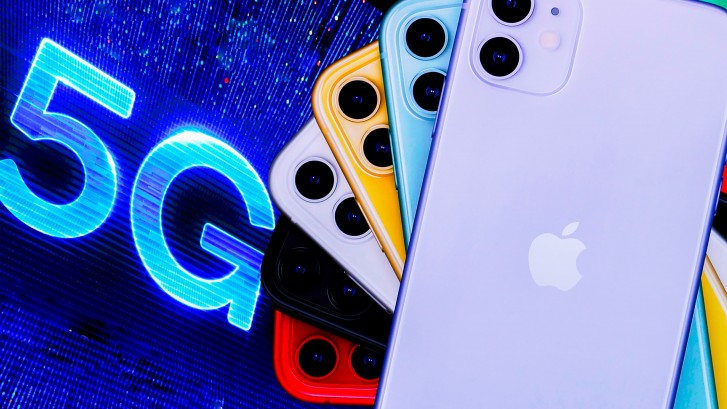 At least two of the three new iPhones will use flexible OLED displays, which means they may possibly be curved (but not foldable). Technically Apple has been using curved OLEDs since the iPhone X, but there's just one curve and you can't see it because the screen basically folds into itself at the bottom, which allows that bezel to be so thin - as the display panel connectors are housed in the lower part. No other company has so far deemed this solution worthy of the price premium it entails, which is why on other handsets the bottom bezel is slightly thicker than the rest.
Apple is also said to be developing a 3D-sensing rear camera to be used for AR. The company apparently wants to ship 80 million or more of its 2020 iPhones, an aggressive sales target as it typically ships between 75 to 80 million units each year. Analysts estimate that 206 million 5G phones will be produced worldwide in 2020, so if Apple's plan pans out, it will have a sizeable chunk of that market. And it may also help drive 5G adoption, especially outside of China.
Related
The new iPhone 12 series or one of the variants of the 12 series is supposed or rumored to come with a 5G support right?
Anonymous
04 Nov 2019
v3B
Better speeds provided you're within 5 meters of direct line of sight of the broadcast tower, if you're blocked by another person walking by or rain it completely doesn't work so yea pretty rubbish
Anonymous
04 Nov 2019
Ix1
That would be an extreme amount of development over a very short time. Process technology is getting harder to develop, not easier, due to physical realities. Your prediction is delusional.
Popular articles
Popular devices
Electric Vehicles