ARM unveils IoT-targeted Cortex-M55 CPU, Ethos-U55 NPU
Peter, 11 February 2020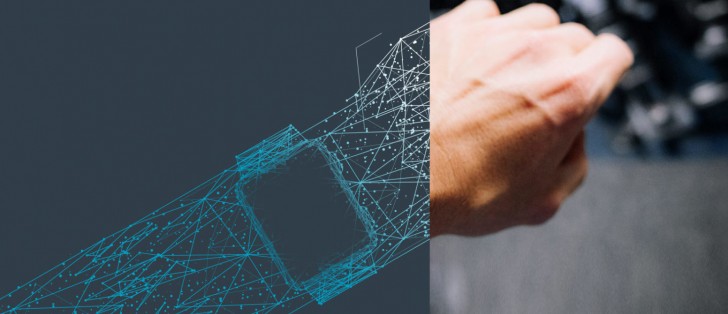 ARM unveiled the new Cortex-M55 core and its first NPU in this class, the Ethos-U55. Unlike the high-powered Cortex-A cores (which are used in smartphones), the M-series is used in smart speakers, cameras, wearables and various Internet of Things devices.
The focus of the two new products is machine learning (ML). The M55 is the first to support the ARM Helium vector processing tech – that's a set of SIMD instructions (think SSE, AVX, etc.). This means that the core itself is 5x faster in DSP applications (e.g. Dolby Atmos processing) and 15x faster on machine learning tasks.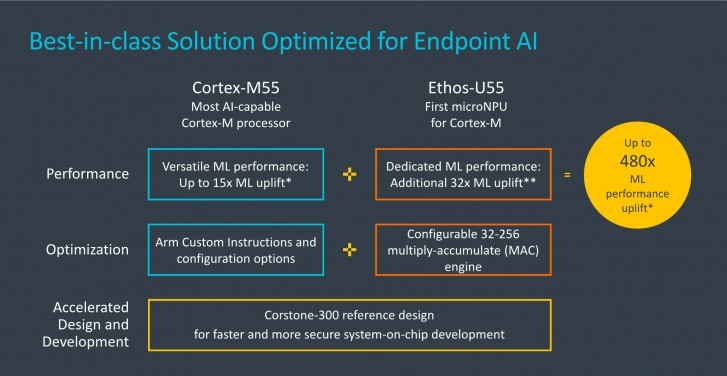 This enables M55-powered products to do keyword detection and simple object tracking. If more performance is needed, the core could be paired with an Ethos-U55 NPU. This can be be configured with between 32 and 256 multiply-accumulate (MAC) units.
On the higher end, it boosts machine learning performance by up to 32 times. Combined with the 15x increase from the M55 core, ARM advertises a total 480x jump in ML performance (compared to older Cortex-M processors).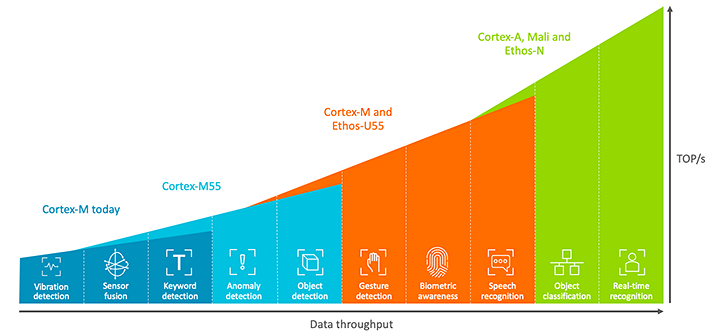 The M55+U55 combo can handle speech recognition, gesture detection and biometric awareness. And it can do it offline while retaining the low power usage that is typical for Cortex-M products.
Starting next year, ARM will also allow its partners to add custom instructions to the M55 core for application-specific tasks. The first products with M55 and U55 should come out in a couple of years.
Related
More and faster spying tools for everyone, everyday folks. And if we're paying that price, Does that mean anything positive at all for Wear OS? Like better always on functionality and that custom chip functions that got included in Wear 3100?
Popular articles
Popular devices
Electric Vehicles