Asus Zenfone Zoom, Zenfone Max, ZenWatch2: Asus at IFA 2015
Asus at IFA 2015
GSMArena team, 02 September, 2015.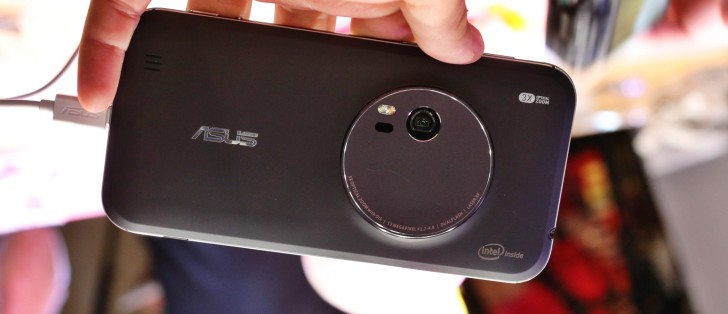 Asus Zenfone 2 Deluxe hands-on
The Asus ZenFone 2 Deluxe has a distinctive tessellated back (modeled after natural crystals). Unlike the Oppo R1C back this is a real 3D pattern, which feels incredible in the hand. The 500+ triangles that form the back trace a nicely curved shape that's quite pleasant to hold.
The phone looks as impressive as it feels too. The back has a "chameleon-like" coating, which subtly changes color depending on angle. And since each triangle is at a slightly different angle, it's quite a show. To that end the Illusion Blue look better than the Illusion White to our eyes as the effect was stronger.
The unique back may be top-level stuff, but the phone itself is more of an impressive mid-ranger. The strong ZenFone 2 base shows clearly - a 5.5" 1080p screen is surrounded by modest amounts of bezel, while q quad-core Intel processor with 4GB of RAM breezes through daily tasks.
Keep in mind that there are two versions with the same model name – one has a Z3580 chipset (CPU at 2.3GHz) and the other has a Z3560 chipset (CPU at 1.8GHz). Both run Android 5.1 with Zen UI.
Asus is offering 64GB and 128GB versions of the ZenFone 2 Deluxe and if that's not enough you can plug in a 128GB microSD card. It's becoming increasingly rare these days, but we had no complaints about storage with this one.
I have over 5 years with this watch and it works almost as the day I bought it on 11/27/2016. Sometimes it gives a false charge reading and all I do is restart the watch and it charges like normal. This watch is the best investment I have ever made i...
Anonymous
08 Jun 2016
U@D
Asus zenfone 2 laser very very good condition 2 days battary backup
Dearest factwrting gsmArena and Asus friends and followersUndoubtedly.Asus Zoom with the quality specifications here in design,features,and performance Plus beautiful GSM review stands in upper midrange and so does Asus Max...I see no important flaws...