Asus ROG Phone 6 visits TENAA: same dimensions, lower weight
Peter, 23 June 2022
One of the upcoming Asus ROG Phone 6 models, ASUS_AI2201_B, has been certified by TENAA. This confirmed some of the key specs, though we're not sure if this is the vanilla phone or the Pro. Given the memory configuration, it is probably the Pro model.
The phone measures 172.8 x 77.3 x 10.4mm, basically the same dimensions as the ROG Phone 5/5 Pro. Only a White colorway is listed, but unfortunately there are not photos attached yet. Despite remaining the same size, the new mode has managed to shave some weight and is now down to 229g (all 5-series models weighed 238g).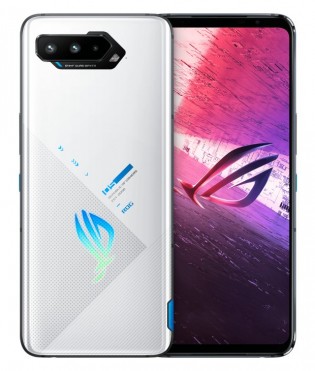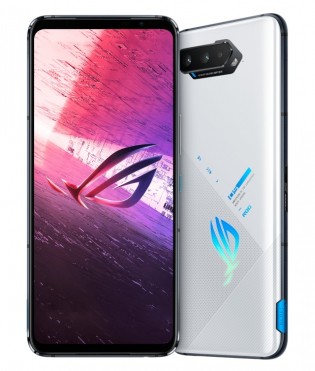 The current Asus ROG Phone 5 in white
The body houses a 6.78" AMOLED display and a 6,000mAh battery split into two cells for fast charging (65W as before, confirmed by the 3C). The retail package (for China, at least) will contain a charger, USB cable and a protective case.
Asus has already boasted that the ROG Phone 6 will be one of the first to feature the Snapdragon 8+ Gen 1. Based on the TENAA info, it will come with up to 18GB of RAM and up to 512GB storage. We've seen similar configurations in the past as well, e.g. the ROG Phone 5 Ultimate and 5s Pro had that much memory.
The main camera on the back will have 64MP resolution, according to the specs. There is also a mention of 5x optical zoom, but that may well be a mistake or mistranslation as the ROG series was never camera focused. We wouldn't say no to a periscope, we just think it's unlikely.
Anyway, there are a total of 4 cameras on board, including a 12MP selfie camera. If we had to make a guess about the other two, they will be an ultra wide camera and a macro module.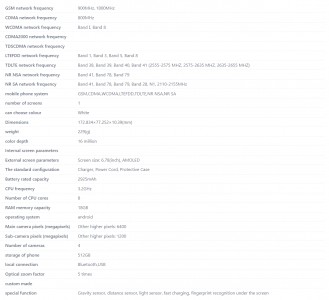 The Asus ROG Phone 6 (ASUS_AI2201_B) spec sheet by TENAA
It doesn't sound like much has changed since the 5-series, besides the new chipset. However, TENAA's spec sheet isn't really aimed at consumers and can miss important details.
For example, what about the screen refresh rate? Asus has used 144Hz panels for the last two generations, but this year Asus is teasing 165Hz refresh rate.
The Asus ROG Phone 6 will be unveiled globally on July 5 (a couple of weeks from now).
Related
If it doesnt break dont fix it. Rog Phones along with Sony's got the best designs. Minimal bezel with no notches no holes no nonsense.
Oh my god 5x zoom if it had a telephoto and ultra wise lens and a main lens with all 3 different focal lengths man this would be a manageable phone to take photos too 😱
Unreal List? Its already 2022. Why are they still sticking to the same old design??
Popular articles
Popular devices
Electric Vehicles