Asus ROG Phone in for review
Peter, 16 December 2018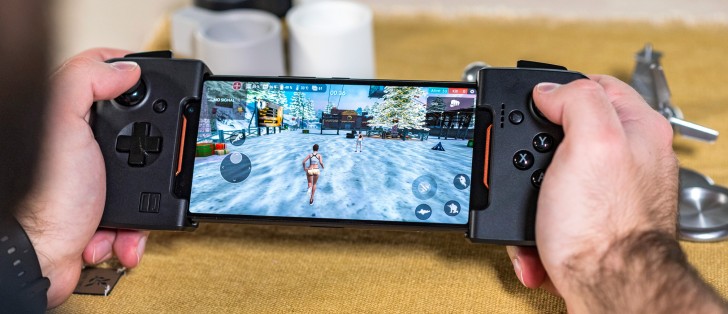 Gaming is often more about the peripherals than it is about the processing power. But it's not like chipset doesn't matter either. The Asus ROG Phone is perhaps the best-equipped gaming phone in both categories. And we don't just say that because there's a literal suitcase with add-ons in front of us.
The handset embodies the ROG mentality perfectly. Asus used a binned Snapdragon 845 chipset – that is one selected for its ability to overclock – and provided factory overclock. The "silicon lottery" has arrived on mobile.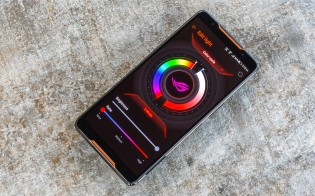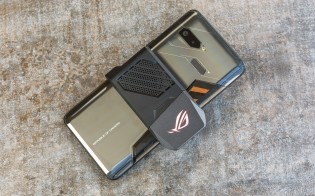 Asus Aura lighting • The fan cooler is included in the retail box
This phone is a top scorer in benchmarks and keeping an eye on the chipset temperature (there's a handy overlay for that) suggests that this performance can be sustained too. And this without the fan cooler that's included in the box.
The screen is a 6" OLED with 1080p+ resolution (18:9). It supports 90Hz refresh rate and the Adreno 630 delivers average FPS very close to that. Some might wish that the screen was larger, though they will probably reconsider when they handle the ROG Phone with some of its accessories.
The Gamevice accessory has two analog joysticks, a D-pad, four keys and two shoulder buttons on each side (one of which is analog). It's a lot like the Nintendo Switch Joy-Cons sans the motion control.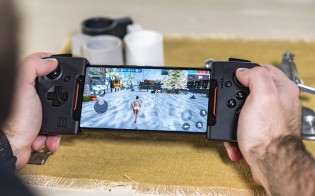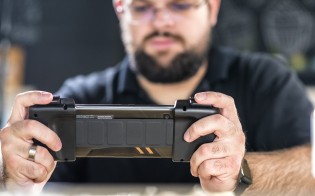 The Gamevice • It connects over USB instead of Bluetooth (so no charging needed)
If you need to travel light, the Asus ROG Phone has hardware controls hiding in plain sight – three pressure sensitive areas on the side, which act as shoulder buttons. The front-facing stereo speakers offer solid audio quality, so you can get by without headphones too.
You're probably thinking that most Android games don't support hardware controls. And they don't, but Asus has software that maps on-screen controls to hardware ones. There are apps that promise to do that, but they need root while this just works.
If you were more the keyboard and mouse type of gamer, that's supported too. In fact, Asus offers not one but three docks that can turn the ROG Phone into a sort-of desktop PC. We'll just say that playing Battle Royale games with a mouse almost feels like cheating (it's more accurate and you react quicker).
One dock offers full-size HDMI and DisplayPort outputs, four USB 3.0 ports and Ethernet. And since it works as a KVM switch, you can use the same monitor and keyboard/mouse setup for your PC and phone (just hit the button to switch between the two).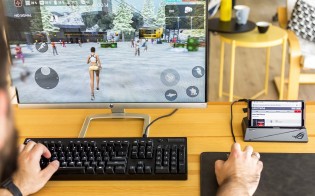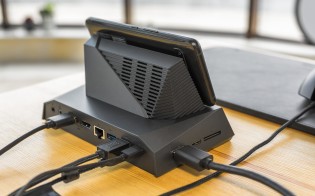 The Mobile Desktop Dock: playing with a keyboard and mouse • all the ports you'll need
The WiGig dock is even more interesting – it's wireless HDMI and USB 3.0 combined! We hooked up a TV and a USB flash drive and they just worked from several meters away. Unfortunately, there's no desktop mode like Samsung and Huawei offer – these two Asus docks would have made it a great experience.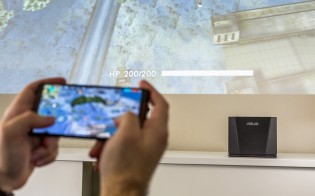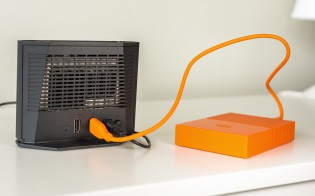 The WiGig adapter: playing on a projector • attaching extra storage
The Asus ROG Phone is unique in that it has an extra port on the side. You can use it as a second USB-C port, but it features a proprietary part that enables all the awesome docks. Asus had every excuse to drop the 3.5mm jack, but didn't – that just makes the others look bad.
It's worse when you look a the "gaming phone" competition – some feel like regular flagships with a different marketing twist. Asus actually put a lot of work into make the ROG Phone feel more like a console or a PC.
We have to get back to the review and by the end of it, we'll either have crowned the a new gaming phone king or found enough flaws to make us wait for version 2.
Related
Damn it. (again)
20 Dec 2018
LGd
That's free fire, the pubg ripoff that (unfortunately) has more ratings than pubg on the play store. With half the players (yes, 50), half the mechanics/realism (the guns don't even have recoil, there's aim assistance that makes the game very easy), ...
You seriously had to play that piece of s*** free fire. Why didn't you just fire up pubg mobile?
Who cares about this failure of a phone. Every one of these so called "gaming" phones have no focus on optimization and only care about the benchmarks (which aren't that impressive). Any phone with a SD845 that focuses to some extent on optimization,...
Popular articles
Popular devices
Electric Vehicles