Asus Zenfone 6's flip up selfie camera gets banged and twisted, survives
Peter, 19 June 2019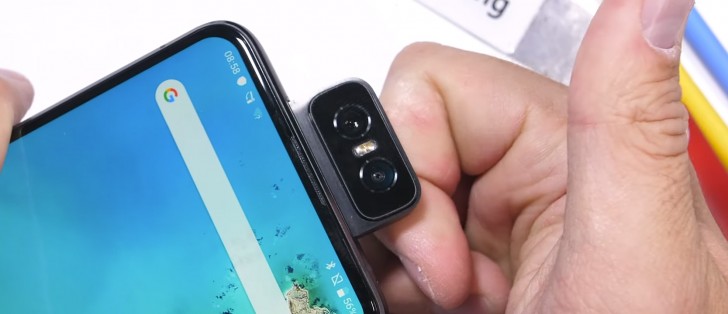 What happens if you drop the Asus Zenfone 6 while the camera is open? The motor that drives it goes into high gear to retract the camera as quickly as possible, so it would be protected even during short falls. If you don't have the heart to try it out on your unit, let Zack from JerryRigEverything demonstrate.
Be warned though, he pushes and pulls the camera, twists its hinge, ties heavy stuff to it and bangs it against the table. But this story has a happy ending – even after all the abuse, the camera motor and gears keep working as if nothing had happened.
The Zenfone 6 camera is rated for 100 flips a day for three years. The rest of the phone seems similarly durable as the all-metal design passed Zack's durability test with flying colors. Even the camera module is metal.
Now we're curious to see the teardown – how did Asus make the flip up mechanism so tough and how much room does it take up on the inside?
Related
But they were, as I posted ... with prices $499,99 and $549,99 and they mentioning: - Your order will be filled on a first-come-first-served basis. So it seems theyve got enough orders this time. Similar case at some retailers ...
They are not in pre-order at B&H yet... It's just in "notify when available" without pricing and release date
Well, your personal experience was a lucky one. My wife had a Zenfone 3 and after the third broken display, we gave up...
Popular articles
Popular devices