Asus Zenfone Max Pro M1 hands-on review
GSMArena team, 10 May 2018.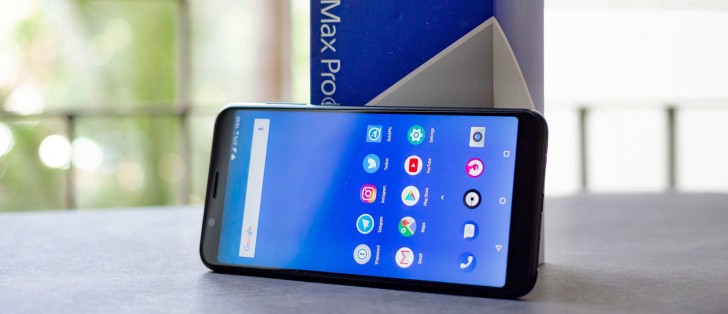 Design
The ZenFone Max Pro M1 has a very simple and straightforward design. The front of the phone is encompassed entirely by a 2.5D curved glass of unknown make. The glass is scratch resistant and has an oleophobic coating. The curve is very subtle and had it not been for the 2.5D marketing would have passed for a pretty standard piece of glass.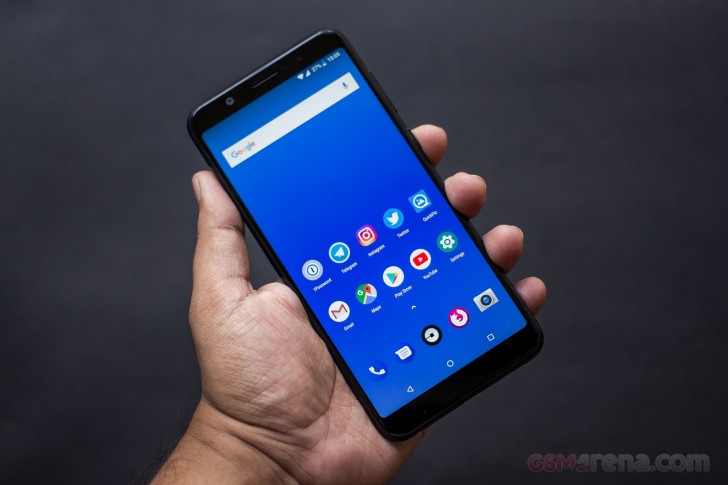 Near the top of the phone is the earpiece, camera, ambient light sensor, proximity sensor and LED indicator. The earpiece is recessed with a cloth grille and tends to collect dust and lint.
The rest of the front is taken up by the 5.99-inch display. The bezels aren't quite the thinnest we have seen but are unobtrusive. The front remains black regardless of which color version of the phone you pick.
The frame of the phone is made out of plastic. On the right are the power buttons and the volume control button. The power button is easy to reach and operate, but the volume buttons are a bit of a stretch.
On the left side of the phone is a tray that holds two SIM cards and a microSD card. That's right; you can have all three on this phone without any of the hybrid SIM nonsense.
On the bottom of the phone is the loudspeaker, a microUSB, a microphone and the headphone jack. The microUSB connector is a bit of a blast from the past in 2018, and we wish manufacturers were faster to adopt USB-C to make a life for their users a bit easier.
The back of the phone has a metal panel in the middle for a bit of an upmarket feel. Near the top is the dual camera system in the now fashionable vertical arrangement. What's nice is that the camera system is almost completely flush with the body. The fingerprint sensor sits somewhere closer to the middle and is easy to reach.
The overall design of the phone may be a bit dull but there's no denying this is a solidly built phone, with a sturdy feel despite the plastic construction. It is a bit tall, however, so those who want a smaller device will be disappointed.
Best phone under 10000, past 2 years no issue.
It's best phone I am using it from three years without facing any issues
my son mobile suddenly stop working, no power on, not charging....