Asus Zenfone Max review: Tanking up
Tanking up
GSMArena team, 30 May, 2016.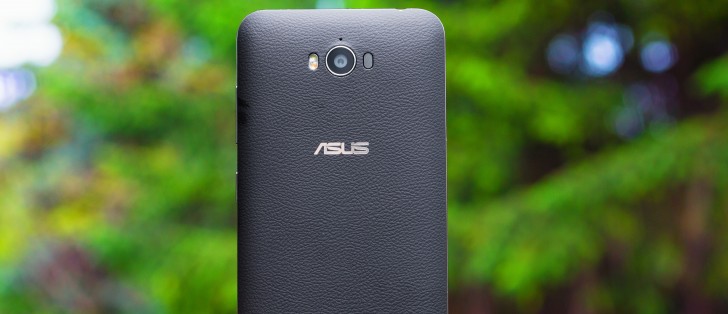 Feature-packed gallery
The Asus Zenfone Max comes with a custom Gallery app. It defaults to a view of your folders and the camera roll is highlighted over the top. The Gallery also supports events and people views, plus it can display images from various cloud services including ASUS, Omlet, Facebook, OneDrive, Google Drive, Google+ and Flickr.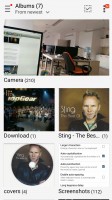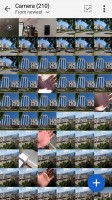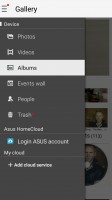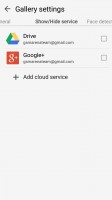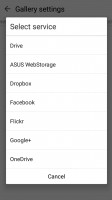 Standard gallery views • cloud service integration
A handy collage feature is also on board, and it's pretty comprehensive, with a host of aspect ratios, templates and backgrounds. Asus has upped the maximum resolution to 2,560 x 2,560 which is now usable for a bit more than social-media sharing.
The available features when viewing a single image are pretty standard - set image as wallpaper/contact image, share it, delete it, enter edit mode or just get more info. You also get quick shortcuts for rotation and additional information. The integrated editor offers various effects, frames, tools (crop, mirror, straighten, rotate, fisheye, doodle) plus light adjustments that let you bring out the shadows or the highlights.
The Zenfone Max's video player is part of the Gallery, there isn't a dedicated app. There are no premium features or particularly striking video decoder support. Its interface is very simple, too - just a playback scrubber and a play/pause button, alongside a sharing button at the top. The most advanced feature is picking up playback from where you left off the previous time.
Capable music player
The Asus music player does decently in terms of functionality, covering all the basics. The interface features the usual set of panes for artists, songs, and genres, music stored on various cloud services can be pulled as well, different color themes can be applied to the interface, too.
There's a large Now Playing window with prominent album art, and also has integrated bass boost and surround sound options, although both of those only work with headphones. An equalizer is also available with multiple presets and a single custom setting. That's in addition to the system-wide AudioWizard sound enhancement software.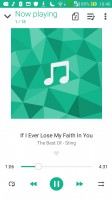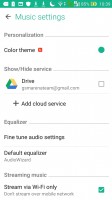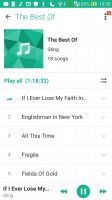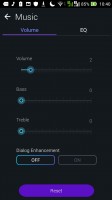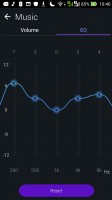 Music player interface • AudioWizard
FM Radio with RDS
A useful FM radio app is available on the Zenfone Max. The search function automatically stores all available stations. It has RDS and can retrieve the stations' names. You can set up to 5 favorite stations but they are displayed with their respective frequency, instead of the names.
Audio output is loud, headphones quality could use some work
The Asus Zenfone Max impressed us in the first part of our audio test. The handset showed nicely high volume and excellently clean output for a great showing.
Plugging in our standard headphones caused quite a lot of damage though. The volume dropped from very high to average, frequency response got shaky and stereo crosstalk rose notably. There was also more intermodulation distortion than usual so things were pretty mediocre overall.
Here go the results so you can do your comparisons.
Test
Frequency response
Noise level
Dynamic range
THD
IMD + Noise
Stereo crosstalk
Asus Zenfone Max
+0.03, -0.24
-93.4
92.2
0.0068
0.015
-95.2
Asus Zenfone Max (headphones)
+0.42, -0.74
-90.8
91.2
0.011
0.554
-50.2
Meizu m3 note
+0.13, -0.00
-91.9
91.9
0.0021
0.0082
-91.3
Meizu m3 note (headphones)
+0.02, -0.20
-90.7
91.2
0.0028
0.050
-53.4
Lenovo Vibe K5 Plus
+0.02, -0.08
-93.8
92.8
0.0037
0.034
-91.3
Lenovo Vibe K5 Plus (headphones)
+0.09, -0.03
-93.5
92.6
0.070
0.075
-49.0
Huawei Honor 5X
+0.02, -0.08
-93.4
90.1
0.0028
0.012
-93.4
Huawei Honor 5X (headphones)
+0.10, -0.03
-92.9
89.8
0.0048
0.071
-78.2
Samsung Galaxy A5 (2016)
+0.02, -0.07
-94.3
92.2
0.0065
0.010
-95.0
Samsung Galaxy A5 (2016) (headphones)
+0.42, -0.01
-93.4
87.1
0.029
0.254
-53.0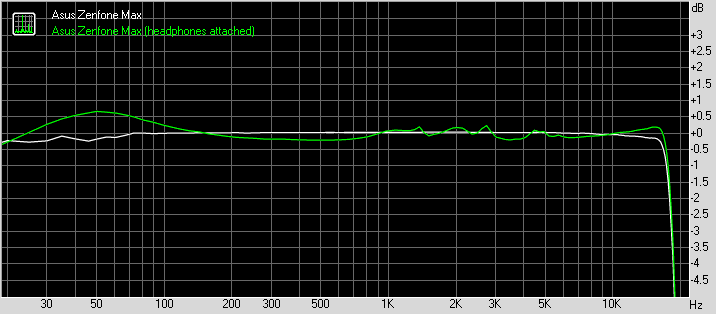 Asus Zenfone Max frequency response
You can learn more about the tested parameters and the whole testing process here.
sonia singh
17 Sep 2020
Dk4
I brought this fon may2016 to till .2020 sep. this is an amazing phone ..its very nice all functions good working.. but it is slip from my hand thats why a little bit screen are not working
Previous user
14 Jul 2020
IVA
I have used this phone since January 2016, it's almost 5 years old now. It was quite a good experience. Towards the latter half of 2019 it lost some sensitivity in the touch screen and in early 2020 almost 70% of the screen was no longer sensiti...
Good strong phone I brought 2016 still using it. basic phone for general use you can't expect much like modern phone. Due to technology advancement it will not support the latest app I mean it work but very slow we lost our coolness. phone software s...