AT&T's LG G3 is receiving the Android Lollipop update too
10 February, 2015

AT&T has started rolling out the update to Android 5.0 Lollipop for the LG G3 units that it's sold. This follows the rollout of the new software for G3 models from other parts of the world, which started last year.
If you have an AT&T G3, it should soon notify you that an update is available to download and install, if it hasn't done so already.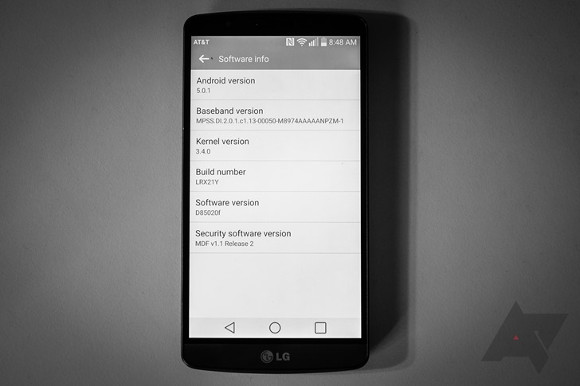 The file you need to grab comes in at around 690MB, and after performing the five-minute installation procedure your phone will be running Android 5.0.1, software version D85020f, build number LRX21Y.
If you haven't received the update notification yet, you can always manually make the smartphone check for it by using the relevant part of the Settings menu.
Related
This update pretty much ruined the phone for me. It is EXTREMELY laggy and unresponsive most of the time now and I have no option to change the running time to ART anymore! I really wish they'd create an update to replace this soon or I'm gonna bitch...
I don't like the update! It's making my LG G3 very slow and I don't like the undefineable home buttons... As if its like a oldfashioned PLAY REC and STOP buttons...
I accidentally upgraded my phone while asleep and I hate it so much everything is different and I hate that the quicken from the bottom is gone now out only has Google...this update changed too much I'm not happy art all.
Popular articles
Popular devices