Atomic and Champagne colored BlackBerry KEY2 LE now available at Best Buy and Amazon
Ricky, 05 December 2018
Back during IFA this year, BlackBerry showed us a new variant of the BlackBerry KEY2 with an "LE" badge at the end of the name. It has a slightly lower price tag and some really interesting color options. The one that stood out the most was the Atomic color, which is a very nice color combination of dark navy blue keys with red frets and a red frame.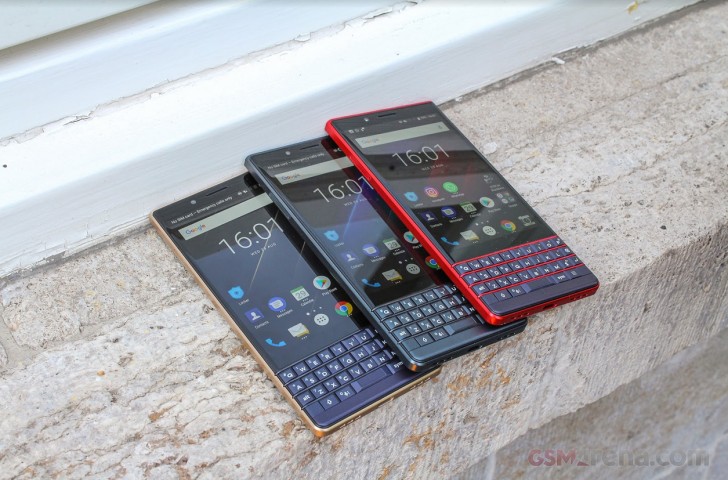 BlackBerry KEY2 LE in Champagne, Slate, and Atomic
The $499 BlackBerry KEY2 LE is now available in Champagne from Amazon in the United States and the Atomic color will be exclusively available from Best Buy along with the Champagne options as well. This joins the plain ol' Slate color option that BlackBerry launched in the US back in October.
For those interested, Best Buy has the Slate color on sale for $399 while the other two color options are $499. The normal price of the Slate version of $449, which means that the company is charging a $50 premium for the better two color combinations.
The BlackBerry KEY2 LE is a cheaper version of the BlackBerry KEY2. It offers the same full QWERTY keyboard experience while reducing the production costs by changing a few things like bringing back the frets between keys from the KEY One and using more dense plastic in the body. There's a 13MP + 5MP dual camera setup here instead of the 12MP + 12MP on the KEY2. Finally, the CPU sees a downgrade with a Snapdragon 636 instead of the 660 found in the KEY2.
Related
It should have a 710 at that price.
Popular articles
Popular devices